Supreme Court nominee Brett Kavanaugh said Wednesday he did not recognize the father of a student who was killed in the mass shooting in Parkland, Florida, earlier this year, and, if he had, he would not have turned his back on the man at his confirmation hearing.
Kavanaugh's reaction to Fred Guttenberg, whose daughter Jaime was killed at Marjory Stoneman Douglas High School on Feb. 14, caused minor outrage after a video emerged of the judge appearing to snub the man at the end of his Senate committee hearing. Guttenberg can be seen walking up to Kavanaugh with his hand outstretched, but the nominee merely looks at him before walking away.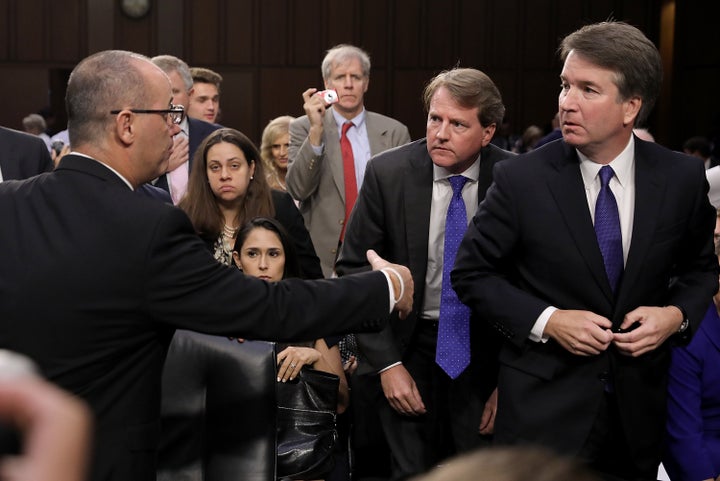 "It had been a chaotic morning with a large number of protestors in the hearing room," Kavanaugh said of the encounter in a written response to questions from Sen. Chuck Grassley (R-Iowa) as part of his confirmation process. "As the break began, the room remained noisy and crowded. When I turned and did not recognize the man, I assumed he was a protestor. In a split second, my security detail intervened and ushered me out of the hearing room. In that split second, I unfortunately did not realize that the man was the father of a shooting victim from Parkland, Florida."
He continued: "Mr. Guttenberg has suffered an incalculable loss. If I had known who he was, I would have shaken his hand, talked to him, and expressed my sympathy. And I would have listened to him."
Guttenberg, who has become a prominent advocate for gun reform, tweeted shortly after the encounter last week that he guessed the judge "did not want to deal with the reality of gun violence." He said he was later asked by Capitol Police to leave the room, although Kavanaugh, in response to a written question from Sen. Richard Blumenthal (D-Conn.), said he did not ask for that to happen.
In a Twitter post late Wednesday, Guttenberg said Kavanaugh's recollection was "interesting" and said he was "confident" in his own description of the events.
"I wish he would have said this last week when Senator Lindsey Graham asked about it," the Parkland father wrote. "I was still there and would have been happy to have spoken with him."
Calling all HuffPost superfans!
Sign up for membership to become a founding member and help shape HuffPost's next chapter