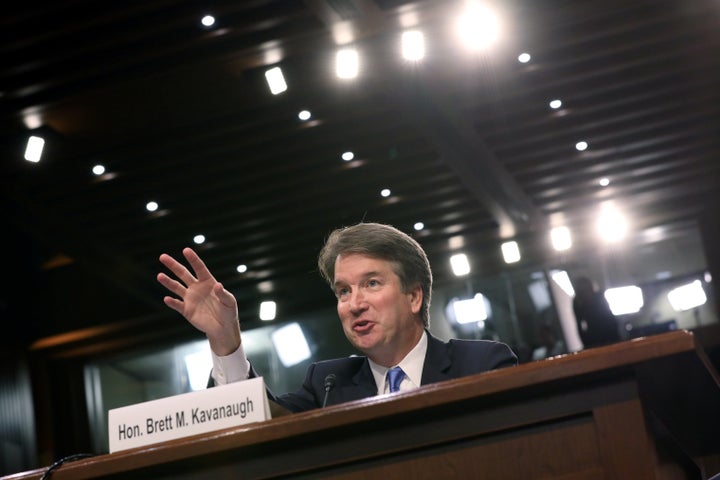 WASHINGTON ― Supreme Court nominee Brett Kavanaugh faced several rounds of tough questions from Democrats on Wednesday, but he emerged from his second day of confirmation hearings largely unscathed because of his success at sidestepping hot-button legal issues and current political controversies.
Over and over again, Kavanaugh argued that addressing issues that may arise before the court would be improper for an independently minded judge. The conservative jurist, who was nominated by President Donald Trump, noted that his approach is consistent with how other nominees have discussed issues they may rule on. He also declined to touch some of the most pressing topics of the day.
Kavanaugh declined to say whether a president should be able to use his power to direct agencies to carry out directives for political purposes, an issue that arose earlier this week after Trump suggested the Department of Justice lay off prosecuting a pair of House Republicans ahead of the November midterm elections.
Kavanaugh refused to say whether he thinks sitting presidents can be made to comply with a legal subpoena, a highly relevant topic given the ongoing Russia investigation and deliberations within the White House on whether to allow Trump to sit down for an interview with special counsel Robert Mueller.
He steered away from questions about whether a president can be shielded from being investigated or questioned while in office, and whether the president has the absolute power to pardon himself. Moreover, he wouldn't commit to recusing himself if there's an issue involving Trump's criminal or civil liability before the court.
I don't live in a bubble. I live in the real world.

Judge Brett Kavanaugh responding to Sen. Dianne Feinstein
"I am troubled and disturbed by your refusal to say that you will take yourself out of that kind of case," Sen. Richard Blumenthal (D-Conn.) told Kavanaugh at the hearing.
On health care, Kavanaugh said he couldn't give assurances that he would uphold pre-existing condition requirements under Obamacare as constitutional if confirmed to the high court, calling the question a "hypothetical."
Kavanaugh called Roe v. Wade, the landmark reproductive rights Supreme Court opinion, an "important" precedent that has been reaffirmed "many times," including in Planned Parenthood v. Casey. Responding to a comment from Sen. Dianne Feinstein (D-Calif.) about not wanting to go back to a time when abortion was outlawed, Kavanaugh said, "I don't live in a bubble. I live in the real world."
But when Feinstein asked whether he believed a woman had a right to choose an abortion, Kavanaugh said only that Roe is "an important precedent of the Supreme Court."
Trump promised to nominate justices who will overturn the ruling and ban abortion rights, however, and Supreme Court justices often overturn precedents.
Kavanaugh declined to answer Sen. Cory Booker's (D-N.J.) questions about whether he believes race-conscious policies are constitutionally valid as a way to remedy past discrimination. Moreover, he didn't say if he agreed with Supreme Court precedent on the issue.
"Your answers don't provide me comfort," Booker said in response to his answers.
Kavanaugh similarly declined to weigh in on Trump's controversial comments last year in which he said "both sides" were to blame for violence at the Charlottesville, Virginia, white supremacist rally. "I stay out of commenting on current events," the judge explained.
At one point in the hearing, Sen. Chris Coons (D-Del.) expressed frustration with Kavanaugh's inability to give clear answers regarding comments he made two years ago that expressed his desire to overturn a three-decade-old Supreme Court ruling upholding the constitutionality of an independent counsel. Kavanaugh insisted his objection applied only to the independent counsel law and not that of the special counsel. If such questions came before him on the court, he added, he would approach them with "an open mind."
The biggest fireworks during Wednesday's 13-hour proceedings came during exchanges with Democratic Sens. Patrick Leahy of Vermont, Kamala Harris of California and Booker. All three questioned Kavanaugh by alluding to emails and other material about the nominee's record that had not been made available to the public. The senators created moments of unexpected drama, but, at least for the moment, failed to land a knockout blow.
The Kavanaugh hearing will resume at 9:30 a.m. Eastern time on Thursday.
Calling all HuffPost superfans!
Sign up for membership to become a founding member and help shape HuffPost's next chapter