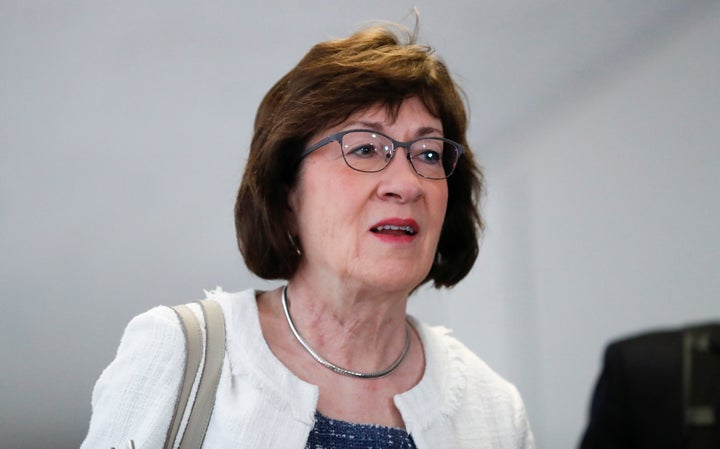 In an email written in March 2003, Kavanaugh, then an official in the George W. Bush White House, questioned the idea that "all legal scholars" view the Roe decision as "settled law" given that the high court "can always overrule its precedent, and three current Justices on the Court would do so."
Democrats said the 15-year-old document, which was made public on Thursday during Kavanaugh's third day of confirmation hearings, confirmed their fears that Trump's nominee would vote to overturn abortion rights given the chance.
Holding up a printed copy of the email, Sen. Richard Blumenthal (D-Conn.) urged undecided Republicans who support abortion rights to "read this document and then tell me Judge Kavanaugh has been candid with you" about his views on Roe. On Wednesday, Kavanaugh had called that 1973 decision "settled" and an "important precedent of the Supreme Court that has been reaffirmed many times."
But Collins, who is one of those undecided Republicans, voiced skepticism that Kavanaugh had taken a personal position on Roe in the 2003 email. The moderate senator said Thursday that she had not yet read the document, but from what she had been told, it did not appear to be disqualifying. 
"I am told he was editing an op-ed or something for clarity and was merely stating a fact, which is that three judges on the court were anti-Roe," Collins told reporters. "If that's the case and he was not expressing his view, then I'm not sure what the point of it is."
The draft article that Kavanaugh had been asked to edit was written in support of a Bush appellate court nominee with the intent to send it out under the names of women opposed to abortion. Asked about the email on Thursday, Kavanaugh said he was referring not to his own views but to the "views of legal scholars."
Collins is under pressure from progressives to reject Kavanaugh's nomination because of Trump's campaign promise to nominate justices who will overturn Roe and because of comments Kavanaugh himself made during a 2017 speech in which he praised Justice William Rehnquist's dissent in Roe.
Sen. Lisa Murkowski (R-Alaska), another undecided moderate who supports abortion rights, told reporters on Thursday that she had only seen "the quick headlines" about the 2003 email. She said she planned to review it as well as other matters before coming to a decision on the nomination, but she did not voice concern about its content.
"I know that we still have at least a day and half of hearings, so I figure there's going to be more to listen to," Murkowski said.
Republicans had earlier deemed the 2003 email, as well as nearly 190,000 other documents from Kavanaugh's time in the Bush White House, "committee confidential," meaning they could only be viewed by members of the Senate Judiciary Committee in private. Democrats released the email, as well as others detailing the nominee's views on racial profiling, despite loud protests from their Republican counterparts on the committee.
"Running for president is no excuse for violating the rules of the Senate," Sen. John Cornyn (R-Texas) said at one point during Thursday's hearing, after Sen. Cory Booker (D-N.J.) pledged to release documents marked "confidential." Booker has been discussed as a possible 2020 presidential contender.
Other key moderate senators are also sounding positive about Kavanaugh's nomination, bolstering his chances of confirmation to the Supreme Court. Sen. Joe Manchin (D-W.Va.), a vulnerable Democrat up for re-election, told CNN on Wednesday that he hadn't seen anything from the hearing yet that he considered disqualifying. "He's handled himself very professionally," Manchin said. 
CORRECTION: A previous version of this story misstated Cory Booker's political affiliation as Republican. He is a Democrat.