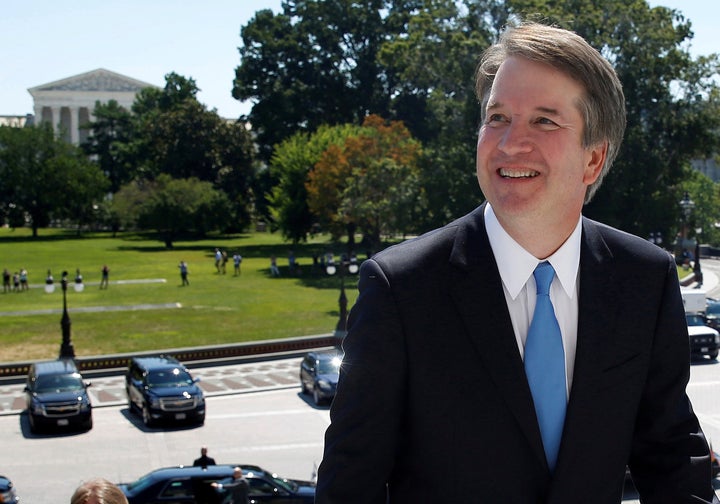 With his decision to nominate Judge Brett Kavanaugh to the Supreme Court, President Donald Trump is one step closer to achieving the victory many on the Christian right were hoping for when they voted for him: a solidly conservative court whose rulings could help regain ground they've lost in the culture wars. 
But for progressive Christian leaders, the nomination is yet another sign that the Trump administration privileges the voices of Christians on the right while effectively ignoring the groundswell of activism from left-leaning Christians. These progressive Christians, who have become increasingly vocal during the Trump administration, believe the Bible says much more about defending the poor, caring for the sick and welcoming the stranger than it does about restricting abortion or allowing business owners to discriminate based on sexual orientation.
With a majority of conservative justices on the Supreme Court, these Christians fear that the country could fall back from the progress it has made on ensuring equality for all.
The Rev. William J. Barber II is a pastor from North Carolina who is leading a new progressive religious movement inspired by the Rev. Martin Luther King Jr.'s Poor People's Campaign. He told HuffPost he fears that Kavanaugh's appointment would create a conservative majority on the court that could make decisions that restrict the rights of women, workers, immigrants, LGBTQ people and other vulnerable populations.
"If this person is appointed, there is a potential that this majority ... will actually narrow constitutional protections rather than expand them," Barber said. "Our moral agenda should always be trying to push more outwards."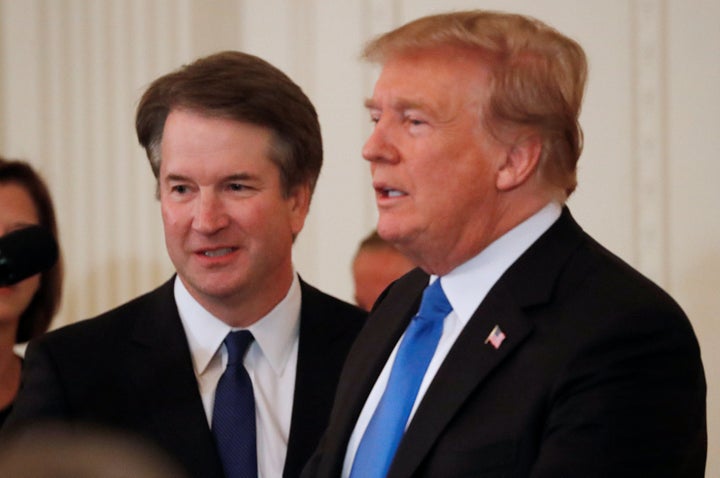 Kavanaugh was an aide to President George W. Bush, was a clerk for the retiring Justice Anthony Kennedy and is a well-connected Washington insider. He's also a lifelong Catholic ― a former altar boy who attended a North Bethesda, Maryland, Jesuit high school, Georgetown Preparatory School. He is a regular lector at his church, the Shrine of the Most Blessed Sacrament in Washington, D.C.
One of Kavanaugh's guests at the announcement of his nomination on Monday night was Monsignor John Enzler, the president and CEO of Catholic Charities, a social services agency run by the church. During brief remarks, Kavanaugh said he used to serve as an altar boy for the priest and still volunteers with him to serve the homeless. 
"I am part of the vibrant Catholic community in the D.C. area," Kavanaugh said after the announcement. "The members of that community disagree on many things, but we are united by a commitment to serve."
He now faces a tough confirmation process in the Senate and could be subjected to questioning from senators about how his faith could affect his decisions on the court. Since he was appointed to the U.S. Court of Appeals for the District of Columbia Circuit, his rulings on issues such as abortion and religious liberty have been reliably conservative. 
If confirmed as a member of the nation's top court, at 53, he will almost certainly get an opportunity to weigh in on important issues like abortion, LGBTQ rights, affirmative action, capital punishment and partisan gerrymandering for decades to come. 
Conservative evangelical leaders praised Trump on Monday for cementing their vision of a Supreme Court that will uphold conservative beliefs on culture war issues. 
"I am confident Judge Kavanaugh will be a strong defender of the freedoms guaranteed by the Constitution and Bill of Rights, especially our First Freedom of religious liberty," Moore wrote in a statement.
Barber said it's significant that Trump received a list of nominees from the Federalist Society instead of from traditional civil rights organizations that have a "deep appreciation" for how the Constitution has expanded to protect the rights of all people. He said it's important to remember that the Supreme Court hasn't always interpreted the Constitution in favor of poor and minority populations.
"It's almost as though [Trump] chose to pick people who, by their various legal opinions, have more of a desire to go backwards in jurisprudence rather than forwards," Barber said.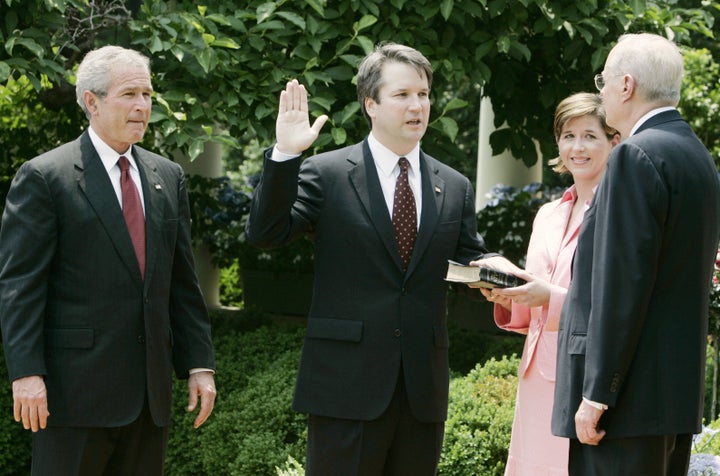 Some of Kavanaugh's fellow Catholics are also worried that key progressive victories of the past few decades are now under threat.
Jon O'Brien, the president of the abortion-rights group Catholics for Choice, said that Trump has chosen a nominee who was "hand-selected" by the religious right and by "ultraconservative Catholics" like Leo. 
"From day one, President Trump has rewarded ultraconservative Catholic special interests for helping him win the election at the expense of the vast majority of the faithful who believe in social justice and a woman's right to choose," O'Brien wrote in an email. "Judge Kavanaugh, and his Federalist Society backers, may have power, money and the ear of the President, but their ultraconservative views do not represent the majority of ordinary Catholics."
"It is very unfortunate that because the Religious Right, including ultraconservative Catholic special interest groups, are the squeaky wheel in American politics they get heard and privileged above the majority of Americans of faith or no faith," O'Brien wrote. 
Network, an advocacy organization run by Catholic sisters, stated that Kavanaugh has a history of opinions that are "anti-union, anti-civil and consumer rights, anti-immigrant, anti-LGBTQ, and anti-health."
"His Catholic background should have taught him better," the sisters said in a Facebook post.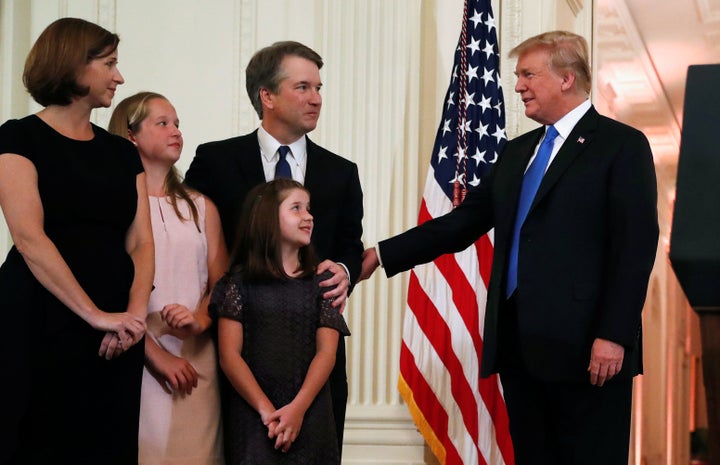 Trump's pledge to appoint justices who would restrict women's access to abortion was of utmost importance to many evangelicals. Barber and other progressive Christians are concerned about Kavanaugh's views on the 14th Amendment, which has been used to expand the civil rights of people of color and LGBTQ Americans.
Barber said he believes Kavanaugh's position on abortion rights are important but added that it's also crucial that the judge be grilled during his confirmation hearing on his record on union rights, voting rights, immigrants' rights and health care. 
"[Trump's supporters] act as though the right to abortion is the litmus test for faith. It is not. The litmus test of faith is how you treat the poor, how you treat the least of these," Barber said. "If you say you're pro-life but all your other policies are pro-hurt and pro-death, it's ultimate hypocrisy."
He said there has always been a faction of American Christianity that engages in "theological malpractice" and "extreme religious nationalism." Now, as in the past, it searches for and finds politicians and candidates who align with its views.
But he said he and other progressive Christians refuse to watch silently as this faction of the faithful claims to be the "voice of moral theology" for all American Christians.
"Faith is supposed to be about challenging the houses of injustices, not about taking away health care. It's not about being anti-abortion and pro-prayer in schools and hating gay people. That is politics masquerading under the cover of religion," he said.
Calling all HuffPost superfans!
Sign up for membership to become a founding member and help shape HuffPost's next chapter
BEFORE YOU GO
PHOTO GALLERY
The Supreme Court's 'Family' Photos