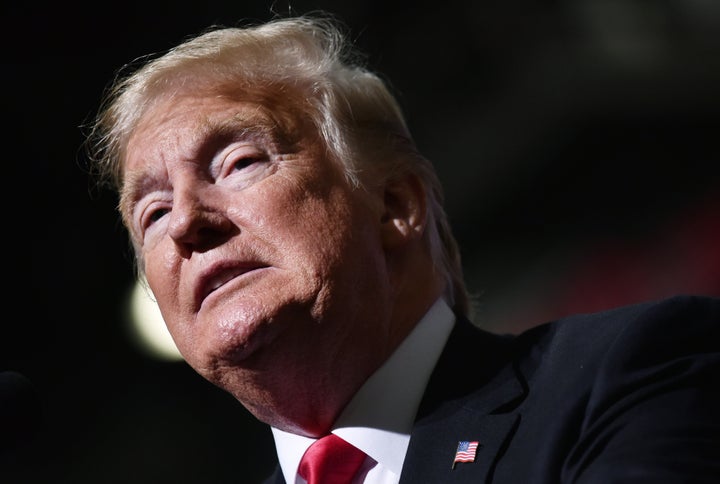 President Donald Trump attacked Democrats on Sunday for calling for a serious investigation into the sexual misconduct allegations against Supreme Court nominee Brett Kavanaugh, amid reports that Republicans have placed tight limits on the probe.
"It will never be enough" for them, the president tweeted.
In appearances on the Sunday talk shows, Democrats maintained the White House cannot limit the scope of the FBI investigation it ordered. GOP leaders reluctantly agreed to request an investigation Friday after a handful of moderates including Sen. Jeff Flake (R-Ariz.) said they wouldn't support Kavanaugh without one.
The dramatic move came a day after the testimony of Christine Blasey Ford, a psychology professor who alleged the high court nominee assaulted her when they were both teens in high school.
Several outlets, including CNN, NBC News and The New York Times, have reported that the probe is being tightly controlled by the White House counsel's office in coordination with Senate Republicans, contrary to Trump's claims on Twitter on Saturday.
There are reportedly restrictions on the number of total witnesses federal investigators can interview, as well as on their ability to question Kavanaugh's Yale classmates about his drinking habits. Alcohol plays a role in Blasey's claims about the nominee, as well as the claims of two other women who came forward to accuse him of sexual misconduct.
"They [the White House] cannot say, 'Oh, hey, only interview the people in their neighborhood on one side of the street.' Or, 'Only interview people from a certain period of their life,'" Sen. Amy Klobuchar (D-Minn.) said on CBS' "Face the Nation." "You let the men and women of the FBI, the professionals, do their jobs."
Sen. Chris Coons (D-Del.), a centrist Democrat who was instrumental in helping convince Flake to urge for a delay in the confirmation process, argued that severely limiting the list of witnesses whom the FBI is allowed to interview does not represent a serious investigation.
"If it's a list of 75 witnesses, I'd say, 'OK, in a week that is a lot.' But if it's list of three, that is an attempt to shut it down and not make this a legitimate background check," Coons said Saturday at the Global Citizen Festival.
After a day of testimony in the Senate Judiciary Committee on Thursday, Flake, a member of the panel, voted Friday to send Kavanaugh's nomination to the Senate floor. But he bucked his party and called for a probe not lasting longer than a week that will be "short and limited in scope to the current allegations that have been made."
The Republican, who plans to support Kavanaugh's nomination if the investigation does not turn up any additional facts, did not explain exactly how limited of an investigation he wanted to see occur. He told reporters it is up to the FBI to determine whether to probe the allegations leveled against Kavanaugh by two other women, Deborah Ramirez and Julie Swetnick, in addition to Blasey's.
The FBI is planning on questioning several key witnesses, including Kavanaugh's high school friend Mark Judge, but not Swetnick herself, according to The New York Times. Swetnick said in a signed declaration released by her attorney Michael Avenatti that Kavanaugh was present at a 1982 party where she was gang raped, but didn't identify Kavanaugh as an assailant. 
The office of Senate Majority Leader Mitch McConnell (R-Ky.), who has been heavily involved in the process behind the scenes, suggested in an email to reporters on Sunday it did not view Swetnick's story as credible. 
Meanwhile, in a separate interview with CNN on Sunday, top Trump aide Kellyanne Conway said that she didn't "think" White House counsel Don McGahn would place limits on the FBI's investigation.
Calling all HuffPost superfans!
Sign up for membership to become a founding member and help shape HuffPost's next chapter