They dismissed Democratic demands for the records ― which likely number in the hundreds of thousands ― as a "fishing expedition" over the weekend, and further sought to downplay the nature of the position, in which Kavanaugh served from June 2003 until May 2006.
"Many documents crossed his desk while working that job," Senate Majority Whip John Cornyn (R-Texas) said in a speech last week. "Is what President Bush had for dinner 14 years ago relevant to how Kavanaugh will serve on the court?"
But people who previously served in the role for other presidents painted a different portrait of the job. Staff secretaries traditionally act as a powerful gatekeeper of all information that reaches the president's desk, and they have substantial influence over internal White House deliberations and the policymaking process.
In addition to being tasked with summarizing viewpoints from key administration officials on various proposals, for example, staff secretaries often take a more hands-on role by editing and authoring memos that can help the president make better and more informed decisions.
"There's no question their role is to be an honest broker, but you are also driving this process," Lisa Brown, who previously served as White House staff secretary for President Barack Obama, told HuffPost in an interview on Monday. "So you're not just a paper pusher ... you're playing a much more overt role."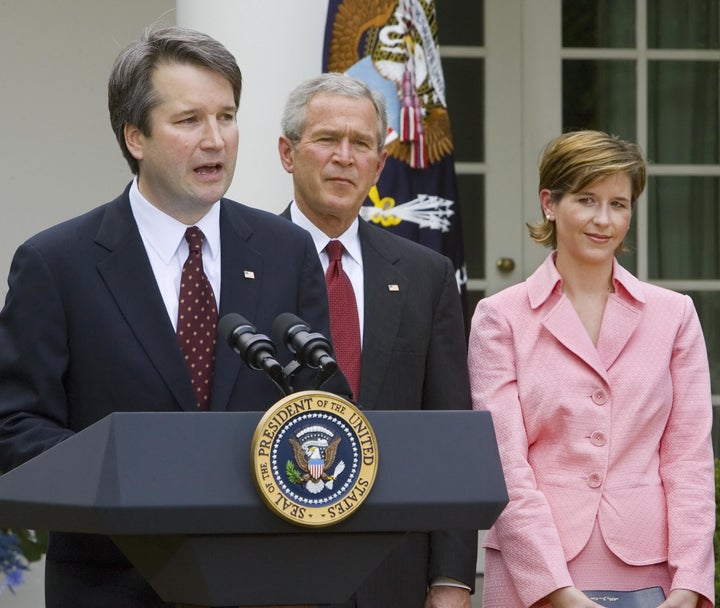 Democrats are particularly interested in Kavanaugh's views on executive power, an area of law that became highly relevant in the wake of the Bush administration's decision to greenlight its infamous enhanced interrogation program. His tenure as staff secretary during that time ― and any relevant documents he may have authored on the topic of torture ― could influence at least one key vote: Sen. John McCain (R-Ariz.). The Arizona Republican, who was tortured as a prisoner of war in Vietnam, has been an outspoken critic of the Bush-era program.
"At a minimum, something that he authored, commented on or edited could be relevant to understanding his views," added Brown, who is now vice president and general counsel at Georgetown University. "And if the question is what he knew about a specific topic, then any materials on that subject that he received would also be relevant."
The portfolio of a staff secretary can also grow depending on the needs of a particular administration. In addition to his regular duties as staff secretary for President Bill Clinton, for example, Todd Stern was tasked with managing the administration's climate change negotiations in Kyoto in 1997.
"That happens from time to time as staff secretary. Functionally you become another deputy chief of staff," Rep. Sean Patrick Maloney (D-N.Y.), who also served as Clinton's staff secretary a few years later, said in an interview on Monday.
The New York congressman, who once worked in the same law firm as Kavanaugh, called the judge a "very intellectually talented person" and surmised that it would not have been unusual "to include him in a substantive role" in various decisions made at the White House. Maloney further expressed interest in whether Kavanaugh, who had been involved in conservative legal circles for years, helped the Bush White House select its judicial nominees.
On Friday, however, Republicans rejected demands to generate George W. Bush Presidential Library documents relating to Kavanaugh's time as staff secretary. Senate Judiciary Committee Chair Chuck Grassley (R-Iowa) wrote in a letter addressed to Senate Minority Leader Chuck Schumer (D-N.Y.) on Friday that he failed to see how those records would provide "any meaningful insight" into Kavanaugh's legal thinking, making clear Republicans would only be turning over documents from the nominee's time in the Bush White House counsel's office.
Grassley further argued that Kavanaugh's lengthy trial record as a judge on the D.C. Circuit Court, where he has served since 2006, would give senators a "clearer picture" of where he stands on legal issues.
Schumer lamented Grassley's letter on Monday, questioning whether Republicans had something to "hide" by announcing the move on a Friday evening.
"My Republican colleagues know that this was wrong, that's why they sent it so late on a Friday, hoping to bury it," Schumer said. "This letter makes it clear that Republicans intend to block the Senate — and the American people — access to the bulk of Judge Kavanaugh's White House records."
Popular in the Community