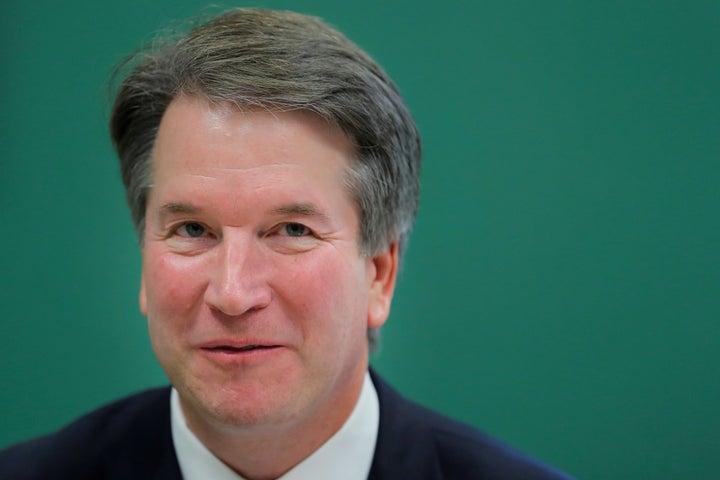 When a New York manufacturer created a new, spinoff company to avoid bargaining with unionized workers, federal regulators and a panel of appellate judges said the manufacturer broke the law and violated its employees' rights.
There was, however, one judge who dissented in the appeals decision and sided with the employer: Brett Kavanaugh, President Donald Trump's nominee to replace Justice Anthony Kennedy on the Supreme Court.
The ruling shows Kavanaugh will "find any interpretation of the law that helps corporations avoid their obligations to working people," Sen. Patty Murray (Wash.), the ranking Democrat on the Senate Committee on Health, Education, Labor and Pensions, said in an emailed statement to HuffPost. "Kavanaugh has consistently sided with corporate interests, including going out of his way to write a dissenting opinion arguing that corporations should be allowed to create sham, spin-off companies in order to skirt their responsibility to negotiate with workers and their unions for better wages, working conditions, and benefits."
The 2018 case revolved around a company called Island Architectural Woodwork, which is based in Ronkonkoma, New York, and fabricates custom woodwork for office buildings. Workers at Island have been represented by a local union of the United Brotherhood of Carpenters since 1995. But in 2013, Island created a second entity, Verde Demountable Partitions, which would employ non-union workers and pay non-union wages.
Verde was set up in one of Island's buildings, to be led by the daughter of Island's chief executive, Edward Rufrano. Verde used the same equipment as Island, did pretty much the same work and was managed by people who'd previously managed at Island.
The main difference seemed to be that, unlike Island workers, Verde workers would not be represented by the Carpenters and would not have a union contract. Island management told workers that union members were no longer allowed to enter the building that housed Verde.
So-called "double-breasted" companies, which have both union and non-union workforces, can be legal depending on how they're set up and how they operate. The two entities generally need to show an arm's-length relationship, with separate ownership, management and equipment. It's illegal to establish a new company just to dodge a union, and regulators can force the company to bargain with workers if they believe that's what happened.
The Carpenters claimed that Verde was merely an illegitimate "alter ego" of Island, created expressly for the purpose of non-union work. If that was the intent, the company didn't do a great job of covering its tracks. According to court filings, Island provided Verde with free equipment and rent but didn't even bother to document its dealings with the supposedly separate company until after it was subpoenaed.
"Kavanaugh has consistently sided with corporate interests."
As the appellate court later noted, "Island made no formal valuations of its assets before handing them off to Verde" ― an unusual move if the two companies were disconnected as they claimed.
In his testimony, Rufrano lamented that Island's competitors were "outsourcing to either non-union shops or out of the country," putting Island at a competitive disadvantage because it had to bargain with the Carpenters. Rufrano developed the idea to establish Verde and have it produce a particular office partition at a cheaper price.
As the union was negotiating a new contract with Island, Rufrano insisted that the Carpenters waive any right to represent the Verde workers. If they didn't sign a memorandum of agreement on that, they wouldn't get a collective bargaining agreement. The Carpenters filed an unfair labor practice charge with the National Labor Relations Board, accusing the company of union busting.
Initially, an administrative law judge sided with Island/Verde, but the case was appealed to the full labor board in Washington, D.C. In a 3-0 decision, the board ruled that Verde was an alter ego of Island and that the company had an obligation to bargain with the Carpenters. One of the main factors in the board's decision was the "anti-union animus" shown by the company, suggesting Verde was created primarily to sidestep bargaining.
A three-judge panel for the U.S. Court of Appeals for the D.C. Circuit affirmed that ruling in June, finding that Rufrano "exerted de facto control over Verde's operations." The outlier was Kavanaugh, who wrote that finding Island and Verde to be separate entities "was the only reasonable conclusion to reach." That finding was largely premised on the fact that Verde was owned by Rufrano's direct descendants, rather than Rufrano himself.
"The Board … seems to have found something shady in the fact that Verde was started and primarily owned by two daughters of Island's primary owner," Kavanaugh wrote, making it clear he saw no such shadiness.
If Kavanaugh's reading of the law were widely held, it would be much harder for a union to prove that a company created an alter ego just to avoid dealing with the union. That, in turn, could give more firms an incentive to try it, knowing the labor board and the courts would be unlikely to force the company to bargain.
The AFL-CIO union federation said in a statement that Kavanaugh "has a dangerous track record of putting big corporate interests ahead of working peoples' rights and safety. He has put working people at risk by defending corporations with dangerous and unsafe working conditions."
"Kavanaugh has a dangerous track record of putting big corporate interests ahead of working peoples' rights and safety."
Kennedy was in the majority on both of those decisions. But some labor law experts are concerned that, given some of his dissents, Kavanaugh would be more eager than Kennedy to take up cases that can overturn precedent on labor issues. As Wilma Liebman, former chair of the NLRB, recently said, "Does he get [Justice Samuel] Alito, does he get [Justice Clarence] Thomas to go along with him and revisit what might be thought of as established precedent?"
The Island/Verde case is not the only ruling where Kavanaugh sided with an employer while the majority of the panel sided with workers.
In a notable 2008 case, a D.C. Circuit panel ruled that a kosher meatpacking company had broken the law by refusing to bargain with its unionized workers because they were undocumented. Kavanaugh was the lone dissenter, arguing that the workers' undocumented status meant they weren't really employees under the law. The argument Kavanaugh laid out in his dissent could have far-reaching consequences for workers' rights, potentially carving undocumented immigrants out of basic labor protections like the minimum wage or overtime pay.
In another, more high-profile case, Kavanaugh dissented in a 2014 decision upholding a fine issued by the Occupational Safety and Health Administration against SeaWorld. OSHA had cited the theme park for safety lapses that led to the death of trainer Dawn Brancheau, who was killed by the killer whale Tilikum in 2010. The case was the subject of the documentary "Blackfish."
While his colleagues ruled that SeaWorld knew its safeguards for trainers were insufficient, Kavanaugh argued that OSHA didn't have the regulatory standing to issue the fines. He compared working at SeaWorld to playing a dangerous sport like ice hockey.
"When should we as a society paternalistically decide that the participants in these sports and entertainment activities must be protected from themselves – that the risk of significant physical injury is simply too great even for eager and willing participants?" he asked.
Senate Republicans have scheduled Kavanaugh's confirmation hearings to start on Sept. 4, with a goal of getting him seated on the court before the midterm elections in November.
Popular in the Community