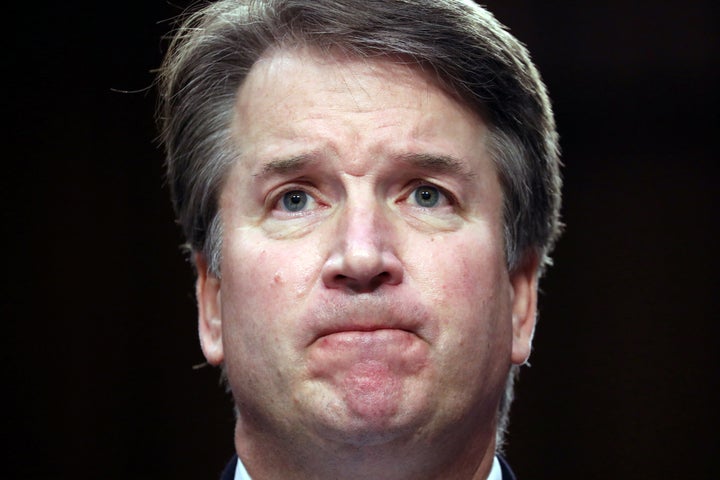 The sexual assault allegation against Brett Kavanaugh is rocking the world of Ivy League law, an elite feeding ground for the Supreme Court and federal judiciary.
At Yale Law School, the embattled Supreme Court nominee's alma mater, a growing number of students are denouncing administrators for their rote support of Kavanaugh and are demanding changes to a culture that enables powerful elites to get away with sexual misconduct.
At a Yale Law Women event on Thursday, students confronted faculty over statements Yale put out over the summer in support of Kavanaugh's nomination and the school's silence since Dr. Christine Blasey Ford alleged that Kavanaugh sexually assaulted her when they were teens.
Students also demanded to know if the school was aware of the conduct of Alex Kozinski, a high-profile judge many alumni clerked for who resigned late last year amid accusations of sexual harassment.
"Students feel pretty deeply betrayed by professors being aware of allegations for years against federal judges, but continuing to funnel students to them," said Catherine McCarthy, a third-year student who was at Thursday's town hall and was one of about 30 students who helped organize a campus protest the following day.
Doug Kysar, deputy dean of Yale Law School, told students on Thursday that he'd known of Kozinski's behavior since 1998.
"We all inferred he meant that he knew about sexual harassment," McCarthy said.
Kysar later clarified in an email to students that he actually didn't learn of the sexual misconduct allegations until recently, and was only aware that Kozinski seemed "like an asshole" from the time Kysar himself was a law student decades ago.
"I did not know, until news broke last year, of his reputation for sexual harassment and how much more deeply harmful and offensive his behavior actually was. Nor did I make a report of what I had heard during my student years to any relevant official body," Kysar said. "Given what I did know, do I wish I had done more? Yes. I always wish I had done more."
Students didn't really buy Kysar's explanation. "Personally, I was appalled," said a female student who declined to be named out of fear of career repercussions.
"Do more now!" read one of the many signs students placed on campus to protest Kysar's comments and the administration's "complicity" in enabling a culture of sexual harassment and assault.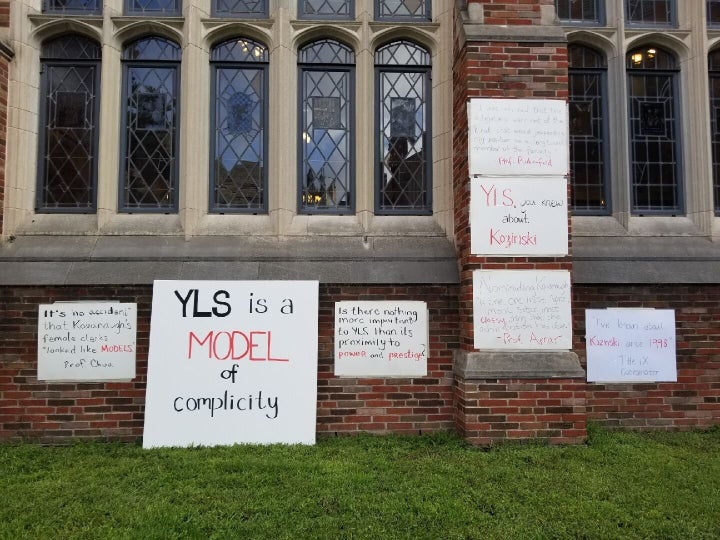 Yale Law School's culture was thrust into the spotlight this week when HuffPost and subsequently The Guardian reported that two well-known law professors told students seeking clerkships with Kavanaugh that he liked female clerks with a "certain look."
Amy Chua, who's known as the "Tiger Mom" for her 2011 book The Battle Hymn of the Tiger Mother, told students that it's "not an accident" that Kavanaugh's clerks "look like models." Chua is currently hospitalized with an undisclosed but reportedly serious illness.
Chua's husband, Jed Rubenfeld, had reportedly warned one student about another federal judge who was a sexual harasser. Rubenfeld himself is on leave pending an investigation into his own personal interactions with students. In a statement to The Guardian, Rubenfeld said he didn't know anything about the allegations.
But when a student asked faculty about what changes they planned to make following those reports, they didn't have much to offer.
Faculty members replied with pro forma statements of support for students. But then they put the onus on students to do more research about judges, according to multiple students who attended the event.
"These professors are the gatekeepers to these judges," said another student who attended Thursday's meeting. "If they have access to private information of sexual harassment that we have no knowledge of, that's ridiculous to put that on the students as an independent obligation."
Gallingly, Kysar asked students to take a moment to reflect on how much progress Yale has made since 2004, when "it was routine and commonplace" for the career services center to instruct students to wear short skirts for clerkship interviews, recalled a student who attended the event. "We all know that's now a bad thing," Kysar said, according to students who attended.
The notion outraged students. "There were a lot of text conversations happening concurrently," said McCarthy, the third-year student. Another student said there were a lot of eyes shining with tears in the room.
"Yale Law School is an educational institution and its failure in the last day to take these allegations and its students' safety and concerns seriously is deeply disappointing," read a statement from about 30 students emailed to HuffPost. The statement highlighted "Yale Law School's complicity in and facilitation of federal judges' sexual harassment of and discrimination against their clerks, particularly with regard to Judge Kavanaugh."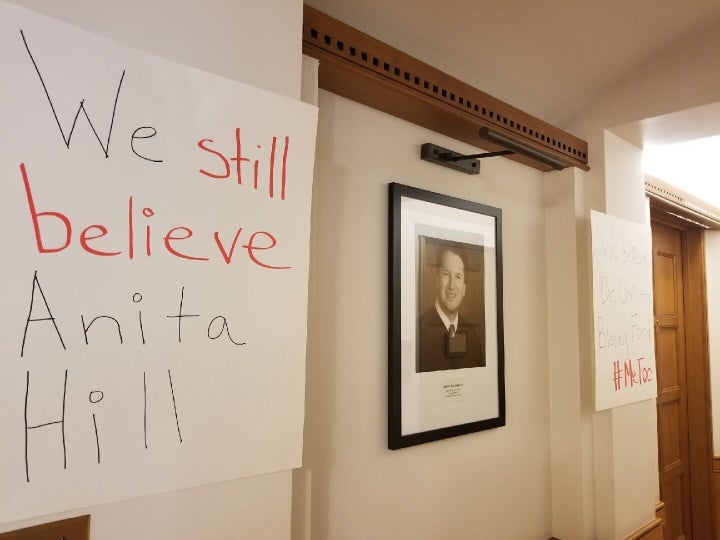 Students insist not all that much has changed since the short skirt days. One female student told faculty in attendance on Thursday that after just a week on campus, she'd heard about how you have to take certain professors out to drinks to get clerkships.
Two other students HuffPost spoke to said it is well understood that they must ingratiate themselves with the right professors if they want to get the most prized clerkships. "An underground network," is how McCarthy described it.
Some Yale Law School faculty, however, appear to be listening to students' complaints. A majority of professors, including the past two deans, Harold Koh and Robert Post, signed a letter to the Senate Judiciary Committee on Friday urging it to "conduct a fair and deliberate confirmation process" and allow the FBI to first investigate allegations against Kavanaugh before there's another hearing.
"I think some of the faculty realize that this has to be the beginning of a process," one of the students involved in Thursday's meeting said.
Professor Abbe Gluck's name has also quietly been removed from a press release Yale sent in July congratulating Kavanaugh for his Supreme Court nomination. In the original release, Gluck said Kavanaugh is "humble, collegial and cares deeply about the federal courts." Her quote is no longer featured on the school's online version of the release.
Gluck signed Friday's letter to the Senate Judiciary Committee.
"The quote has been removed because it has been consistently misread by the press and both sides and unfairly misappropriated by the White House," she said, adding that she still believes "thorough review of Judge Kavanaugh's record is still needed before any vote should occur, including review of the unreleased documents, as well as a full airing of the serious personal allegations through a process that is fair for all involved."
Yale Law School's dean, Heather Gerken, also released a statement on Thursday evening addressing the allegations that Chua and Rubenfeld had coached students about how they should look before meeting with Kavanaugh, as well as their knowledge of Kozinski's alleged sexual harassment.
"The allegations being reported are of enormous concern to me and to the School," Gerken said in the statement. "While we cannot comment on individual complaints or investigations, the Law School and the University thoroughly investigate all complaints regarding violations of University rules and take no options off the table."
Yale Law students are not alone ― some students at Harvard Law demanded that Kavanaugh stop teaching at their institution ― and they aren't about to give up. A coalition of students involved with groups like Yale Law Women, Black Law Students Association, Title IX and the Asian Pacific American Law Students Association, "is going to pressure [school administrators] to put on a town hall next week," according to a student involved in the planning.
And students are keeping up the pressure. On Friday, they placed signs on campus stating, "[Yale Law School] is a model of complicity," and "YLS, you knew about Kozinski." Two signs framed a picture of Kavanaugh hanging on campus. They said, "We still believe Anita Hill," and "We believe Dr. Christine Blasey Ford. #metoo"
About 30 students are also organizing a trip down to Washington, D.C., on Monday.
"Things have changed in the hallways in the last two days," said another law student who attended Thursday's meeting. "Things have changed."
This piece has been updated with comment from Gluck.
Amanda Terkel contributed reporting.
Support HuffPost
The Stakes Have Never Been Higher
Popular in the Community