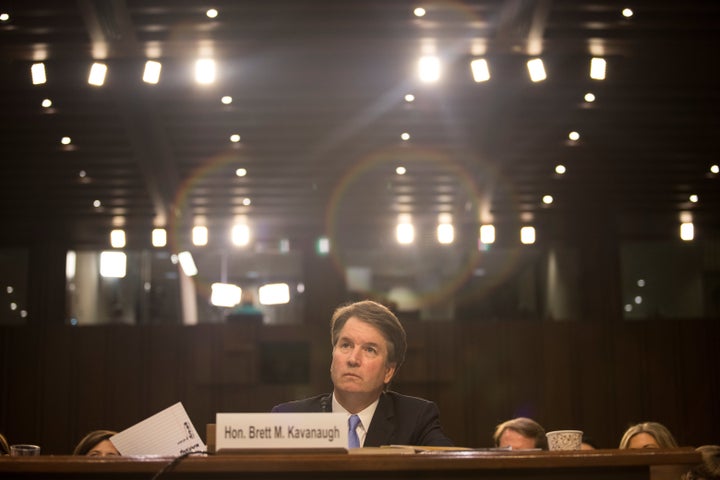 The sexual assault allegation against Supreme Court hopeful Brett Kavanaugh so far appears to have had virtually no effect on public support for his nomination, new polling finds. Although he remains historically unpopular, he doesn't appear to have suffered any further attrition over the course of the past week.
In the most recent poll, 32 percent support his confirmation, 32 percent oppose it and another 36 percent aren't sure. Among those who disapprove of President Donald Trump's choice of Kavanaugh for the seat, just 46 percent say their opposition stems from an objection to Kavanaugh personally, rather than a lack of confidence in Trump's ability to nominate a suitable candidate.
September surveys from other outlets, most of which were conducted prior to the latest news cycle, put Kavanaugh's net support between -1 and +6.
Part of the reason for the current stability may be that many people still aren't focused on the story. Fewer than a quarter of respondents to the latest HuffPost/YouGov survey say they're following Kavanaugh's confirmation hearings very closely, basically unchanged from earlier in the month; search engine data suggests Hurricane Florence probably drew a lot more attention. Seventy percent of Americans say they've heard at least something about Blasey's accusation that Kavanaugh sexually assaulted her when they were both high school students, but just 35 percent that they've heard a lot about them.
Even after hearing about the allegations, however, the public is split 35/36 on whether or not Kavanaugh should withdraw his nomination. Nearly half of Americans say they're not sure if the allegation against Kavanaugh is credible or not ― those who do have an opinion one way or another are close to evenly divided. Thirty-nine percent say that the sexual assault allegation, if true, disqualifies Kavanaugh from serving on the Supreme Court, with 18 percent calling it relevant but not disqualifying, and 20 percent finding it not relevant at all.
Initial reactions to Kavanaugh's nomination were already deeply polarized. The responses to the allegations ― like sentiments about the Me Too movement more broadly ― diverge sharply along those same political lines, leaving opinions as entrenched as they were previously.
Sixty-two percent of Hillary Clinton voters, compared to 18 percent of non-voters and just 4 percent of Trump voters, say the allegation is credible; three-quarters of Clinton voters, 34 percent of non-voters and a tenth of Trump voters consider it disqualifying if true. More than 80 percent of Trump voters say they'd rather see the president continue to back Kavanaugh than replace him with another conservative nominee.
As is often the case, politics is far more of a dividing line than gender, although some differences stand out within each voting bloc. Male and female Trump voters both see the accusation against Kavanaugh as lacking credibility and irrelevant to his nomination, but the men are 23 points and 9 points likelier, respectively, to hold those opinions. Across the aisle, male Clinton voters are more likely than female Clinton voters to view the accusation as credible ― the women are no more likely to doubt it, but do more commonly choose not to state an opinion.
Gender also influences the personal perspectives different people bring to the controversy. Men say by an 11-point margin that they worry more about being accused of sexual harassment than of facing it, while women say by a 23-point margin that they're more worried they will be harassed. A majority of both men and women say they're not concerned about either possibility, although half of women under 30 report fearing sexual harassment.
The current fight over Kavanaugh's nomination draws unavoidable comparisons to 1991, when pollsters were asking similar questions about the accusations against Clarence Thomas. At the time, Thomas was generally popular with the American public, and Anita Hill's testimony did little to change public opinion. In one survey, 62 percent of the public said they believed Hill's charges would have been taken more seriously if there were more than two women serving in the Senate.
Today, Americans say by an 8-point margin that Thomas shouldn't have been confirmed, according to the HuffPost/YouGov survey. Just a tenth of those polled say the Senate is doing a better job of handling sexual misconduct allegations today than it did in 1991, with 24 percent saying it's worse and 34 percent that it's about the same.
The HuffPost/YouGov poll consisted of 1,000 completed interviews conducted Sept. 17-18 among U.S. adults using a sample selected from YouGov's opt-in online panel to match the demographics and other characteristics of the adult U.S. population.
HuffPost has teamed up with YouGov to conduct daily opinion polls. You can learn more about this project and take part in YouGov's nationally representative opinion polling. More details on the polls' methodology are available here.
Most surveys report a margin of error that represents some, but not all, potential survey errors. YouGov's reports include a model-based margin of error, which rests on a specific set of statistical assumptions about the selected sample rather than the standard methodology for random probability sampling. If these assumptions are wrong, the model-based margin of error may also be inaccurate. Click here for a more detailed explanation of the model-based margin of error.
Popular in the Community