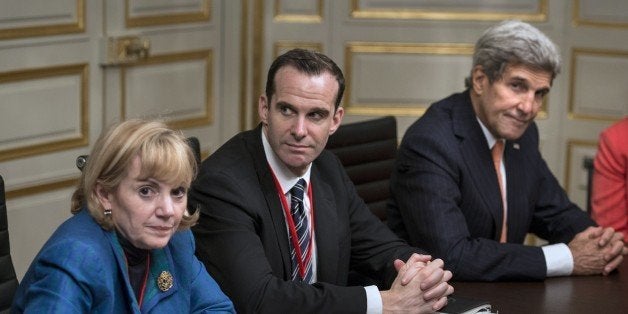 A State Department official helping lead a coalition against the Islamic State said Sunday it would be several years until the group was defeated.
"Long term, we are going to degrade and defeat this organization," said Brett McGurk, the State Department's deputy special presidential envoy to the coalition to counter the Islamic State. "But we have been clear from day one -- it is going to take years."
McGurk, speaking on CNN"s "State of the Union," added that U.S.-allied forces have reclaimed about 25 percent of the populated areas previously controlled by the Islamic State since the fall of Mosul, Iraq, last year.
According to McGurk, 22,000 foreign fighters have traveled to Iraq and Syria to fight alongside the Islamic State. About 3,700 of these fighters are from Western nations, he said. "This is a multifaceted, international, federal, state and local challenge," he explained.
McGurk is the deputy head of a coalition of 62 nations committed to defeating the Islamic State. While the coalition is primarily focused on reclaiming territory in Iraq and Syria, there is also an effort to disrupt the group's finance networks and counter its social media messaging campaign in order to limit the group's ability to attract recruits.
Most of the territorial gains have been in Iraq, McGurk conceded. However, last week marked the beginning of the Pentagon-led effort to train and equip moderate Syrian rebels to fight the Islamic State there. The U.S. is currently vetting about 3,400 volunteers and hopes to have 5,000 troops trained within a year, McGurk said. While the U.S. will provide opposition fighters with air support against the Islamic State, there is no plan to provide trainees protection from attacks by Syrian President Bashar al-Assad.
U.N.-led talks, aimed at reaching a political agreement to end the four-year-old civil war in Syria, restarted last week. McGurk said he hoped that the increased capabilities of the opposition fighters would force Assad to make concessions in this round of talks.
Entering the ninth month of the U.S.-led bombing campaign against the Islamic State, Congress has yet to pass a war authorization. The Obama administration has claimed the 2001 authorization, passed in the aftermath of the Sept. 11 attacks, provides sufficient legal authority for the war. Last week, Sen. Tim Kaine (D-Va.) told The Huffington Post that Congress' failure to act "[has] demonstrated that we're indifferent or lack a backbone."
REAL LIFE. REAL NEWS. REAL VOICES.
Help us tell more of the stories that matter from voices that too often remain unheard.
BEFORE YOU GO
PHOTO GALLERY
Victims of the Islamic State