 The Brewster-Douglass projects are coming down.
The towers of the abandoned housing development can be seen from many vantage points in Detroit. To some, they're an beloved icon; to others, a symbol of Detroit's decline. For a few squatters, they might still be home, but not for long.
"The demolition of the Frederick Douglass Homes represents another important and positive step in Detroit's journey toward revitalization," Donovan said in a statement. "We are honored to be a part of helping to write a new chapter for this community. The people of Detroit are determined and resilient -- and the Obama Administration is committed to supporting local leaders as they rebuild."
Closed since 2008, the Frederick Douglass homes are comprised of four 15-story towers, two six-story buildings and nearly 100 low-rise homes. The first federal housing development for African Americans, the project broke ground in 1935. The occasion celebrated with a dedication from Eleanor Roosevelt.
Some of Detroit's legendary celebrities once called the projects home: most famously, Diana Ross, Mary Wilson and Florence Ballard, who made some of Motown's biggest hits as The Supremes. Actress Lily Tomlin also grew up there, and boxer Joe Louis practiced his punches at the complex's Brewster-Wheeler Recreation Center.
"The people of the surrounding areas thought we were the elites," former resident Barbara Battle Hunt told the New York Times in 1991, when she was 73. "They say, 'Here come one of those snooty project girls.' "
The article describes a place where, in its first couple decades, crime was rare, lawns were manicured, the community looked out for others' children and lower income, working families could carve out a bit of the American dream.
"I can tell you this from my own experience: That when I moved to the projects [at age 13 in 1950], I felt it was like dying and going to heaven," a former Detroit police lieutenant told the paper.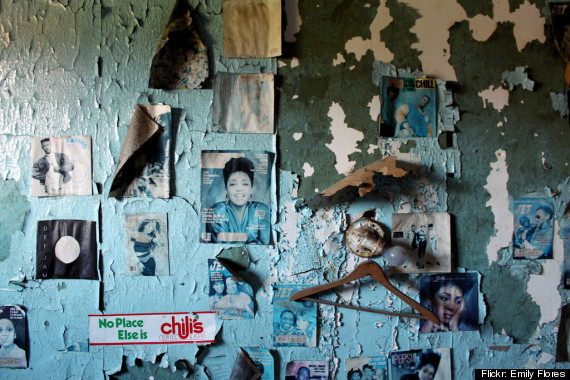 Flickr photo by Emily Flores.
But families looking for a better life slowly moved out, and crime grew at the aging projects. Part of the structures have been demolished in years past, despite some protests.
To many observers, the towers came to symbolize Detroit's blight and lack of funds to fix problems. Last year, Mayor Dave Bing announced the funding secured from HUD to bring the projects down. Bing made a commitment at the beginning of his term to raze 10,000 dangerous abandoned structures in the city.
"This site has long been an eyesore and a breeding ground for crime in our city," he said in a statement Wednesday.
The projects have proved magnetic for curious urban explorers and graffiti writers, and recently hosted art experiments and skating rallies. The future of the land is unknown. According to the Detroit Free Press, the demo could take about a year, and will leave 18 acres of land ready to be developed.
Last year, Detroit filmmaker Oren Goldenberg released "Brewster Douglass, You're My Brother," a short documentary looking at an often-forgotten part of the projects -- the squatters who still lived there, and the congregation of a historic black church located on site.
"Things being torn down in Detroit seems like progress," Goldenberg said at the time. "But it all depends on what's built to replace them."
Calling all HuffPost superfans!
Sign up for membership to become a founding member and help shape HuffPost's next chapter