The United Kingdom on Wednesday formally began the process of leaving the European Union, and Europe's leaders have reacted to the breakup with a mix of sorrow and insistence that the EU will stay strong.
"There is no reason to pretend that this is a happy day, neither in Brussels, nor in London," European Council President Donald Tusk said after receiving U.K. Prime Minister Theresa May's letter that officially triggered exit negotiations.
"What can I add to this?" he said. "We already miss you."
The U.K.'s Dear John letter to the European trading bloc invokes Article 50, a provision of the EU's Lisbon Treaty that allows member states to leave the union. It also issues a two-year timeline for the country to hash out how to fully extricate itself.
Although it could be years before the U.K. actually leaves the EU, many European politicians reacted to May's letter as if it were a point of no return.
European Union President Antonion Tajani tweeted about a "new chapter" for the EU, while Austria's foreign minister, Sebastian Kurz, called it a "turning point." German Chancellor Angela Merkel said the EU was losing an important member state and that European nations "certainly did not wish for this day."
A number of officials also set the tone for likely contentious Brexit negotiations. Merkel shot down the prospect of parallel talks on the future of the U.K.-EU relationship, demanding clarity first on how Britain would leave the union. The EU's chief Brexit negotiator, Michel Barnier, tweeted that his team was ready, and outgoing French President Hollande said the proceedings "will be painful for the British."
Others in government, like Manfred Weber, chairman of the European Parliament's EPP Group, chastised British politicians who campaigned to leave and said they had created divisions.
"EU has done everything to keep the British. From now on, only the interests of the remaining 440 million Europeans count for us. #BrexitDay," Weber wrote in another tweet.
May tried to frame the moment as a fresh chance for the U.K. to redefine its role in the world and preserve its identity.
"As we face the opportunities ahead of us on this momentous journey, our shared values, interests and ambitions can ― and must ― bring us together," May told members of Parliament.
Scottish leader Nicola Sturgeon, meanwhile, condemned Brexit and pointed out that the majority of Scots who voted in the referendum wanted to remain in the EU. On Tuesday, Scotland's Parliament backed Sturgeon's call for a new Scottish independence referendum to try to preserve the nation's place in the European Union.
However, a few far-right, anti-EU politicians are celebrating. The Netherlands' anti-Islam party leader Geert Wilders, who advocates for a Dutch "Nexit," congratulated Britain and tweeted it was "a historic moment!" Wilders followed up a few minutes later by tweeting a political cartoon that included racist caricatures of Arab men overrunning a ship labeled "EU" as it plunged over a waterfall.
Marion Le Pen, a politician with France's National Front party, tweeted that Britain was regaining its freedom and vowed that her country would follow suit. Her aunt, Marine Le Pen, is the party's leader and has promised to hold a referendum on France's membership in the EU if she wins the country's presidential election in early May. Polls show that she is expected to lose in a second-round runoff vote to pro-EU Independent candidate Emmanuel Macron.
Before You Go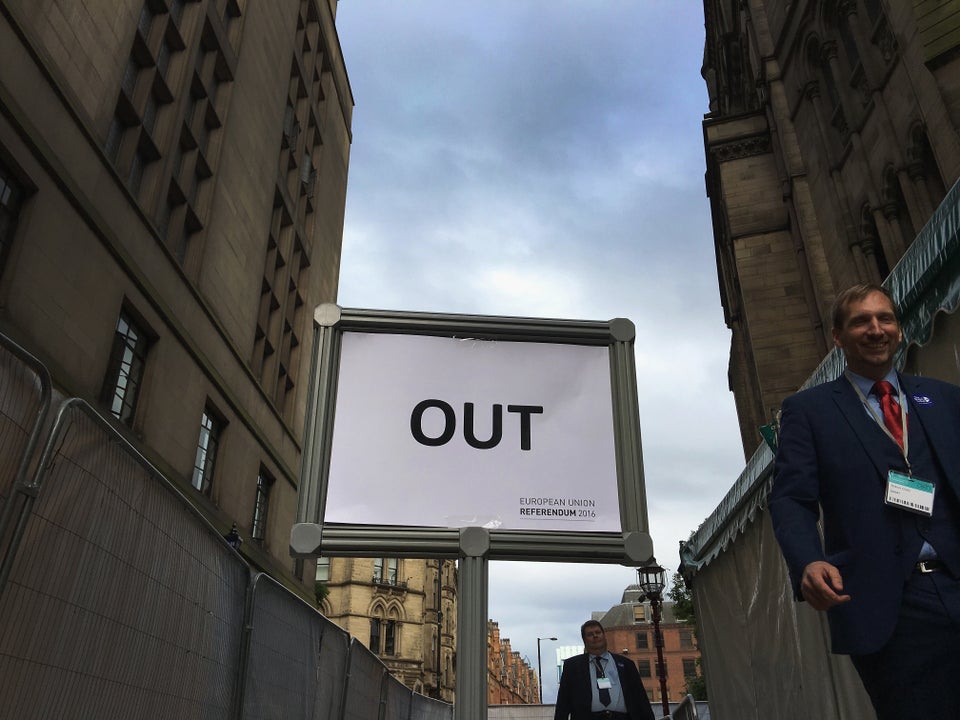 Brexit Wins
Popular in the Community