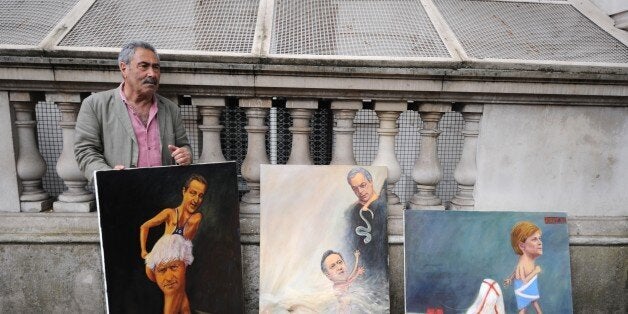 Great Britain has always had one foot in and one foot out of Europe. It has often tried to bargain with Europe -- we all remember when Margaret Thatcher said "I want my money back." It has always been skeptical of the continent's politics. Its departure may therefore pose new opportunities.
But that won't happen unless Europe is completely firm with Britain. The EU's institutions need to continue to function the same way, and European unity needs to be restated.
The European Union must be extremely firm with regards to Great Britain's exit. British commissioners and deputies must resign. They have no say in a union to which they no longer belong.
British officials should leave their positions as soon as possible and should be immediately deprived of any decision-making power. The financial consequences should be outlined as soon as possible, and they should lose all of their special privileges.
If Brexit inflicts an economic and financial earthquake on Britain, the country should receive no help from the European Union. Indeed, those who argued for Brexit spoke principally of the economic benefits it would bring to the UK once it is unshackled from the EU.
Eurosceptics have spread in reaction to the behavior of European leaders.
It would be absurd to consider that this earthquake will only affect Britain. The European Commission paid for its submission to the lobbies and its constant refusal to listen to European citizens at the polls. Eurosceptics have spread in reaction to the behavior of European leaders.
The weight of the financial, pharmaceutical, chemical, agro-seed, oil, and auto lobbies has created policies that compromise the medical, environmental and economic interests of most Europeans. Austerity policies, which even the IMF has turned its back on, were forced on Europeans like bitter medicine in the name of an ultra-liberalism that Britain was familiar with.
We need a single European project that we can actually understand.
The EU's policy changes must be immediate and drastic. The commission must recognize its mistakes and make strong, symbolic, and swift decisions. It is essential that all European people feel heard.
Finally, we need a single European project that we can actually understand. Let's go back to basics. The European Union was created to ensure peace and security in Europe. At a time of terrorism and geopolitical threats on the one hand, and globalization on the other, we must make the European project viable for all Europeans. However, security is key a concern -- physical security, but also climate security, economic security, and health security. This Europe doesn't exist yet.
That is why the proposal I made in 2014 for re-building the heart of Europe is still relevant. Let us work towards a multi-speed Europe, specifically a three-speed Europe. Here's the vision: The heart of Europe is made up of the six founding countries and those who want to build an integrated political Europe. The second circle is the Euro circle, and it must consist of democratic institutions that work to integrate Europe economically. Finally, the third circle is that of the wider European market. This isn't an a la carte Europe. It's a Europe that's firm in its values and united in the face of major challenges such as immigration, climate change, economic turmoil, and the digital gap with the United States.
All of this will require European leaders to question themselves and their behavior. They stand at a crossroads in history, and they will be responsible for the success or failure of the finest political project the world has known since the end of World War II.
This post first appeared on HuffPost France. It has been translated into English and edited for clarity.
Calling all HuffPost superfans!
Sign up for membership to become a founding member and help shape HuffPost's next chapter