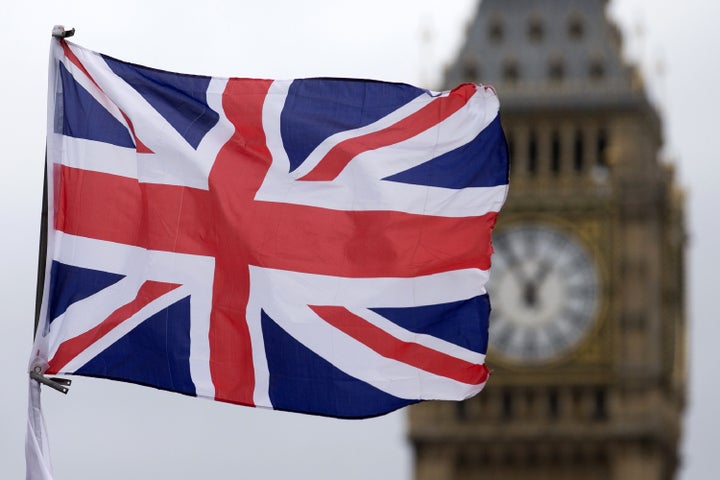 A late swing toward "remain" in the Brexit polls helped make the "leave" win seem unexpected. Older voters favored "leave" much more heavily than their younger counterparts. And back in the U.S., voters see their own parties as divided. This is HuffPollster for Friday, June 24, 2016.
MIXED PERFORMANCE FOR BREXIT POLLS - HuffPollster: "British news networks have called the United Kingdom referendum on membership in the European Union for 'leave' in a narrow victory that took most of the night to shake out….Polls had indicated the vote would be very close, but most last-minute surveys showed 'remain' leading….The average of all surveys conducted prior to the polls opening on Thursday showed that 'remain' was up by 0.5 percentage point over 'leave.'...Throughout the campaign, the polls diverged, based on whether they were conducted online or by telephone. The internet poll average estimated a 1.2-point lead for 'leave,' while live phone polls had 'remain' up by 2.6 percentage points….That doesn't mean all internet polls were reliable predictors and all telephone polls were unreliable. A couple of internet polls showed 'remain' with a substantial lead in their final surveys....There were warnings that the polls could have it wrong. There are considerable challenges in polling referendum votes, chiefly that there isn't any recent history to help determine what voter turnout would look like....[I]t's clear yet again that there isn't a reliable 'gold standard' for conducting pre-election polls." [HuffPost]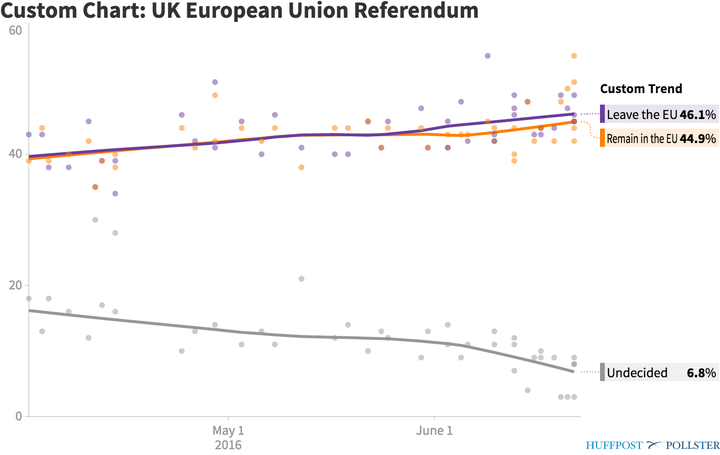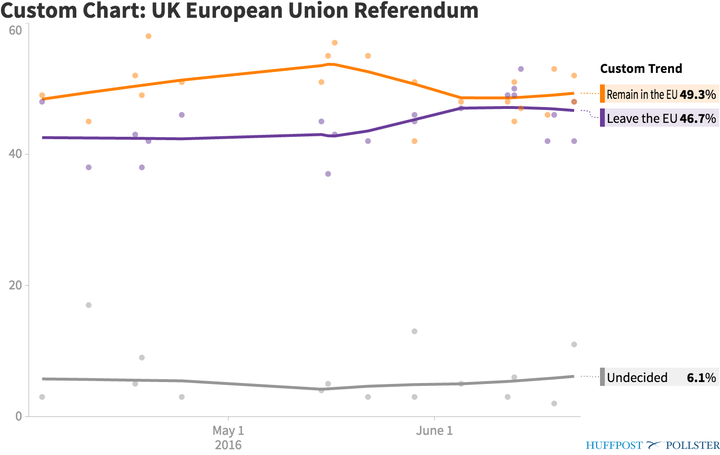 Polls always showed a close race; "leave" vote shouldn't be surprising - Nate Cohn: The polls consistently indicated that there was a very real chance that Britain would vote to leave. Polling averages even showed 'Leave' with a lead for most of the last month; over all, 17 of the 35 surveys conducted in June showed the Leave side with the edge, while just 15 showed Remain ahead. Yet at the same time, betting markets indicated that Remain was a clear favorite. The arguments for making Remain a favorite were understandable, but in retrospect, some look more like wishful thinking than a fair-minded assessment of the data... Betting markets showed that Remain was favored, and again, there's plenty of evidence that betting markets are a fairly reliable predictor of election results…. Finally, the late polls really did break toward Remain, especially after the British Labour Party member Jo Cox was killed on June 16. Over all, Brexit led in just four of the final 11 pre-election surveys — enough to give Remain a 0.5-point lead in the Huffpost Pollster average…. One could certainly argue that the polls were "wrong" in the sense that they tended to show a slight Remain advantage heading into the vote count. But it was clearly a distinct possibility that Brexit would win, based on the available survey data…. If there's a lesson here, it's a fairly straightforward one: Don't get too confident in contests when the polls show a very tight race." [NYT]
Last poll conducted showed voters were divided by age - Louise Ridley: "An age breakdown of EU Referendum polling shows young voters overwhelmingly supported Remain while older people backed Brexit, leading to claims that baby boomers were 'screwing the younger generations over yet again'. 75% of people aged 18-24 claimed they voted for Remain in the YouGov survey after voting closed, a figure that falls as age increases. In comparison, just 39% of those aged 65 and over backed a vote to stay, causing commenters to say it was 'infuriating' that 'young people.. have a future without the EU and it's one they don't want.'" [HuffPost]
Why there weren't any exit polls on the referendum - Jenny Anderson: "There [were] no official exit poll results...because this referendum is such an anomaly that there is no way to design a reliable exit poll. Regular exit polls are run by asking people at a sample of voting booths across the country how they voted, and then comparing the results with surveys from the same locations in previous elections. 'The changes can be projected to build up a national picture,' the Independent explains. But since Britain is voting on whether or not it will stay in the EU, a topic that has not been part of a general election, there is no baseline….Patterns of voting in the referendum will in no way reflect general election preferences: Both of the country's traditional parties are split on whether to stay in, or leave the EU, with all sorts of strange iterations. 'This is a unique vote, which will be reported by local authorities that do not tally geographically—or demographically—with general election voting wards,' explained the Week." [Quartz]
-The Guardian provides a breakdown of the votes cast in each region and the corresponding demographics. [Guardian]
DEMOCRATS AND REPUBLICANS SEE THEIR PARTY AS DIVIDED - Mark Blumenthal: "At this point in the campaign, perceptions of the degree to which the two parties are divided or unified are something of a paradox. Partisans on both sides are mostly unified around the two likely nominees, yet they perceive their respective parties as still divided (though they see the divisions as greater for the Republicans, and growing). More specifically, Clinton's lead in the matchup against Trump results partly from her winning slightly more support from Democrats and Democratic-leaning independents (90%) than Trump wins from Republicans and Republican-leaning independents (86%). Despite this consolidation, 88% of all voters (and almost as many Republicans) see the GOP as divided, while 73% of voters see division among the Democrats." [SurveyMonkey]
FEW PRIMARY VOTERS ARE LIKELY TO SWITCH PARTIES IN NOVEMBER - Nicholas Davis and Matthew Hitt: "Most of those who turn out for the primary are dedicated party voters. And those 'fans' are under extreme pressure — both internal and social — to stick with their teams….Defecting would bring pretty severe consequences for anyone who cares about their team — yet popular commentary often alleges that these divisive primaries hurt parties' nominees during the November general election….In fact, fewer voters will probably switch to the 'other' party's nominee in 2016 than did so in 2008. Political scientists find that citizens aren't likely to vote on political attitudes; rather, they vote based on tribal attachments….Although it is too early to predict November's election, prospective voters usually realize that their party's nominee fits their identity better, even if they don't love the result the way that the backers of winners do." [WashPost]
HUFFPOLLSTER VIA EMAIL! - You can receive this daily update every weekday morning via email! Just click here, enter your email address, and click "sign up." That's all there is to it (and you can unsubscribe anytime).
FRIDAY'S 'OUTLIERS' - Links to the best of news at the intersection of polling, politics and political data:
-Curtis Bell thinks that a Hillary Clinton win could increase the number of women in political office. [WashPost]
-Matthew Yglesias explains why Donald Trump is a fascinating case study for the political science field. [Vox]
-John Sides and Kalev Leetaru analyze the media's role in covering Trump. [WashPost]
-Peter Henne and Katayoun Kishi find that religious-related terrorism increased globally in 2013 and 2014. [Pew]
Popular in the Community