British news networks have called the United Kingdom referendum on membership in the European Union for "leave" in a narrow victory that took most of the night to shake out. The BBC estimates that "leave" will win by a margin of roughly 52 percent to 48 percent.
Polls had indicated the vote would be very close, but most last-minute surveys showed "remain" leading. Two internet pollsters conducted day-of surveys on Thursday that were released after the polls closed. YouGov and Ipsos-MORI both indicated that "remain" would win the day -- YouGov had the status quo up by 4 points, and Ipsos-MORI had it up by 6 points.
Those two polls weren't included in the HuffPost Pollster average of public referendum polls, since they were conducted as voting was happening. The average of all surveys conducted prior to the polls opening on Thursday showed that "remain" was up by 0.5 percentage point over "leave."
It would be easy to say that the polls failed based on these numbers. But the polling averages differed, depending on what type of poll you looked at. Throughout the campaign, the polls diverged, based on whether they were conducted online or by telephone.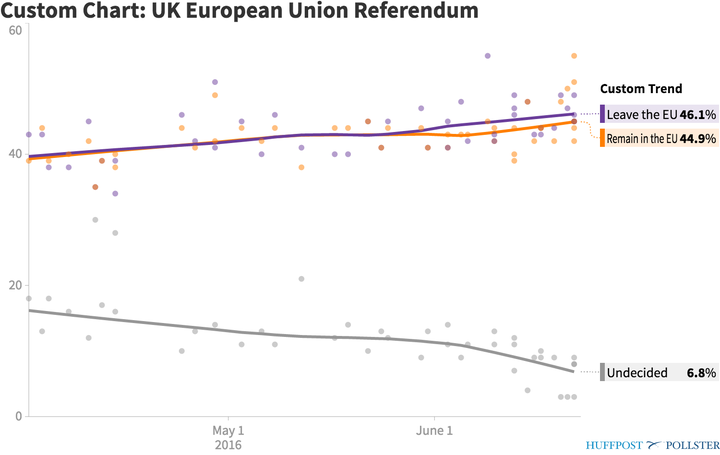 The internet poll average estimated a 1.2-point lead for "leave," while live phone polls had "remain" up by 2.6 percentage points. Between 6 percent and 9 percent of poll respondents were undecided, according to the trend lines.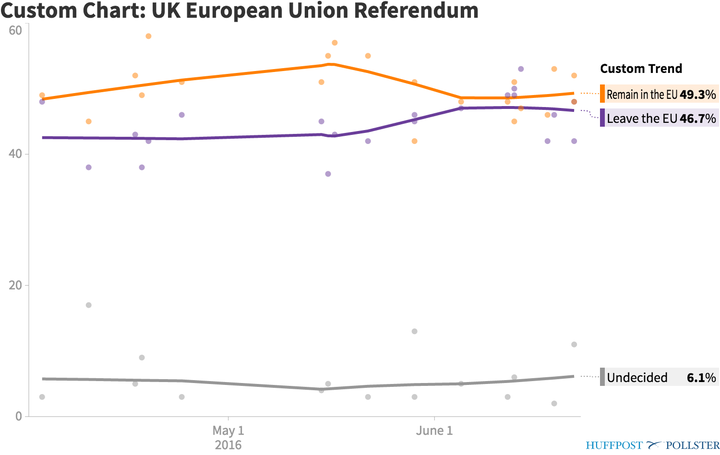 In this case, the internet polls were clearly more indicative of the victory for "leave." That doesn't mean all internet polls were reliable predictors and all telephone polls were unreliable. A couple of internet polls showed "remain" with a substantial lead in their final surveys. Telephone polls were universal in favoring "remain" in the final week of the campaign, but had waivered toward "leave" about 10 days before the vote.
There were warnings that the polls could have it wrong. There are considerable challenges in polling referendum votes, chiefly that there isn't any recent history to help determine what voter turnout would look like. And there wasn't an exit poll to track what actually happened with regard to turnout demographics.
Support HuffPost
The Stakes Have Never Been Higher
Popular in the Community