Splitting away from the European Union won't just choke the British economy. British companies may end up creating more trash and dirtying the air in the wake of the Brexit, according to a new report.
When the EU's ambitious targets for reducing waste and increasing recycling first went into effect two years ago, the United Kingdom pushed back, insisting that it would be too expensive for businesses to comply. Once negotiations to leave the EU are complete -- a process that could take two years or more -- U.K. legislators may scale back those regulations, found a report examining environmental and social governance at U.K. corporations from investor research firm Sustainalytics.
"Recycling rights in the U.K. trailed off in the last few years," Doug Morrow, a Toronto-based associate director at Sustainalytics who co-authored the report, told The Huffington Post. "We wouldn't be surprised if we found a relaxation of the recycling targets."
Companies polluting the air in England may be able to breathe easier, too. In memos leaked to The Guardian in May, Rory Stewart -- the Conservative environment minister under Prime Minister David Cameron, who announced his resignation in the wake of the Brexit vote -- urged British members of the European parliament to undermine new EU regulations on air pollution by pushing for an amendment allowing Britain to exceed those standards. Such a change would give leeway to sectors that emit a lot of carbon into the atmosphere, such as the auto industry.
"We would not be surprised if, once the terms [of the Brexit] are renegotiated, the U.K. moved to relax some of the domestic air pollution standards," Morrow said. "It's relatively well known that the U.K. has struggled with implementing some of the EU's directives on this front."
In January, just eight days into the new year, London had already breached the EU's air pollution limits.
Even so, there's no need to panic, Morrow said. The report, which judged British companies in nine areas of corporate governance, found that policy change was unlikely in all but recycling and air pollution. The other areas are climate change, human capital, product quality standards, health and safety, corporate governance, executive pay and intellectual property rights.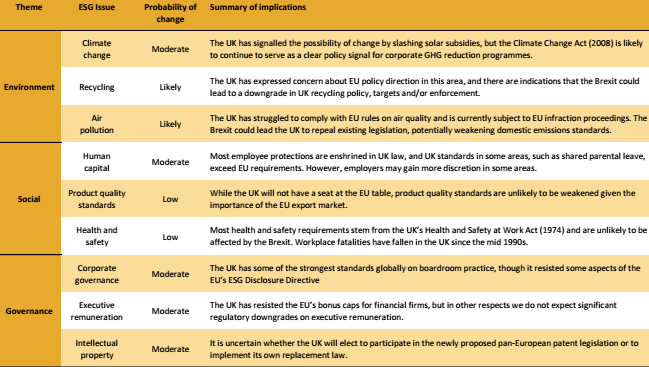 "We don't foresee a likely divergence, certainly over the short run, because a lot of the relevant EU directives have become embedded in the way things are so foundationally," Morrow said. "On both sides of the debate, the Leave and the Stay, there was an exaggeration of what it'll mean for U.K. companies."
"Though," he added, "obviously they have two years to negotiate the terms of the withdrawal."
When you consider that in 2014 Cameron lauded the decision by Scottish voters to remain a part of the U.K., a lot can change in two years.
Related
Before You Go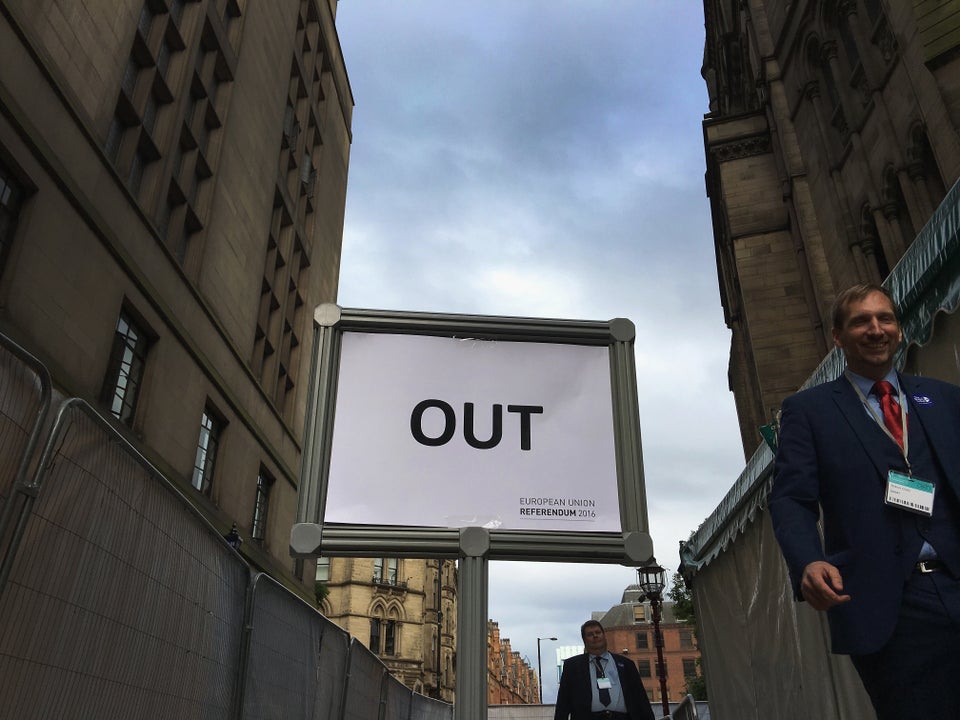 Brexit Wins
Popular in the Community