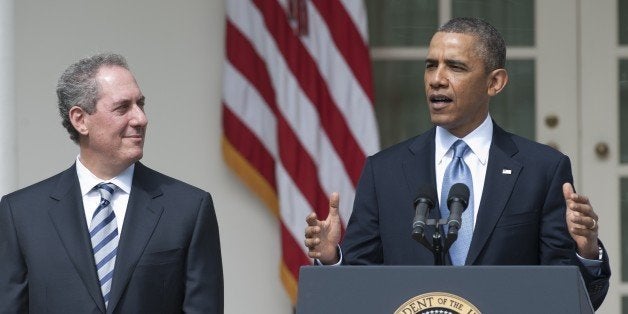 The Financial Times, the Guardian, and other UK news sources are furiously parsing recent comments by U.S. Trade Representative Mike Froman that seemed to warn against a British exit from the European Union. Froman said that a "Brexit" would hurt the UK's position in current trade negotiations for the Trans-Atlantic Trade and Investment Partnership (TTIP), and that the U.S. is not keen to negotiate with the UK on separate terms. His comment has been given great weight because of the looming British referendum on EU membership, and because it seems to suggest that the Anglo-American "special relationship" is somehow at stake in the question of Brexit.
It isn't, of course. And it is critically important that U.S. officials watch what they say over the next year in order not to misrepresent the American position on Brexit, whether concerning trade or anything else. The quick reaction to Froman's remarks was all too predictable. "U.S. Warns Britain" shouted the Guardian's exaggerated headline, while the Financial Times was only slightly more modest in declaring "Top U.S. Trade Official Warns on Brexit." Meanwhile, the Telegraph announced Froman's comments as a "Major blow for the Brexit campaign." All these papers have been strongly anti-Brexit -- and thus any whiff of an American rebuke, even from a relatively minor U.S. official, is sure to make their headlines.
For those unfamiliar with the ways of the American government, it is important to recognize just who Mike Froman is -- and isn't. He isn't, as a British reader might casually assume, a minister whose views carry independent weight because he is an important politician in the ruling majority. He is, rather, a recent political appointee charged with a narrow, but demanding task: overseeing the complex negotiations for two ambitious new trade agreements that President Obama has made the centerpiece of his final term. His mandate is strictly limited, and he must follow rules laid down by Congress that govern his negotiating objectives.
In the British context, Froman would be more comparable to a senior civil servant, except for the fact that senior American officials are political appointees. He has a past in both private banking and government employment, as is typical of the revolving door between government and the private sector in the United States (in contrast to the British civil service). A former Citigroup Managing Director, Froman was appointed to his present position only in 2013, and he has carried on the work of earlier U.S. Trade Representatives, who inaugurated the current trade negotiations. He will likely return to private employment come the next Presidential administration, as senior officials tend to do.
It would thus be absurd to think that Mike Froman, a trade negotiator serving a short stint in government, should be charged with something so momentous as announcing a U.S. position on Brexit. And, in fact, he did no such thing. He reported, in an off-hand and probably ill-advised remark, that the U.S. would not be keen to have to negotiate the TTIP with an independent Britain. And he added further fuel to the fire by saying that Britain would, outside the EU, be treated like "China, or Brazil, or India" -- though he might equally have chosen any other WTO members outside the EU, such as Canada, New Zealand, or Norway.
Froman may believe that, as trade negotiator, his task will become more difficult if he must negotiate with London and Brussels (rather than just Brussels). But it is false to suggest that his view on this matter represents anything other than a personal opinion. Should Brexit come, his job will be just the same: to negotiate trade treaties within the mandate given him by Congress, and at the behest of the Administration he serves. It is not up to Mike Froman whether the US would negotiate with an independent Britain any more than it is up to Mike Froman what any final trade deal will look like -- or whether it will make it though Congress.
The truth is that the U.S. would never leave Britain out of any important deal involving our European allies. Just as the newspapers have mistaken Mike Froman's role in the world of US policymaking, they have neglected the bedrock foundation of all Anglo-American relations, the "special relationship" that goes back even before Winston Churchill named it in a speech in 1946. This relationship is not just a diplomatic and military alliance, but an abiding economic and cultural exchange of the first importance. It is inconceivable that the U.S. would punish the UK for Brexit -- or, even more pertinently, wish to negotiate with the EU without it.
What will happen in the event of Brexit is that Prime Minister David Cameron will telephone whomever is President of the United States in 2017 and ask that Britain be included in the TTIP negotiations. And whoever is then President of the United States will call up whomever is then the US Trade Representative and give the marching orders to make it happen. Any suggestion otherwise is the sheerest fantasy.
It is up to Britain to decide what role it wants in the EU, but the U.S. will be a friend and eager trading partner regardless -- even if it means more work for our bureaucrats in Washington.
REAL LIFE. REAL NEWS. REAL VOICES.
Help us tell more of the stories that matter from voices that too often remain unheard.