No charges will be filed against three Los Angeles police officers who fatally shot an unarmed, mentally ill man on live television following a high-speed chase, the city's top prosecutor said.
In a letter dated Jan. 29, first reported by The Associated Press, LA County District Attorney Jackie Lacey says her office found "there is insufficient evidence to prove beyond a reasonable doubt" that Officers Armando Corral, Leonardo Ortiz and Michael Ayala "did not act in self-defense and in defense of others" during the fatal 2013 shooting of 51-year-old Brian Beaird, a National Guard veteran.
Beaird's erratic, hour-long sprint across the region in a Corvette was "tense and chaotic" and gave officers reason to believe he was a threat, Lacey wrote in the letter to the LAPD. Officers said they thought Beaird was reaching under the seat during the chase and saw him reach for his waistband at least twice as the pursuit climaxed with a crash and standoff, Lacey said. No weapon was recovered.
"Given the fact that the entire incident from Beaird exiting the car until the shooting ceased lasted less than six seconds," Lacey concluded, "such defense testimony would create reasonable doubt as to whether the officers were unjustified in continuing to shoot after the suspect had turned and even fallen to the ground."
The DA's decision not to press charges comes after LAPD Chief Charlie Beck said the officers' use of force was "not justified." Beck detailed the findings in a 2014 report following an internal investigation.
The three officers have been relieved of duty without pay and continue to face internal discipline "that may be as much as termination," LAPD Commander Andrew Smith told HuffPost.
On the night of Dec. 13, 2013, Beaird led law enforcement a high-speed pursuit, swerving into oncoming traffic and failing to obey patrol vehicles with sirens and lights. The chase ended when Beaird's Corvette struck another vehicle in an intersection, spun out of control, and lodged between a tree and a light pole on Olympic Boulevard and Los Angeles Street. The other vehicle collided with a fire hydrant, shearing off the bolts securing the hydrant to the concrete and spraying a geyser of water into the air.
According to the police account, Beaird got out of the car, but ignored officers' orders to get on the ground and show his hands. One officer, saying he believed he saw Beaird reaching for his waistband, fired a beanbag, causing Beaird to stagger and bend over. But he continued walking, and three officers opened fire when they said they believed he again was reaching for his waistband.
The cops fired a total of 21 shots, according to Beck's internal investigation. Lacey's letter noted that Beaird was hit with 13 rounds -- three of which were fatal and, based on the bullet trajectories, were fired when Beaird was on the ground.
Beaird's 80-year-old father, Billy Beaird, said he watched the chase and the hail of gunfire that killed his son live on television.
"They shot my son in cold blood," Billy Beaird said after the city voted to pay a $5 million settlement to the Beaird family. "I would not trade my son's life for every nickel in LA. He means that much to me. I could not believe what I saw."
Read Lacey's full letter, provided to HuffPost by the DA's office, here.
Before You Go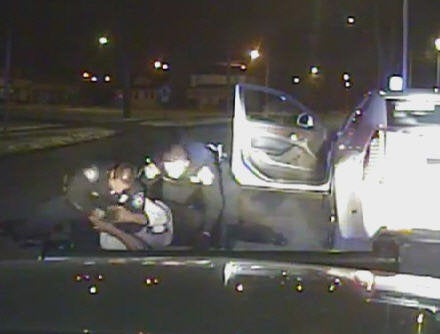 Police Brutality Incidents
Popular in the Community