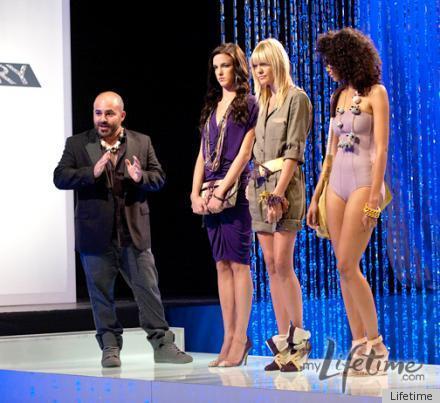 "Project Accessory," which I've been recapping all season, crowned its champion last Thursday night in Brian Burkhardt, a 40-year-old Miami resident and owner of jewelry company Triian.
I got a chance to chat with Brian the morning after the big finale, and he was understandably stoked! Read below to see what Brian says really happened with that controversial resin dust incident, and more.
Huffington Post Style: Congrats on the big win! How do you feel?
Brian Burkhardt: I feel great! I feel relieved, because it was such an amazing experience and I had to keep it quiet for so long, so finally it's like, "Ahhh!"; a huge sigh of relief.
HP: Did you have a watch party last night to celebrate?
BB: I did; my in-laws had this fancy party with catering and alcohol, and it was kind of surreal. You know, when you get married, everyone's there for you and it's like the same feeling of love. I had such a great time.
HP: That bracelet you made last night with all the fringe on it was insane. Are we going to be able to buy those?
BB: (laughs) I don't know, I'm thinking about it. I'm working on that now.
HP: What was your favorite piece that you made from the whole show?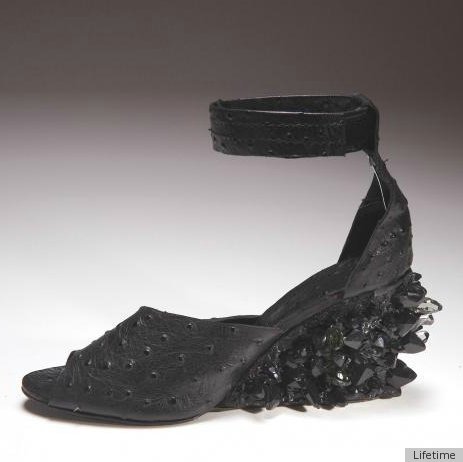 BB: I think it was probably the shoes with the Swarovski crystals on it (above). I'd never made shoes before, so just being able to accomplish that was tremendous for me.
HP: So, let's talk about that controversial moment from episode 6 where you were using the grinding machine to make the unicorn horn for your purse, and there was dust flying everywhere and the other contestants seemed to cause a stink. Did it really go down like that?
BB: Well, I think in the nature of these shows, the way that they film everything, you're all in one room and the ventilation was sub-par. I mean, I think people were upset because everything was getting dusty, and I totally understand that, and I went to everyone and apologized, but I also let them know that, you know, [using the machine] was what I was going to be doing.
I tried to move the operation outside, but that wasn't realistic and producers said we weren't set up to film that way. So I said, "Hey guys, I know you're upset, I understand, but I have to keep doing what I'm doing," We were able to get plastic bags to cover the clothes, which is good, because I'm sure the last thing Kenneth Cole would want is dust all over his nice couture.
HP: You and all the contestants seemed pretty cordial on screen. What was it like living together? Was there any juicy behind-the-scenes drama?
BB: We all got along fantastically. We really had such a great camaraderie, I think especially because we all had such different skill sets, it was kind of like we were all impressed with what each other could do.
Everyone was really helpful. James helped us all with our shoes; he actually gave me a one-on-one crash course and vice versa. Diego helped me with bags. We all got along! I wish that I could tell you there was drama. Nicolina was intense, but that's just Nicolina's personality. At she was at least straightforward about who she is, and she would tell it like it is and I respect that. Whether I like what people like that have to say or not, I still respect that.
HP: How would you describe the style of your pieces? I used to live in Miami, as you do now, and everything seemed very 'Miami' to me, which of course I mean in a good way, because I love your style.
BB: A lot of the designers there seemed really 'commercial.' And I would love to be able to do that, to do all couture stuff, but that's not me. I'm interested in people that are willing to take a risk and interested in having fun, and I think I have an eclectic collection. I like to mix in vintage jewelry with new pieces, and I think that's the way people should go. I think that people should express themselves through accessories. I love the one-of-a-kind, handmade component to accessories, rather than the manufactured look.
HP: On the show you frequently mentioned your mom and your son. Have they been supportive of your career?
BB: Yes, absolutely. [My son] Oliver is 8 months, so he's as supportive as an 8-month-old can be. My wife has been amazingly supportive, even during the whole application and anticipation process. Without that, it would be very hard to do all this, especially with going away; I left to film the show when he was 3 months old. I wouldn't be able to do any of this without her support.
HP: So what are your plans for the future and your new $100,000 prize money?
BB: Well, I'm working on a new line now that will be launched in late January/early February. And right now I'm also working on a bunch of new ideas. I'm going to focus on doing couture and editorial pieces, larger pieces that are a little more eccentric. I love that; it's my favorite thing to do. I love doing one of a kind, random pieces. I also want to just see what happens; it's been an amazing platform where I've gotten tons of exposure, so I want to see where that springboards.