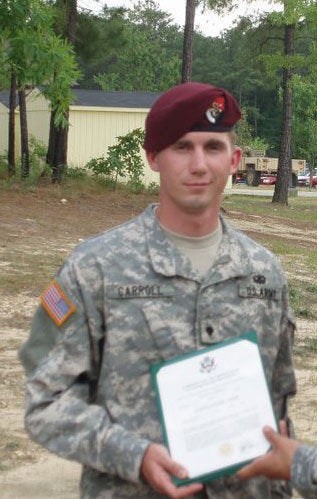 WASHINGTON -- Just a few weeks ago, Army veteran Brian Carroll would not have been able to do what he's doing now: running for office as an openly gay member of the Colorado National Guard without fear of being kicked out of the service.
On Sept. 20, the U.S. military officially bid goodbye to "don't ask, don't tell," the law barring gay men and women from serving openly in the armed forces. Before the repeal, Carroll would have risked his membership in the Guard if he had run for the Colorado General Assembly and been honest about his sexual orientation.
"Ultimately, what this comes down to, I believe, is standing up and providing an opportunity for leadership," said Carroll, who is running for the newly drawn House District 28, and believes he is the first active National Guardsman in the country to run for office post-DADT. "Really, the repeal of 'don't ask, don't tell' provides that opportunity -- not only for myself, but for so many other openly gay members of the military. This really is a historic moment, and I think the people are going to look back at this, and say, 'This is history in the making. This is when the entire ballgame changed.'"
Carroll served two tours in Afghanistan and one in Iraq with Army Special Forces Information Management Division, Special Operations Command and was openly gay in defiance of DADT. While abroad, Carroll specialized in building infrastructure and information technology resources in remote area.
Carroll grew up in Idaho Springs, Colo., with six younger brothers. His family has a history of military service; his grandfather served in World War II and two of Carroll's brothers served in Iraq and Afghanistan.
He enlisted in the Army after his brother, Sean, lost his right leg in an IED attack in Iraq. Carroll was out as a gay man, and made the decision, he said, that upon joining the Army, he wasn't "going to go back into the closet."
"At first, I met some opposition, in the sense that my friends knew and my family knew I was openly gay, and people in my immediate surroundings told me I couldn't do it, and it wasn't going to be possible. I made the decision to show people that it can be done," he said.
"I came across, in my military experience, [individuals] that were extremely supportive and completely open to the repeal of DADT, and there were others who were ultimately less open to those ideas," he added. "But really, by showing that sexuality in the military really is tertiary to the ultimate goal that we're all striving for and we're all aiming for -- I think they really caught on to that."
"It really saddens me to know that Colorado has in its constitution discriminatory practices," Carroll said. "It just boggles the mind how that was allowed to happen. Colorado has always had a history of freedom and equality. It was the very first state in the union to ultimately allow women to vote. Here we are nearly 150 years later, and we really have fallen by the wayside."
While Carroll appears to be the first openly gay active-duty service member to run since DADT's repeal, other gay veterans have run in the past. As Chris Geidner at MetroWeekly noted, in 1999, Steve May, then a GOP lawmaker in the Arizona state legislature and a member of the Army Reserve, came out in a floor speech in the house. The Army began discharge proceedings against him, but it eventually dropped the case and reached a settlement.
Carroll expects to face incumbent state Rep. Andy Kerr (D) in the primary, and state Rep. Ken Summers (R) on the GOP side if he makes it to the general election.

Calling all HuffPost superfans!
Sign up for membership to become a founding member and help shape HuffPost's next chapter