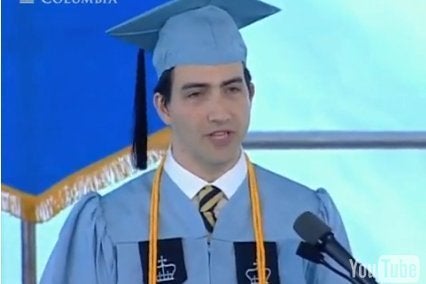 Columbia University School of General Studies Valedictorian Brian Corman evidently cut himself some slack in writing one of his last assignments -- The Columbia Spectator reports that Corman plagiarized a section of his graduation address from comedian Patton Oswalt's "Physics for Poets" bit.
Brian Corman apologized to me. Flat-out admitted his thievery, his stupidity. Owned it all. Good man. Still makes me wonder what he might have done to become valedictorian -- I mean, if he's willing to steal material for something as inconsequential as a speech, how rubbery did his boundaries become when his GPA and future career were on the line? Oh well.
"In people's heads they think that comedians can't possibly make up their own material," Mr. Oswalt said. "They must get it out of joke books."

These same people, Mr. Oswalt said, "just can't imagine that a comedian can make up original stuff." He added: "They're like, 'I can just take it. He didn't make it up.'"
Meanwhile, Columbia School of General Studies Dean Peter Awn issued a statement:
It has come to our attention that a portion of our Valedictorian's remarks at this year's School of General Studies Class Day was taken from a comedy routine by Patton Oswalt. As an institution of higher learning that places a core value on respect for the works of others, we were surprised and disappointed to have learned of this matter today. Columbia University and the School of General Studies do not condone or permit the use of someone else's work without proper citation. The student speaker has appropriately issued an apology to
his classmates and to Mr. Oswalt for failing to provide such attribution.
WATCH:
Corman's speech starts at 34:33. The plagiarized portion begins at 38:36:
See the Columbia Spectator for more, including a comparison of Corman's speech with Oswalt's routine.
Calling all HuffPost superfans!
Sign up for membership to become a founding member and help shape HuffPost's next chapter