When an Oklahoma woman spotted a naked man allegedly masturbating in the women's bathroom at Walmart, she took matters into her own hands.
Beth Davis walked into the restroom at about 8:30 a.m. Wednesday, where she says she saw a man with his pants around his ankles, rolling back more than low prices, KJRH reports. She ran out of the bathroom and repeatedly shouted "There's a naked man in the bathroom masturbating," but no one came to her aid.
When the man, later identified as Brian Hounslow, exited the bathroom, he told Davis, "Sorry, I didn't know it was the woman's bathroom," Davis told Fox 23.
Davis whipped out her cell phone and began to film him (video above). On camera, she can be heard stating, "My name is Beth Davis and I witnessed it. You were naked and had your pants down around your ankles. Someone stop him. Do not let him go out that door. Stop this man! Stop that man!"
Hounslow, 37, was arrested hours later and is charged with felony indecent exposure.
Before You Go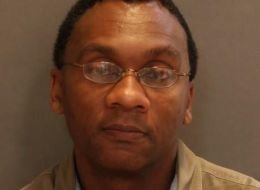 Over-Exposed
Popular in the Community