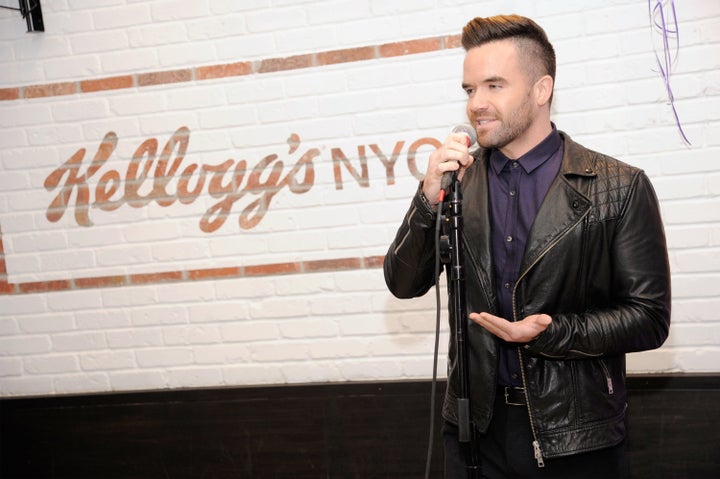 Appropriately, the 28-year-old wore a purple shirt underneath a sleek leather jacket as he crooned Michael Jackson's "Man in the Mirror" to a crowd of LGBT advocates and media professionals, who were enjoying breakfast at the Kellogg's NYC Cafe in Times Square. 
In honor of the occasion, the eatery also debuted its official "Spirit Day Bowl" ― a mix of Frosted Flakes, blueberries, blueberry jam and lemon zest. The dish was created by the Kellogg Company as part of its Spirit Day partnership with GLAAD.
As in previous years, supporters were encouraged to wear purple in solidarity with bullied LGBT youth and, as such, Kellogg's products also "went purple."
Crum, who came in fourth place on "America's Got Talent" in September, told The Huffington Post that it was "an honor" to perform in New York on Spirit Day, which is observed Oct. 20. 
"I'm a gay man who grew up an overweight, flamboyant kid. It breaks my heart that kids are still being tormented and tortured in school for just being who they are," he said. "I've seen so many kids' lights dimmed from the hate from other people."
The California native, who is currently recording an EP, said he wanted to use his success in the entertainment industry to show bullied LGBT youth "that you can come out on the other side and you can achieve every dream you've ever had if you just focus and work hard."
Check out photos from the Oct. 20 event below. You can read more about Spirit Day here. 
BEFORE YOU GO
PHOTO GALLERY
Celebrities Who Have Come Out As LGBT