Negative comments have rained down on a pro-gun political ad by controversial Georgia gubernatorial candidate Brian Kemp in which the Republican points a shotgun at a young man supposedly interested in dating one of Kemp's daughters as the teen professes a "healthy appreciation" for the Second Amendment.
Viewers are demanding that an Atlanta television station stop running it. "We are gun owners and we are outraged," one told Atlanta NBC affiliate 11 Alive. Kemp is currently Georgia's secretary of state.
"I'm a conservative businessman with a four-point plan to put hardworking Georgians first," Kemp said in a tweet Friday when he unveiled the ad. "I'm also the proud father of three teenage girls. Here's the thing: If you want to date one of my daughters, you better have respect for women and a healthy appreciation for the Second Amendment."
While his shotgun is "broken" open and unable to fire as the ad starts, he closes it up at the end and aims it at the boy, which viewers found especially disturbing, particularly in the wake of school shooting deaths. Other weapons lean against the wall in Kemp's "study" in the ad.
Some viewers took Kemp's "aw shucks" attitude in the ad as an attempt at down-home humor (or an "audition" for "Saturday Night Live") and found it hilarious. But most people responding on Facebook and YouTube were horrified that Kemp appeared to be threatening a minor with a gun.
"After young children have lost their life to gunfire you set there flopping around a gun with a minor. Wow," wrote one viewer on Facebook.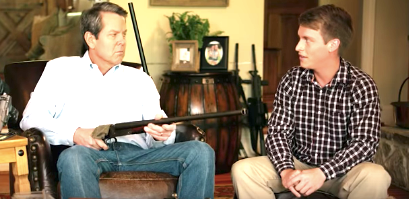 Another called it "all sorts of stupid." Others were furious that Kemp seemed to fortify negative stereotypes about Georgia.
Kemp hadn't yet defended the ad by late Monday. He directed a supporter on Facebook to his campaign website.
Atlanta TV-11 issued a statement Monday saying that, despite an onslaught of complaints about the ad, it can't be removed or altered because the Federal Communications Commission's "political broadcast rules prohibit television stations from refusing or altering political advertising from any legally qualified candidate."
Kemp is one of seven GOP candidates hoping to replace Republican Gov. Nathan Deal. The battle among them for Georgia's gun-toting voters is intense. Earlier in April, former Republican state Sen. Hunter Hill, who's also running in the primary, aired an ad that showed him loading a semiautomatic rifle while proposing to lower the legal age for all firearm purchases to 18.
Not only is Kemp a staunch gun backer, he also supports a "sales tax holiday on guns." He also believes he can get Georgia working. "I know what it takes to build a business — God's favor and hard work," he wrote on Facebook.
A recent poll by the Atlanta Journal Constitution and Channel 2 News found that 47 percent of likely Republican primary voters and 90 percent of likely Democratic voters want stricter gun laws.
Popular in the Community