Rep. Elijah Cummings (D-Md.), the incoming chairman of the House Committee on Oversight and Government Reform, is interested in calling Gov.-elect Brian Kemp (R-Ga.) in to testify about allegations that he aided his own campaign by engaging in voter suppression.
"I want to be able to bring people in, like the new governor-to-be of Georgia, to explain, you know, explain to us why is it fair for wanting to be secretary of state and be running [for governor]," Cummings told HuffPost.
Kemp won a narrow victory over Democratic candidate Stacey Abrams on Nov. 6 amid allegations that he used his position as secretary of state to purge voters from the rolls and reduce polling locations in African-American communities. She is suing the state, alleging a wide range of abuses by Kemp's office aimed at reducing voting by African-Americans in the state.
"It was not a free and fair election," Abrams said after conceding the election to Kemp on Nov. 20.
Possible hearings on voter suppression in 2018 would not be limited to Georgia. Cummings is also focused on allegations of voter suppression in Kansas and North Carolina.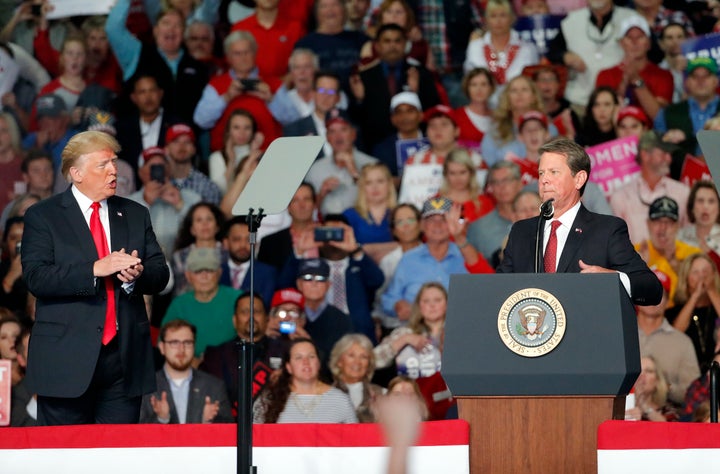 Aside from Kemp, Cummings suggested bringing Debbie Cox, the county clerk for Ford County, Kansas, to testify. She became the focus of controversy when she moved the only polling location in Dodge City outside the city limits over unexplained concerns about safety. Dodge City is over 50 percent Latino. The ACLU sued in response to the move and Cox's having provided only one polling location for a town of 13,000 people.
Cummings is also interested in calling officials from North Carolina in to testify about the closure of 20 percent of the state's early-voting polling sites this year. These early voting sites were closed because of a law passed by the Republican-controlled legislature over the veto of Democratic Gov. Roy Cooper in June.
Hearings on voter suppression in the 2018 midterms wouldn't just serve the purpose of exposing these practices on a national stage but would also show why it's necessary for Congress to pass reforms to prevent such abuses.
This legislation will include a fix to the Voting Rights Act that would reinstate the federal preclearance oversight for changes to voting laws in some jurisdictions that was gutted by the Supreme Court in 2013. The bill would also make it harder for states to engage in mass voter purges as Kemp did. Holding hearings on what happened in Georgia would help Democrats build an evidentiary case in support of their legislative agenda, according to Cummings.
"One of the things about my committee, you know, it's called Oversight and Government Reform," he said. "Oversight, you know, you gotta research and find out what the hell is going on and then, if it is appropriate, to do those things to reform the system."
Popular in the Community