Brian Kenny is an artist who has recently tackled an American icon most often associated with Jasper Johns, though both artists use the flag as a way to see beyond its status as merely a patriotic symbol. Kenny's flags are a comment on being a disaffected gay gentleman in the age of Occupy. We asked him a few questions about his work via e-mail; his answers are below. Scroll down for a slideshow of his work on view at Envoy Enterprises in New York.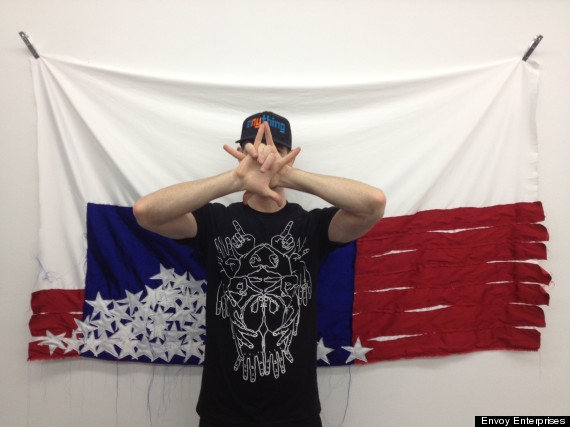 HP: Do you view yourself as a "gay artist" or an artist who is gay? What's the difference, in your mind?
I view myself as an artist. I'm not afraid to talk about my sexuality in my work, but I'm not interested in being pigeon-holed into a narrow context or creating art just for a certain audience. Ultimately, I think there are good artists and bad artists and their sexuality doesn't have much to do with their creative talent.
HP: This next question is similar to the above, but we're going for it anyway: What does it mean to be an American, and what does it mean to be a gay American (considering you spent a lot of time on military bases in Germany and in the U.S.)?
I'm proud to be an American and my Russian boyfriend just recently became an American citizen, but we both find it ridiculous that even after eight years together we still don't have access to collective rights as a couple that heterosexual people have in marriage. And, like many Occupy supporters, I feel discontent with the current political and economic system that allows for so much corruption and social injustice. I wanted to express this discontent in my art, so I learned how to sew and made a series of deconstructed American flags with fallen or removed stars and stripes.
HP: What have been some of your favorite projects or collaborations through SUPERM, the art collective you started with your partner, Slava Mogutin?
Slava and I have been collaborating from the day we met and SUPERM is our love child. One of the most exciting experiences was when we shot my series of drawings on vintage police shooting targets depicting various cartoonish 'criminals.' They were framed with laminate glass and the bullets left beautiful spiderweb holes. It was a great way to 'sign' my work and also a nod to my boyscout upbringing in a military family. We've done it twice for our shows in Norway and Texas and would love to do it again. Shooting guns for art sake is a lot of fun!
HP: How has working with Slava changed your own work?
Slava is one of those people who help 'set you free.' Working with him gave me confidence in being creative as a way of life –- making art without constraint, self-judgment or censorship. He also introduced me to so many amazing artists, both dead and alive, who I now admire.
HP: You tend to use your body in a lot of your work (e.g., draping it in flags, showing images of your torso). Were you always comfortable with your masculinity or was it a gradual transformation for you?
It's not until I moved to New York and started making art that I became more comfortable with my own body and sexuality. As a teenager I was a competitive gymnast, but I was so body conscious that I refused to wear tights in a high school theater play! I think I was just a closeted exhibitionist because after moving to New York I started go-go dancing, which turned out to be a very liberating and fun experience. Now I'm comfortable enough with my masculinity to begin exploring my feminine side -- a side of myself that until recently I was afraid to embrace. After all, it's the Age of Aquarius and my macho self is slowly giving way to a more accepting and versatile person.
"The Hole Truth" is on view at Envoy Enterprises in New York until July 22, 2012.
PHOTO GALLERY
Brian Kenny's "The Hole Truth"
REAL LIFE. REAL NEWS. REAL VOICES.
Help us tell more of the stories that matter from voices that too often remain unheard.