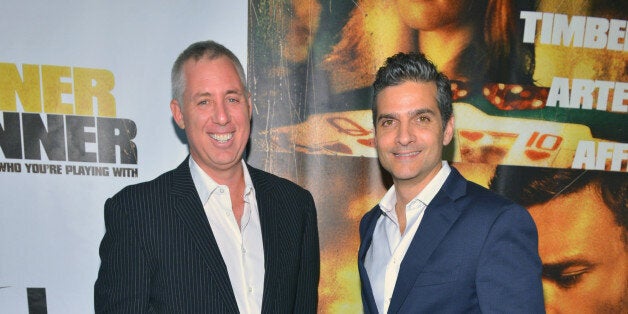 Brian Koppelman and David Levien have written some of the most quotable lines of dialogue from the last 15 years in films like "Rounders," "Knockaround Guys" and "Ocean's 13." The duo turn the trick once again in "Runner Runner," a new thriller that stars Justin Timberlake and Ben Affleck, and provides Affleck with the opportunity to say things like this: "This is your job. If you want a clear conscience, go start a charity. But if you want your own island, and your boss says you got to go out there and take a beating, go out there, take it, come back to work and say, 'Do you need me to do it again?'"
Directed by Brad Furman, "Runner Runner" focuses on a former finance guy (Timberlake) who takes a lucrative job with the president of an internet gambling website (Affleck) and proceeds to wind up in over his head when things turn shady. Before the Friday release of "Runner Runner," HuffPost Entertainment spoke to Koppelman and Levien by phone about the film, their screenwriting inspirations, and whether they'd want to write a sequel to "Rounders." An edited transcript of the conversation is below.
Why is the world of gambling so appealing to you guys as storytellers?
Brian Koppelman: So much of what draws you to a subject happens in your subconscious. We've been thinking about this constantly, because obviously we've revisited this subject matter a lot. I think it's something about the notion that gamblers are people who are willing to risk, who are willing to put a lot of themselves on the line, and who, somehow, have a constitution that allows them to withstand large swings of fortune. They're willing to risk those swings of fortune. That makes for dramatic, interesting characters. Plus, when I grew up, my dad would maybe have some action on a football game. We were just always intrigued by it.
David Levien: We have made movies on other topics. But here's the thing: This one feels different to us, because if you look at a movie like "Rounders," it's about card play and the skill of the table and how that translates to life and these other themes. In the movie, though, it plays out over cards. "Runner Runner" is a movie that's like a thriller set against the online gambling business as a backdrop. There's one scene where Justin's character plays online poker, and then that's it. The gamble is really in flouting the law and going to these places without extradition and rigging up a business in the grey areas, or even crossing the line completely. That's where the risk is here; it's not really about the outcome of specific bets.
How much fun was it giving Ben Affleck so many great monologues to say in this one?
Levien: For us, yeah, getting to write for Ben Affleck is a joy. From the beginning, this character was conceived as a guy who would be this gambling impresario and we saw him as a verbal guy. He was going to be very sure of himself and be willing to tell you that. That does make it fun as a screenwriter. Then, you can set up characters in opposition who can hold their own.
Did you write it for Ben?
Koppelman: No. When we wrote it, Ben wasn't attached to it or anything like that, but we were hoping to attract an actor of his caliber. We felt like that role, in particular, was one who would have heavy verbal acuity -- just because of who the character is and what he does. Whether you're trying to attract Ben or someone like Ben, that's the idea.
For something like "Runner Runner," was there a specific film or story you had in mind for inspiration, or do you shy away from that to avoid copying something else?
Levien: It's funny, sometimes when you write a movie, you're aware that you're paying homage to a certain movie or that it's in the spirit of a certain kind of film. This one, for us, it was straight-up the area of these off-shore websites set up in the exotic locales. That was the thing itself. It wasn't like we should try to evoke this movie or that movie. It was just an untouched area and we thought it was interesting for a movie.
Koppelman: There are a lot of people who hold themselves out as experts on the supposed ways you have to write a screenplay, and I just think what's most important for writers starting out is to find their own voice and their own way of telling a story. I'm definitely not holding myself or Dave and I out as people who have always written avant garde or different movies. I think if you look at "Solitary Man" or "The Girlfriend Experience," we've certainly made independent films outside of the studio system. I think we're half and half. Even "Rounders" was independent -- it was Miramax when Miramax was an independent company, having just been bought by Disney. I think "Runner Runner" is much more of a traditional movie for sure, but that's the way we saw this story. The idea of the Vines is to tell young screenwriters to figure out the stories they want to tell, and to not tell a story that they think is going to be tailored to the market. I just think there are so many people who are dogmatically trying to instruct, that it makes young writers, in particular, freeze. The more that you can actually encourage young writers to be alive on the page, the better. That's all that is about.
Who encouraged you guys as young writers?
Koppelman: I say don't read books about screenplays, read screenplays. Our teachers were people we didn't know.
Levien: I worked in Hollywood for a couple of years after college, and was reading a ton of scripts for people I worked for. So I just read a few thousand scripts. I would send Brian the ones I thought were great, and I think I sent him three or four over the course of the years. Two of them were by Tarantino.
Koppelman: Before that it was David Mamet, the Coen brothers and Barry Levinson. We were reading and watching their movies over and over again. That's still the best school, right? Just watch movies and read screenplays.
How has your working relationship changed over the years?
Levien: We grew up as best friends since were 14 and 15 years old. We've been writing together professionally for 16 or 17 years. It's just sort of a natural partnership in that way. It hasn't changed drastically.
Koppelman: I always hope Dave will do all the work, and he would like it if I would.
Levien: Some things never change.
Koppelman: You wish you had another two years to make every movie. It's too soon with this one. Who knows? Three years from nowl something will come on television and we'll go, "We could have started the movie here."
Levien: [As for "Rounders"], the clearest thing in the world, in retrospect, is that Petra could have walked in, they could have slept together, and then she could have given him the information. How hard would that have been?
Koppelman: She could have told him in the morning! It happens on every movie. I think two weeks ago I figured out the way we should have started "Knockaround Guys," but I'm 11 years too late.
"Rounders" just turned 15 years old, and it's still beloved as ever. Did you ever imagine that film would have such a lasting impact?
Levien: When you asked before about the screenwriters who influenced us, we always looked at "Diner" by Barry Levinson as an example of what we hoped "Rounders" would be: the movie that guys would quote to each other, talk about and have as an important moment in their lives that they kept reliving. We did have an ambition for it to sort of become exactly what it has become. I don't know that we thought we could actually pull that off, but it's incredibly rewarding to us that it apparently did for some groups of guy.
Koppelman: Yeah, we would love to do it. The actors would all love to do it. Harvey Weinstein has said to all of us over and over again, "I'll figure out how to do it someday, guys." So, Harvey, we're waiting for you.
PHOTO GALLERY
'Runner Runner' Photos
Calling all HuffPost superfans!
Sign up for membership to become a founding member and help shape HuffPost's next chapter