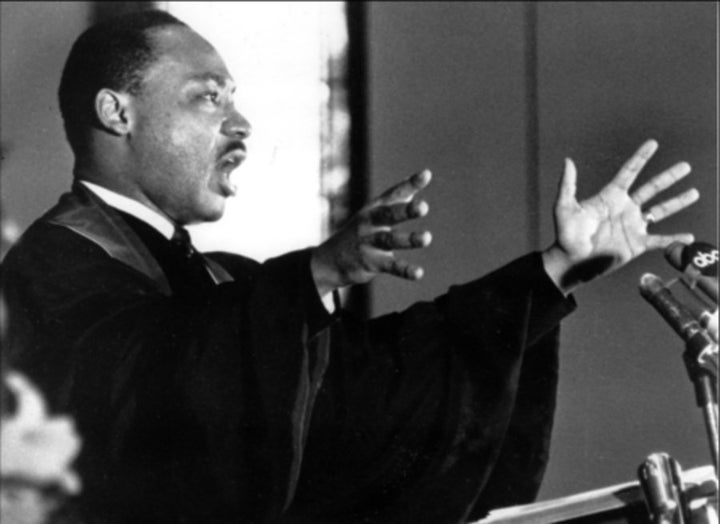 What's important and topical on Martin Luther King Day 2012?

Education.
Education was the theme of the jam-packed, sold-out, sixth annual MLK Day celebration at the Brooklyn Museum on January 15th, 2012, In MLK's Footsteps: Education as a Civil Right, moderated by WNYC's Peabody Award-winning radio interviewer, Brian Lehrer.
We caught up with Lehrer before the event to get his perspective on "the civil rights battle Dr. King embraced and left for us to finish: equal education for all."
"During Martin Luther King, Jr.'s time, segregated schools were a key battleground in the fight for equality," the program stated. "The struggle for equal rights in education is far from over."
And Lehrer should know. Having interviewed dozens, if not hundreds, of academics, politicians, writers and community activists on his show, Lehrer points out that education is controversial in New York City, where over a million students attend public schools, and third-term Mayor Michael Bloomberg has partially staked his legacy on showing statistical improvement in basic educational testing measures.
Interviewing the Interviewer: Brian Lehrer, Radio Personality, Muses on MLK, Education
"We were thinking about topics for this MLK Day, and in talking to people, it was education, education, education," he said.
"Nationally, education plays such a central role in getting us out of the economic slump long-term," said Lehrer.
"The way the U.S. economy is heading, low-skill manufacturing jobs are disappearing for good. Americans more than ever need to be educated."
"It's always a huge challenge in New York City," said Lehrer:
"There are always a lot of poor students with uneducated parents and parents with limited English, especially among newer immigrants. The trick for the Bloomberg administration -- or anyone -- is not to have just a few good schools but try to make every school in every neighborhood good."
When asked what the rawest issues involving civil rights and education are today, the radio host pointed to "the tug of war" between charter and traditional public schools.
"Do we establish education as a civil right in a 21st century sense by giving families more choice of schools?" he mulled. "Or is that ultimately going to leave too many kids behind?"
"Should the focus be on insuring that every single school is as good as it can be so that families don't have to worry about choice and compete with each other?" he mused.
The historic March on Washington led by Dr. King took place a half-century ago. But shocking racial disparities in American society persist -- in mortality and access to health care, in economic status and standard of living, and above all, in education.
Original Plaintiff in Brown vs. Board of Education at Brooklyn Museum MLK Event
Bearing witness to the bitter realities of school segregation, John A. Stokes, an original plaintiff in Brown versus the Board of Education, was on the first of two panels at the Brooklyn Museum.
Stokes attended the all-black Robert Russa Moton High School in Prince Edward County, Virginia, in 1951 when the pupils went on a strike led by a 16-year-old student, Barbara Rose Johns, niece of a Baptist preacher and civil rights activist. A year later, the NAACP brought a segregation case representing 117 students from the school to the US Supreme Court. Davis v. County School Board of Prince Edward County became part of the watershed legal case, Brown vs. Board of Education, which made history when it was decided in 1954.
Mr. Stokes, a retired school principal and author of Students on Strike: Jim Crow, Civil Rights, Brown, and Me evokes an era when black students literally could not get a foot in the door of many schools. "We weren't seeking integration then," he said at the panel. "We wanted equality, we wanted a brick school building like the white children had, instead of our tar paper building."
Other panelists:
• Cami Anderson, Superintendent of Newark's public school system, which has embraced charter schools;
• Fredrick C. Harris, Director of Columbia University's Center on African-American Politics and Society;
• Rachel Moran, Dean, UCLA Law School;
• Harvard Sitkoff, Professor at University of New Hampshire;
• Brooklyn-based personality and journalist Touré, and
• Villy Wang of BAYCAT, a non-profit community media producer.

In conjunction with Martin Luther King Day, the Brooklyn Museum opened a striking new exhibit, Question Bridge, an innovative video installation probing the identity of the contemporary African American male.
On Sunday, an overflow crowd of 800 crammed into the museum's Rubin Auditorium, with additional chairs set out in the stately Beaux-Arts Court.
Calling all HuffPost superfans!
Sign up for membership to become a founding member and help shape HuffPost's next chapter