A super PAC that works to elect military veterans to public office called With Honor Fund pulled an advertisement on Thursday that criticized a Democratic congressional candidate for not supporting the U.S. after the 9/11 terrorist attacks. HuffPost had reported on the ad on Wednesday.
The ad attacked Lauren Baer, a former State Department official and the Democrat running in Florida's 18th Congressional District, as a traitor who refused to "stand with us after 9/11" because an article she wrote for her student paper in October 2001 included some criticism of past U.S. foreign policy. With Honor Fund has endorsed Rep. Brian Mast (R-Fla.), the incumbent Baer is running against.
With Honor Fund faced external criticism and internal dissent after the ad was broadly publicized by HuffPost and local Florida newspapers and television.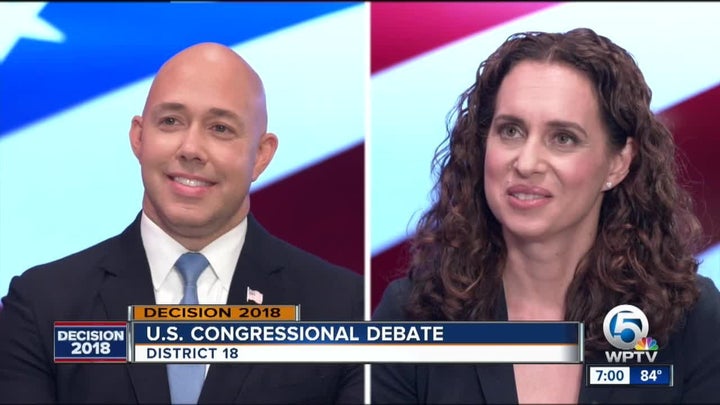 Pam Keith, a Navy veteran and primary opponent of Baer, called the ad "blatantly dishonest" and "disgusting." Mike Breen, CEO of the advocacy group Human Rights First and former head of the Truman National Security Project, a left-leaning national security policy group, resigned his position on With Honor Fund's advisory board on Wednesday evening. "[T]here is nothing honorable about slandering the patriotism of a former American diplomat and human rights leader," Breen noted on Twitter.
With Honor CEO Rye Barcott announced in a statement on Twitter Thursday that the advertisement would be pulled from the airwaves.
"Our mission at With Honor, a cross-partisan organization, is to support Republican, Democrat, and Independent veteran candidates that put principles first to help fix our broken politics," Barcott said. "With Honor released a political advertisement that I believe does not live up to the spirit of our organization. We decided to take this advertisement down. We commit to learn and do better, and we remain strongly supportive of Brian Mast for Congress."
This was a reversal in tone from when HuffPost first asked With Honor Fund about the ad and whether it stood up to the super PAC's own pledge it requires its endorsed candidates to sign. That pledge reads, "I will publicly reject, and seek to remove, any advertisements in support of my campaign that lie about or baselessly attack the character of my opponent."
"Our advertisement contains Ms. Baer's own words, that she publicly published under her name, and is entirely accurate in depicting her unfortunate comments – comments we believe will matter to Florida voters still coming to a decision for the upcoming election," Shauna Johnson, a spokewoman for With Honor Fund, told HuffPost in an email on Wednesday. "Her words may be inconvenient to her at this moment, but in the end they are her own published words."
Baer told HuffPost in a statement that With Honor Fund "is taking down this advertisement because it is counter to their mission of putting principles first."
"Congressman Mast should follow their lead and take down his own unprincipled advertisements spreading the same vicious lies," she said. "I have never questioned Congressman Mast's patriotism, and he dishonors the office he wants to hold by continuing to question mine."
The Mast campaign launched the first ad attacking Baer's patriotism over her 2001 article one week prior to With Honor Fund. Mast also questioned Baer's patriotism at a televised debate on Tuesday, which Baer called "a disgraceful misconstrual of what I said."
The Baer campaign launched a new ad to respond to the attacks on her patriotism.
With Honor Fund was founded in 2017 to elect more veterans, from both political parties, to Congress and other public offices. Its biggest donor is Amazon and Washington Post owner Jeff Bezos. Bezos, the richest man on Earth, gave $10 million to the group in August and his parents contributed another $2 million.
CORRECTION: This article has been updated to note that Mike Breen is no longer CEO of the Truman National Security Project.
Popular in the Community