Buddy you're a young man hard man
Shoutin' in the street
Gonna take on the world some day
You got blood on yo' face
You big disgrace
Wavin' your banner all over the place
In 1977, Brian May wrote those lyrics for a song that Rolling Stone ranks #300 on its all-time list of the best 500 songs.
But of course you remember....
Thirty years ago, the young guitarist and songwriter dropped out of school to see if his college band, Queen, would go anywhere. Did it ever! The group made 15 CDs, sold 300 million copies. Songs like "We Will Rock You" and "Bohemian Rhapsody" brought Queen to the height of British rock -- you won't be mocked if you argue that this was the best English band of all time. And let's not forget Freddie Mercury, the lead singer, lost to AIDs and still mourned by millions.

When Queen quieted down, Brian May completed his academic work and earned a PhD from Imperial College, London. (You can buy his thesis on Interplanetary Dust, A Survey of Radial Velocities in the Zodiacal Dust Cloud.) As a mass communicator, he had an interest in a more direct explanation of the way things work, so he co-authored a book, Bang! The Complete History of the Universe.

And now the versatile Dr. May has topped himself -- he's taken a lifelong interest in stereoscopic photography and produced a picture-and-text book that is at once a historical chronicle and a work of art. "A Village Lost and Found: Scenes in Our Village" comes in a slipcase; in a separate folder, you get a 3-D viewer that May and his collaborator, Elena Vidal, created for this project. [To buy the book from Amazon, click here.]

Where does a fascination like this come from? You guessed it -- May's childhood. As a boy, he liked to let his eyes relax as he looked at the wallpaper in his room; eventually, it moved, popped, acquired dimensionality. Later, a cereal box contained a prize: a 3-D viewer. He started exploring three-dimensional art, making pairs of sketches with the central object of one frame set just slightly off-center. Voila! 3-D!

At college, May was near enough to Christie's to begin to build some expertise. He discovered the work of one "TRW". To his great good fortune, learned that T.R. Williams was perhaps the most poetic photographer of the 1850s. Eventually, he rounded up a vast collection of these nearly forgotten images.

What Williams had done, May realized, was to freeze a small village in a magical moment -- instead of reading about it in a novel by Thomas Hardy, you could almost literally visit it. That is, with the help of a viewer, you could feel yourself in the scene. And what a scene: a rural idyll, five minutes before the train comes to town, and mass literacy, and industrialization.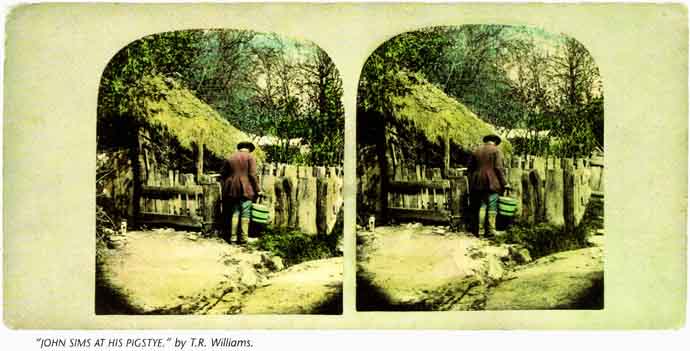 [photo credit: Brian May. Source: http://www.brianmay.com/brian/magsandpress/SWvol30no1_04/villagefound.html]

Where was this town? The images provided no clues. So May published a picture of the village church on his website and offered a prize to anyone who could identify it. Thirty-six hours later, he knew -- it was Hinton Waldrist in Oxfordshire, the village where Williams had grown up. From there, he was able to document most of the photographs.

The book has about 80 scenes, some in color. Intelligently, the left hand page offers a large single image. On the right, you'll find two panels of that image. Slip the page into the easy-to-assemble stereo viewer, let your eyes relax -- and enter a world that's 150 years old.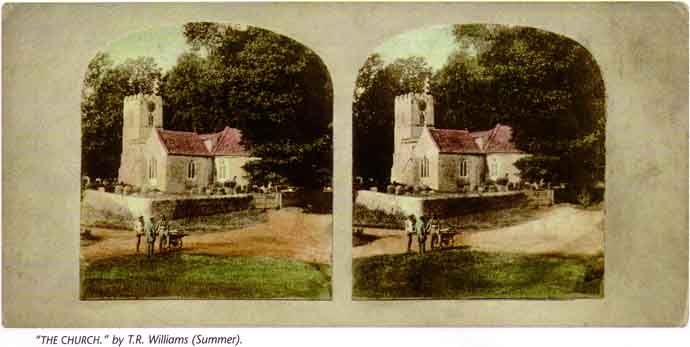 [photo credit: Brian May. Source: http://www.brianmay.com/brian/magsandpress/SWvol30no1_04/villagefound.html]

Text? Oh, yes, and very helpful. Beyond the description of the scene, there's a poem for each image, presumably written by Williams, that sets a tone. For example:

One other rick and then the task of summer will be done
The farmer then shall count his gains and with the setting sun
The husbandmen at harvest home shall crowd the genial board
And think complacently upon the wealth their hands have stored.

The images are gentle, but compelling. Here is a knife grinder chatting with a woman in the doorway of her cottage. A farmer loads a cart. A potato harvest at Dick Carter's place. Martha and Daniel at the churn. Mrs. Giles at the water pump. Gleaners. Anglers.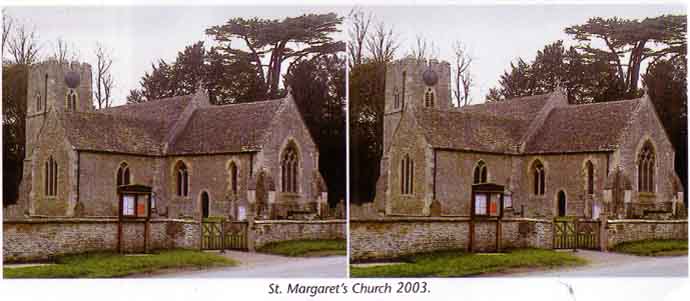 [photo credit: Brian May. Source: http://www.brianmay.com/brian/magsandpress/SWvol30no1_04/villagefound.html
Brian May, in his scholar's voice, talks with his collaborator about this one-of-a kind book.
Here he explains how the images were made -- and how they're really short movies.
Note how he speaks of a "seminal genius" and "fresh launch" for a nearly forgotten artist. Very true. But for the reader/viewer, it's something else, something that a rocker, however great his erudition, would understand -- it's a trip.
Related
Popular in the Community