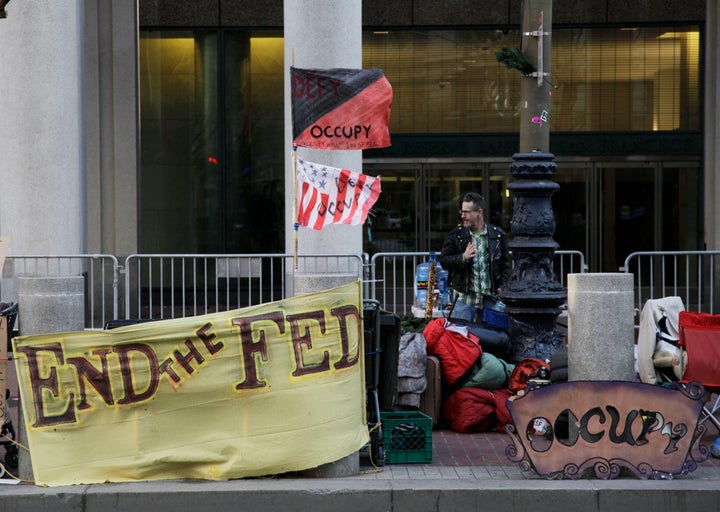 UPDATE: According to the Examiner, a second stabbing occurred at the Occupy encampment just one day after the stabbing of Brian "Boston" Reid. The Examiner reported that a 27-year-old man was stabbed in the neck following an argument at about 11:40 p.m. on Monday night. According to Sgt. Michael Andraychak, the injuries are not life-threatening. The suspect is a thin, 5'11" man between 20 and 30 years old. No arrests have been made.
A member of a group attempting to reinvigorate the dormant Occupy SF encampment was stabbed outside the Federal Reserve Bank of San Francisco on Sunday night, according to the San Francisco Police Department.
In a statement, SFPD Spokesman Albie Esparza said that the injuries are life-threatening, and Reid was driven to San Francisco General Hospital by friends. Later, Esparza told the Examiner that Reid is expected to survive the attack.
Protesters told the Examiner that the suspect was a white man in his early 20s who had entered the encampment about a week before the incident and fled immediately following the attack. According to the protesters, the suspect had been aggressive toward other campers, and had been claiming that he was the group's leader.
According to CBS, the altercation began over the whereabouts of a camera. The suspect is a thin, 5'5" man with blond hair and blue eyes who was last seen wearing a dark beanie, a dark puffy jacket and black-framed glasses.
For the past month, a group of ten to 20 demonstrators who call themselves "reoccupiers" have been camping outside of the Federal Reserve Bank in an attempt to reignite the camp, according to Occupy SF. The original encampment in Justin Herman Plaza was raided by police in December.
Related
Popular in the Community