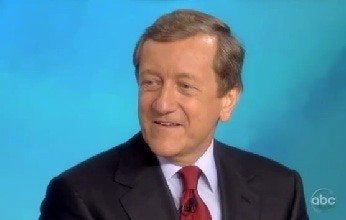 ABC's Brian Ross appeared on "The View" to clarify what really happened at Republican presidential candidate Michele Bachmann's rally in Aiken, South Carolina. The ABC News investigative correspondent was pushed by Bachmann's security guards on Tuesday after asking if she had missed any Congressional votes because of her migraines.
Ross said that he tried to ask Bachmann what he considered a "threshold question" and that "the staff came up and pushed me away." He also tried to downplay the incident, saying that the phrase "roughed up" was "too tough" and that he was "fine." Network news senior vice president Jeffrey Schneider said Ross has experienced worse violence, but added no reporter should be roughed up pursuing a story.
Time's Michael Crowley, who witnessed Ross dashing after Bachmann firsthand, reported that the guards used what looked to him like "unusual force," and that he had "never seen a reporter treated so roughly at a campaign event, especially not a presidential one."
WATCH:
Related
Popular in the Community