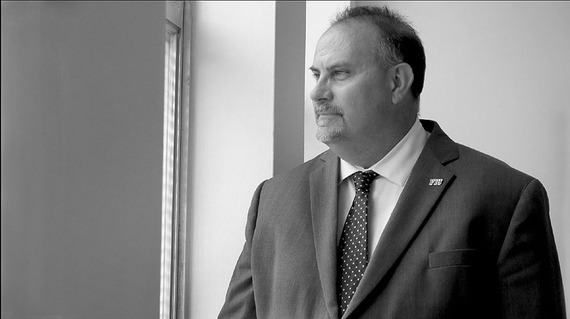 One thing I really like about this picture of Dean Schriner is that visually and emotionally, it at once radiates both darkness and light. In this case, though, darkness is not the absence of light but rather, an aspect, form or manifestation of it. Lao-Tzu refers to darkness as the gateway to understanding. This notion is very much in force in Brian's leadership of the College of Architecture + The Arts at FIU (Florida International University). Even at our very first meeting, it is clear that his warm, jovial countenance is forged and imbued with genuine care and faith but that also, his journey contains challenge and pain, which to me empower his vision, his reach, his connectedness. The gist of his communication to me about the core philosophy of FIU CARTA (College of Architecture + The Arts)is that it is not about academics alone, but more about how the teaching should relate to and be part of overall life. When I hear this, I know I am blessed to be in the right place, in league with this man, for what he has told me is right in line with my own beliefs and mission. Today, as we head back to his office after making this photograph, we exchange a few jokes and I update him on the current projects of my FIU Fellowship. I ask him for input and he says "I'm not going tell you what to do, just keep doing what you're doing!" I tell him that this reminds me of the great film producer Jerry Bruckheimer, for whom I've worked a number of times, whose approach is to bring people together who are tops in their fields and let them do what they do. Great leaders enrich not by controlling but by empowering and allowing, and this to me is the defining hallmark of Dean Brian Schriner.
www.robertzuckerman.com
REAL LIFE. REAL NEWS. REAL VOICES.
Help us tell more of the stories that matter from voices that too often remain unheard.