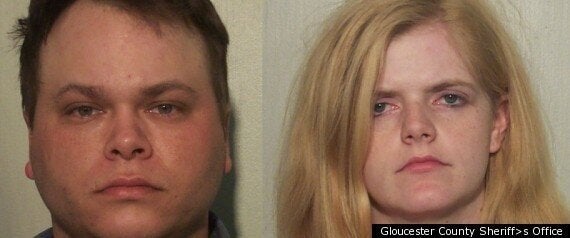 An 8-year-old girl who spent the first six years of her life confined to a cage is now "trying to be a normal child," her lawyer says.
The girl's parents, Brian and Shannon Gore, pleaded guilty to child abuse on Tuesday, WTKR reported. The couple was first arrested in May 2011, when authorities discovered their daughter inside a makeshift cage, comprised of an upside-down crib held in place with a board and boxes stacked on top.
The girl was born at home, had no birth certificate, and had apparently never been to a doctor. Her father told authorities that she had Down syndrome and cerebral palsy, but there were no medical records to support this claim.
A 1-month-old boy was also in the Hayes, Va., home, but he was healthy and unharmed.
The body of a third child was found buried near the home. Brian Gore told investigators that the child, who was born in 2007, died in infancy after experiencing breathing trouble. He said he did not call 911 because he was afraid of officials discovering the girl kept in a cage.
Neighbors and people close to the family said they knew about the Gore's 1-month-old son, but were completely unaware of either the girl or the deceased child.
They were not charged for murder in connection with the child found in their yard because the body was so thoroughly decomposed that medical examiners could not determine a cause of death.
Nevertheless, Deputy Commonwealth Attorney Megan Zwisohn said the child may never be able to have a normal life, the Daily Press reported. Zwisohn believes that as a result of the abuse, it's likely that the girl will never be able to live or work on her own.
Sentencing is scheduled for June 10.
Support HuffPost
The Stakes Have Never Been Higher
Related
Popular in the Community