UPDATE: On April 19, the Washington, D.C. medical examiner released a report finding that Sicknick suffered two strokes and died of natural causes. The medical examiner found that there is no evidence that Sicknick suffered an allergic reaction to the powerful chemical irritants that prosecutors allege two rioters attacked him with, but said that "all that transpired" on Jan. 6 "played a role" in Sicknick's condition.
This story also included information from an Associated Press report, in which two unnamed law enforcement sources claimed Sicknick was attacked with a fire extinguisher. No evidence supporting this claim has since emerged, and no officials have ever made the claim on the record.
Sicknick, who long dreamed of joining the Capitol Police department, according to his father, will be buried at Arlington National Cemetery.
Sicknick, 42, joined the Capitol Police in 2008 after serving in the Air National Guard in his home state of New Jersey. He was deployed to Saudi Arabia and Kyrgyzstan.
"He loved his job," his father, Charles Sicknick, told Reuters. "I'll never get over this." He added: "If any good comes out of my son's death, I just hope that it stops all the lunacy that's been going on in this country."
Four other people died in the attack on the Capitol.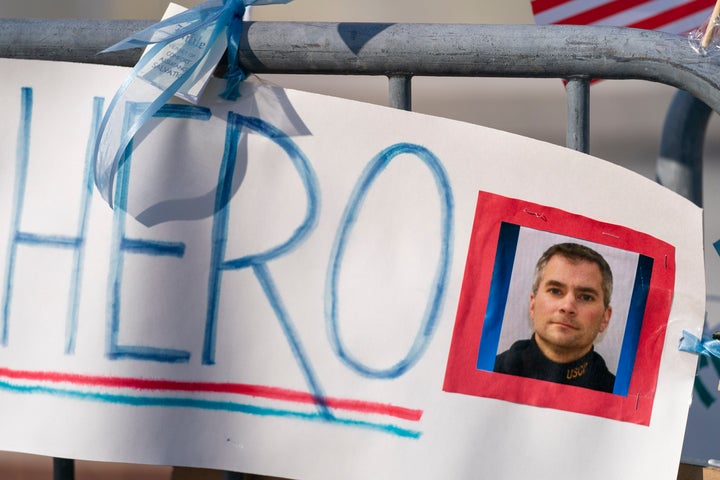 "The heroism of Officer Sicknick and the Capitol Police force during the violent insurrection against our Capitol helped save lives, defend the temple of our democracy and ensure that the Congress was not diverted from our duty to the Constitution," said Pelosi and Schumer. "His sacrifice reminds us every day of our obligation to our country and to the people we serve."
Sicknick will be honored with a ceremonial arrival at the East Front of the Capitol on Tuesday night. After a departure ceremony the following day at noon, he'll be buried at Arlington National Cemetery.
Popular in the Community