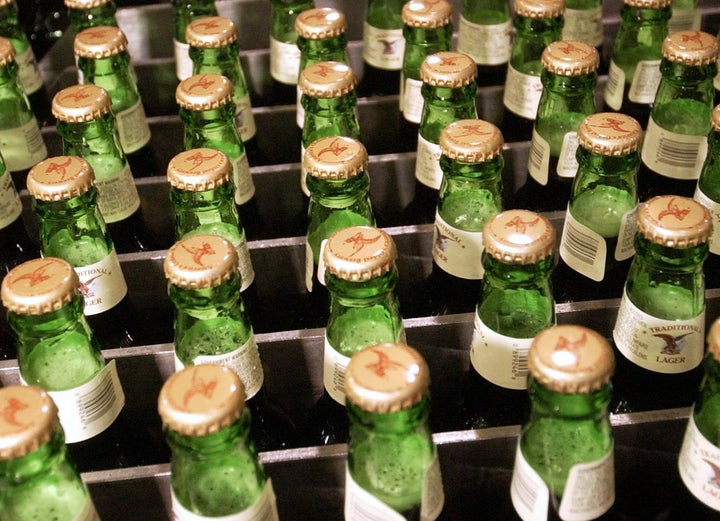 On Monday, Dick Yuengling Jr. told Trump's son, Eric, that he and his employees were "behind" the Republican nominee, the Reading Eagle reports. The remarks came after Eric Trump toured D.G. Yuengling & Son's brewery in Pottsville, Pennsylvania while campaigning on behalf of his father. "We need him in there," Yuengling reportedly told Trump during the tour.
News of Yuengling's endorsement infuriated some patrons, who took to Twitter and other social media outlets to express their distaste for the move. Among them was Pennsylvania Rep. Brian Sims (D-Philadelphia), who called himself a "former customer" and blasted the brewery for using "my dollars to bolster a man, and an agenda, that wants to punish me for being a member of the LGBT community and punish the black and brown members of my community for not being white" in an Oct. 26 Facebook post.
Later on Wednesday, Sims posted a photo of the brewery's owner posing with Eric Trump on Facebook, accompanied by a caption asking Philadelphia's gay-owned establishments to boycott Yuengling products. 
"Our communities know a thing or two about voting with our dollars," Sims, who became his state's first openly gay elected state legislator in 2012, wrote in the post, "and I won't be using my hard-earned dollars to give power to any company or person who hates me."
The Democrat elaborated further in an email sent to The Huffington Post, saying that like all Americans, Yuengling is entitled to support the presidential candidate of his choice, but that customers "have just as much of a right, perhaps an obligation, to decide if we agree and want to continue funding it." 
"In the era of Hobby Lobby and Citizen's United, dollars that we spend now have the potential to be used against our interests and our values," he said Thursday. "Why would anyone give money to a company that would pass it along to those who want to strip them of their rights, torture their children, belittle their family members and neighbors, or denigrate their relationships?" 
Whether or not the boycott will succeed remains to be seen. For now, however, those soured by Yuengling's Trump endorsement can look to Philadelphia-based blog Billy Penn, which has compiled a comprehensive list of brews that have thus far steered relatively clear of politics. There's also Bud Light, which celebrated the one-year anniversary of marriage equality in the U.S. with a cheeky commercial starring Seth Rogen and Amy Schumer in June. 
Donate below to support the groups Donald Trump has insulted.
Calling all HuffPost superfans!
Sign up for membership to become a founding member and help shape HuffPost's next chapter
BEFORE YOU GO
PHOTO GALLERY
21 LGBT-Friendly Products And Companies