CNN's Brian Stelter thinks the GOP presidential hopefuls are getting short shrift from the media -- except, of course, for real estate mogul Donald Trump, who is guaranteed national attention every time he opens his mouth.
"Trump is the media's addiction," Stelter, the network's senior media correspondent, said on CNN's "Reliable Sources" Sunday. "When he speaks, he's given something no other candidate gets. That's wall-to-wall coverage... He sucks up all the oxygen."
"Reliable Sources" added up the total minutes of coverage each candidate has garnered on the nightly news shows since the Republican presidential debate on August 7. On the low end, you have Sen. Lindsey Graham (S.C.), who's only been mentioned once. On the high end you have Trump, who's received a combined 36 minutes and 22 seconds of coverage. Former Florida Gov. Jeb Bush was a distant runner-up, with 9 minutes and 22 seconds.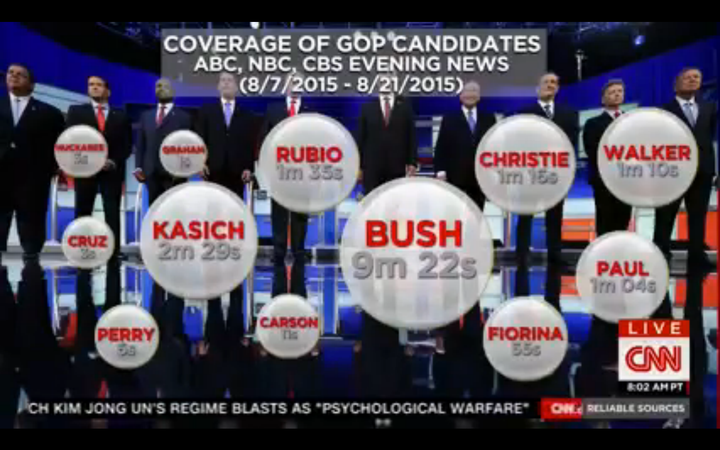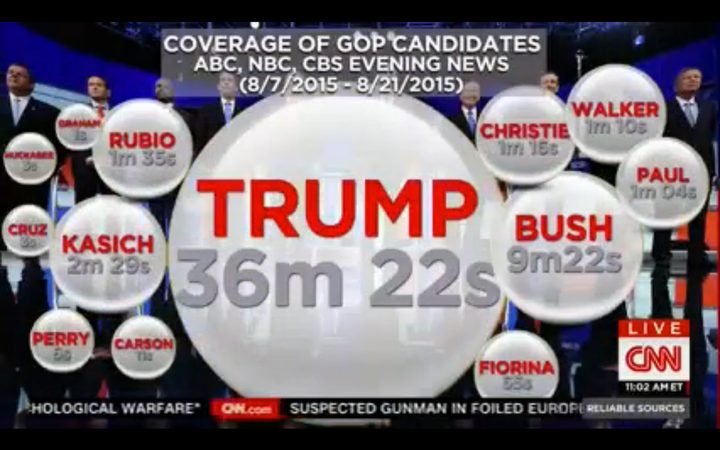 Stelter in particular called out Fox News, airing a clip from Greta Van Susteren's "On the Record" that he said embodies the media's infatuation with Trump. The segment starts off with Bush talking about strategies for dealing with heroin abuse. Then Van Susteren cuts away to a Trump rally, where... no one is on the stage. The candidate is nowhere to be seen.
"That's right," Stelter said. "Jeb Bush is talking about addiction when Greta Van Susteren breaks away to show an empty podium at a Donald Trump rally nearby."
Giving candidates time is not a science -- we have to juggle so much.  Even last night, we had no idea what time Trump would take to the podium (we heard earlier in the day it would be 7pm but it turned out to be 6:40pm) and we had to likewise guess with Governor Bush.  

 

In judging the fairness of our coverage -- to be fair to our staff -- you should look at it big picture (months of coverage) and not just cherry pick one night.  
Calling all HuffPost superfans!
Sign up for membership to become a founding member and help shape HuffPost's next chapter