 Christmas was 11 days away, and Brian Terry was eager to fly home to Michigan for his first family holiday in three years. He couldn't wait to see the faces of his nephew and nieces when they opened the presents he'd been hinting about. But first the U.S. Border Patrol agent had to finish his shift in a remote stretch of Arizona desert that was the most dangerous drug-smuggling, human-trafficking route along the U.S.-Mexican border.
As midnight drew near on Dec. 14, 2010, Terry's shift, and life, would end in a blaze of gunfire that reverberates today in the controversy over Operation Fast and Furious.
The federal government's botched gun-running sting wasn't even mentioned in the first reports of Terry's death. Yet the killing of the muscular former Marine would pull the covers off a secret Bureau of Alcohol, Tobacco, Firearms and Explosives (ATF) "gun-walking" operation and stoke a political firestorm that likely climaxes next week with a House vote on whether to hold Attorney General Eric Holder in contempt of Congress for refusing to turn over Fast and Furious documents.
That cold December night, Terry was working out of Nogales, more than 100 miles west of his usual assignment near Bisbee. He and three other agents in an elite Border Patrol Tactical Team were patrolling 10 miles north of the city near Peck Canyon.
The rugged area was a known haunt of "rip crews," the bands of thieves who prey on drug dealers and illegal immigrants crossing the borderland. The tactical team had been sent into the area to conduct surveillance.
A few minutes after 11 p.m., near the town of Rio Rico, the squad spotted five men they suspected were illegal immigrants. Details of what happened next remain sketchy. According to a report released by congressional Republicans, at least two of the suspects were carrying rifles. The officers reportedly identified themselves as federal agents, but the men refused to drop their weapons and one of them opened fire. A ferocious gun battle ensued.
Terry was shot once. He died en route to the hospital. He was 40 years old and had been a Border Patrol agent for less than four years.
Four men, including one injured in the shootout, were arrested in Peck Canyon. A fifth got away.
Two rifles traced to Fast and Furious that had been bought for use by the Sinaloa drug cartel were found at the scene. Reports began to filter out that the guns were among hundreds that ATF agents lost track of and that ended up in the hands of criminals.
Speaking at a memorial service for Terry on the one-year anniversary of his death, the ATF whistleblower who first revealed the government gunrunning operation, Special Agent John Dodson, pulled out a whiskey bottle, took a swig and gave a toast: "Thank you, Brian Terry."
In the 18 months since the shootout, Terry's parents have waged a very public battle to uncover what happened that night and to find out how Fast and Furious contributed to their son's death. Kent and Josephine Terry, who divorced when Brian was 20, have been staples in the conservative media and welcomed by congressional Republicans in the escalating political battle.
They told Fox News they believed Holder and other Justice Department officials are "hiding something" and said President Barack Obama's June 20 assertion of executive privilege over documents related to Fast and Furious is preventing the full story from coming out.
In a solicitation email with the subject line, "Our son didn't have to die," Terry's parents ask for a donation to the Brian Terry Foundation to help the families of other Border Patrol agents killed or wounded on duty. A postscript says, "Attorney General Eric Holder's refusal to fully disclose the documents associated with Operation Fast and Furious and President Obama's assertion of executive privilege serves to compound this tragedy. It denies the Terry family and the American people the truth. The President's executive priveledge [sic] makes getting to the truth much more difficult."
The family has filed a $25 million wrongful death lawsuit against the federal government. More than one-third of the 65-page complaint offers family photos and details about Terry's childhood and his relationship with his parents and three siblings.
A native of suburban Detroit, Terry ran cross-country at Flat Rock High School, where he graduated in 1988. He enlisted in the Marines and spent most of his four-year tour as a military police officer in Naples, Italy. After his military service, Terry graduated from college. He became a police officer, first in Ecorse, Mich., and then in his hometown of Lincoln Park. On his first day on the job there, he responded to a shootout at a residential complex in which three people died.
Terry, who was single, loved sports cars and owned a series of Mustangs and Corvettes. Even though he enjoyed being a police officer, he had wanted to be a federal law enforcement agent since he was a boy. In 2007, he was president of his graduating class of 699 at the Border Patrol Academy in El Paso, Texas. At 37, he was the oldest agent to be accepted into the Border Patrol's elite tactical unit and went on to pass a grueling five-week training course, similar to the one used to select special operations forces in the military.
Terry's flag-draped coffin was sent home to Michigan in time for Christmas. The gifts for his nieces and nephew arrived as mourners paid their respects at the funeral home. He had shipped them from Arizona just before his final shift.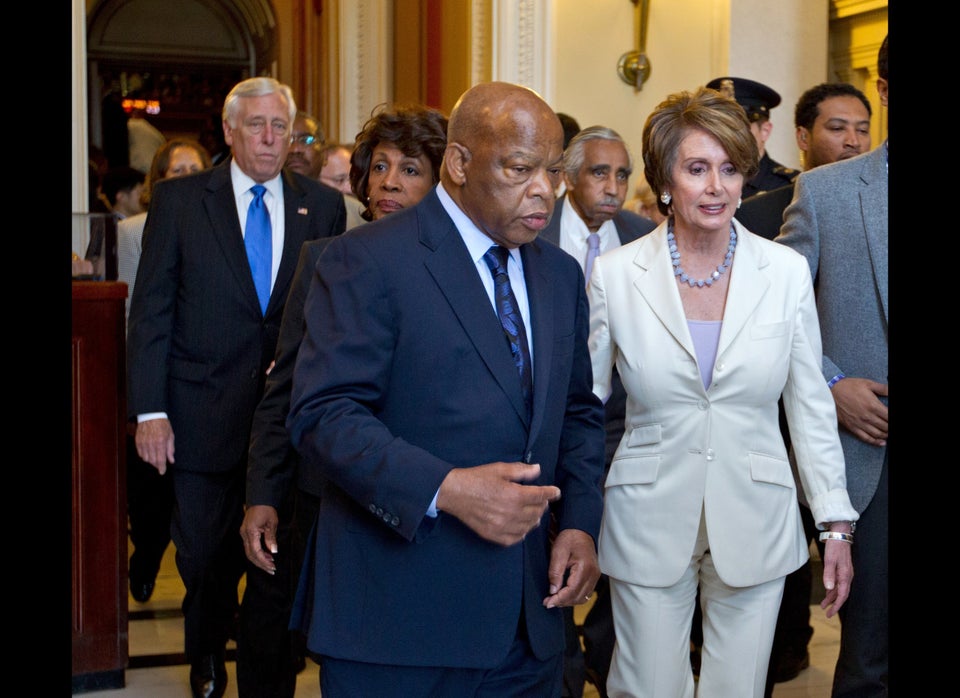 Photos From The Operation Fast And Furious Investigation
Popular in the Community