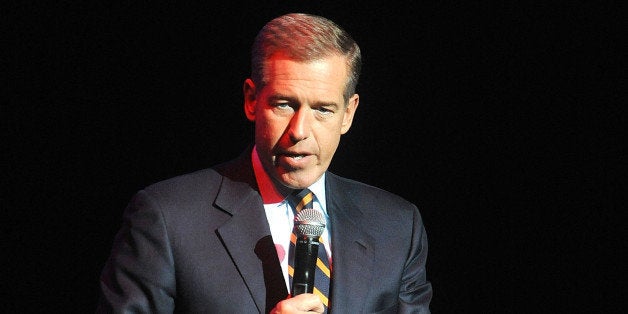 I watched Brian Williams' interview with Matt Lauer hoping to hear, once and for all, a contrite admission that Williams lied to us all. Repeatedly. And that he was deeply sorry for losing our trust. After all, it has been five months since the face of NBC News was suspended for embellishing a story on the air about his experiences in a military chopper which he inaccurately said had taken fire from an RPG. Williams sat down with Lauer for the taped and edited interview for Today. Expectations were high to say the least.
At the end of the interview I sat in stunned silence. Maybe I missed something. So I listened again and watched even more closely to make sure that I wasn't being too hard on this guy. After all, Williams did admit to making the misleading statements saying, "I own this. I own up to this."
Then came this doozey about his misstatement of events on NBC NIghtly News back in January that landed him in hot water:
"I told the story correctly for years before I told it incorrectly. I was not trying to mislead people. That, to me, is a huge difference here."
And as for the apology many had hoped to hear?
"After that incident I tried and failed as others have tried and failed and why is it that when we're trying to say, 'I'm sorry' that we can't come out and say I'm sorry?"
Wait, did he just say 'I'm sorry' or tell is he failed because he couldn't say he was sorry?
The real question or course is why did he lie in the first place?
This was when Williams launched into what I call his "Flip Wilson" Defense.
In the '70s comedian Flip Wilson had a hit variety show on NBC. One of his most popular characters, Geraldine Jones, coined the national catchphrase, "The Devil made me do it," to explain behavior that she knew or should have known was wrong, but she did it anyway.
Cue Williams' explanation for telling his false stories:
"Looking back, it had to have been ego that made me think I had to be sharper, funnier quicker than anybody else, put myself closer to the action having been at the action in the beginning."
If that didn't make your head spin, he said it again a bit later:
"This came from clearly a bad place, a bad urge inside me. This was clearly ego driven, the desire to better my role in a story I was already in. That's what I've been tearing a part and unpacking and analyzing."
Translation: The Devil made me do it. It wasn't Brian. It was his EGO -- manipulating him, confusing him.
Lauer: "Did you know when you went on nightly news that you were telling a story that was not true?"
Williams: "No. It came from a bad place. It came from a sloppy choice of words. I told stories that were not true over the years looking back. it is very clear i never intended to. It got mixed up. it got turned around in my mind."
Does anyone use the word LIE anymore because I don't recall hearing it once in the questions or the answers edited from TWO days of interviewing. Really? TWO days? To get THIS? Let's not forget it took us FIVE months just to hear this much.
Another disturbing development is Williams' punishment. The long-time anchor and managing editor of NBC News is banished from that program for good. His admitted "conflating" of events cuts to the heart of his veracity. If Williams is not fit to report on NBC Nightly News, why the heck is he going to anchor breaking news on the network's cable outlet, MSNBC? News is news. Whether we get information from the internet, newspapers, radio, cable or broadcast television, viewers have a right to demand honesty and accuracy. At the very least they expect the newscaster is not engaging in puffery. What NBC appears to be saying about its cable audience is an insult to those viewers. I don't know if Williams can be redeemed in the eyes of his viewers and fans That is for them to decide and to voice that decision with their remote control.
Rest assured MSNBC viewers, Williams is on the story. As for insuring that his past transgressions will not be repeated, we have this assurance from the newsman:
"I would like to take this opportunity to say that what happened in the past has been identified and torn apart by me and has been fixed, has been dealt with."
And to think I was worried.
Support HuffPost
The Stakes Have Never Been Higher
Related
Popular in the Community