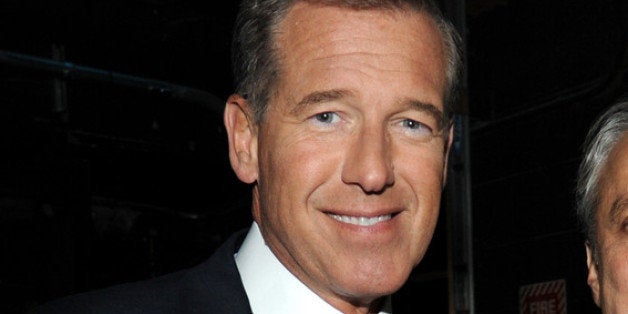 Brian Williams lied. Got it. Was it a blatant lie? An oversight? An embellishment of the truth? A mistake made during the fog of war? It doesn't matter. No one got hurt, and to what extent he told an untruth is really between Mr. Williams and the military personnel involved, his employer, and anyone in his personal life that cares. In terms of repercussions, he won't be denied future Department of Defense access, Mr. Williams won't be fired, fined or officially reprimanded, and for the most part, aside from a blemish on his legacy, his reputation as a solid and respected journalist remains intact.
As initially described in Stars and Stripes, Mr. Williams, while reporting from Iraq in 2003, and repeating the story again recently, said he was aboard a downed helicopter hit by rocket-propelled grenade fire. Confronted on Facebook by 159th Aviation Regiment's Chinook crew-member, Lance Reynolds, wrote, "Sorry, dude, I don't remember you being on my aircraft. I do remember you walking up about an hour after we had landed to ask me what had happened,"
Mr. Williams recanted his story. During the Wednesday night broadcast of the NBC Nightly News with Brian Williams, he said, "I would not have chosen to make this mistake. I don't know what screwed up in my mind that caused me to conflate one aircraft with another." And then, he apologized, saying, "I want to apologize. I said I was traveling in an aircraft that was hit by RPG fire. I was instead in a following aircraft."
And so, with one mistake, one albeit large and very public error, Mr. Williams has become the whipping boy du jour, with the media and blogosphere happily pointing fingers, calling names, and in some examples, calling for Mr. William's removal. How have we allowed ourselves to so quickly attempt to destroy a distinguished career simply because of one lapse in judgment? And how will we feel when someone calls for our head after a misstep, or we succumb to momentary weakness?
What is important here is that Mr. Williams made a swift, contrite and very public apology. It takes courage to go before several million people, and say without excuse or blame, "I was wrong. I am sorry." I wish I had a dollar for every leader I've counseled over the years that initially said after being caught in a lie or some indiscretion, "Apologize? Publicly? No way."
If we chose to use Mr. Williams' gaffe for good, we can see this event as a lesson in leadership, relationships, child rearing, and our own internal growth.
An apology doesn't change the facts of an event, nor does it forgive a blunder. The function of a true and sincere apology is to close a chapter from the past, while bringing the crisis into the present moment. The healing starts from this point, creating a framework for what's already happened, while providing an opportunity for growth and improvement in the future.
Once an apology is made, less emphasis is placed on blame, and instead, more of the focus now shifts to accountability. Less blame and more accountability allows children to safely falter, our relationships to recover, and our leaders to risk being human. Personal mastery is not about our lack of mistakes; it's how quickly we take responsibility for our actions, get back up, and use our gained knowledge for beneficial change.
We don't know the intention of Mr. Williams' mistake. What we know is he took responsibility for his actions, apologized, and moved on. With compassion and forgiveness, we may consider doing the same.