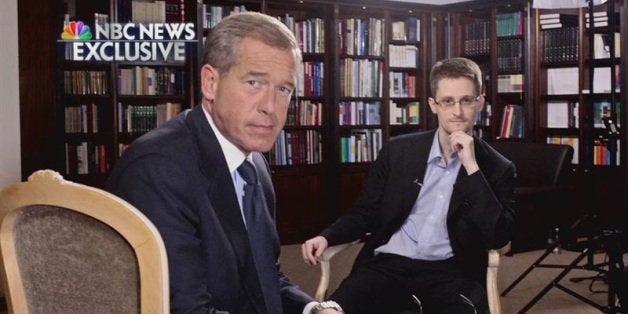 NBC's Brian Williams has landed an exclusive interview with Edward Snowden, the network announced Thursday.
Williams traveled to Moscow to speak with both Snowden and Glenn Greenwald for a special, hour-long report that will air on May 28th at 10 PM.
On Thursday morning, Greenwald tweeted out a picture of himself along with Snowden, fellow journalist Laura Poitras and his partner David Miranda, causing people to wonder why he was in Moscow. The news about the Williams interview provided an answer. Williams interviewed Snowden both alone and with Greenwald.
In a press release, NBC said the interview "was conducted over the course of several hours, and was shrouded in secrecy due to Snowden's life in exile."
The Washington Post's Erik Wemple was the first to report the news of the interview.
Snowden's decision to talk to Williams marks a potentially major turning point in his long-running press campaign. In the year since he leaked NSA documents and revealed his identity, the level of his interactions with the media has grown steadily, but he had yet to sit down for a television interview with an American network journalist.
NBC News has a partnership with First Look Media, the group that employs Greenwald.