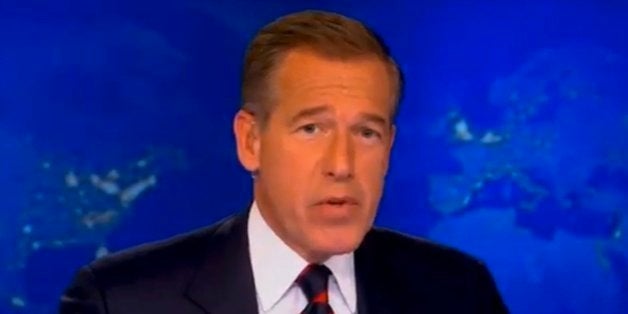 On Wednesday, "NBC Nightly News" anchor Brian Williams recanted an account he had given of being aboard a helicopter as it was struck down by RPG fire during the Iraq war in 2003.
"I would not have chosen to make this mistake," Williams said in an interview with Stars & Stripes, before apologizing live on air. "I don't know what screwed up in my mind that caused me to conflate one aircraft with another."
In the wake of the admission, criticism of Williams' errors was swift and resounding on cable news.
Fox News' Howard Kurtz said that the long-standing "Nightly News" anchor had caused a "credibility crisis" at the network and called for a more detailed account of the events.
"I don't think he has fully explained it," Kurtz said during an interview on "America's Newsroom." "He's gonna need to address this more fully because so many questions are being raised."
CNN's Brian Stelter also appeared on a number of segments Thursday morning, sharing information from an interview he conducted with the pilot who flew Williams' helicopter in 2003, and rolling footage of the anchor repeating the false story to David Letterman in 2013.
"I don't want to take away from the fact that Brian Williams was doing important work in the middle of a war zone while this was going on," Stelter said, later adding that Williams was trending on Twitter for the "worst possible reasons." "[But] this is not something that just happened last week on NBC, and I think that might be the most important point."
Stelter also said that while Williams apologized for the fabricated story Wednesday night, no one he talked to at NBC was "satisfied with it" and many were "openly wondering whether there's going to be some kind of disciplinary action taken against him."
CNN Newsroom anchor Carol Costello responded to Stelter by saying the episode was "embarrassing" and that Williams "dissed one of the most admired groups of people in the United States" -- the military.
CNN's Chris Cuomo also expressed a firm stance on Williams' story during a separate interview with Stelter.
"Memory is either right or it is wrong and we are in the business of being right," he said on "New Day," adding that the online media outlets are "starting to eat him alive."
According to a search done using TVEyes, MSNBC did not mention the story until 10:49 a.m. Wednesday, with anchor Jose Diaz-Balart echoing Williams' words and rolling footage of his apology from the night before.
Popular in the Community