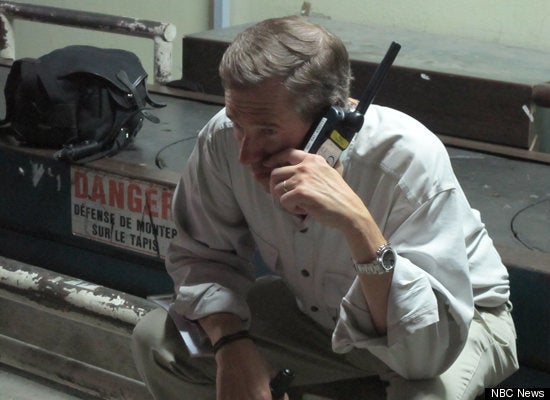 Brian Williams was the first network news anchor on the ground in Haiti, reporting live from Port-Au-Prince in an hourlong "Nightly News" Wednesday. The Huffington Post spoke to Williams over a shaky satellite phone connection from the airport in Haiti Thursday morning.
"We arrived here at the tarmac and put our equipment boxes down and, as is so often the case, it ended up being home," Williams said. He said that he bunked with Al Roker and slept in a tent on the cement tarmac Wednesday night, while some of their NBC colleagues -- including Ann Curry -- slept in baggage containers parked at the airport. The US Army was setting up shop nearby Thursday morning.
"This is just a colossal calamity," he said. "I've just been told that on the other side of the wall from where I am dead bodies are arriving because people just don't know what to do with them."
Williams compared the situation on the ground to what he witnessed covering the tsunami in 2004.
"It's very reminiscent of what we saw in Banda Aceh," Williams said. "There were 35,000 dead in our time there. There's no way to express it, no way to explain it, it just becomes other-worldly."
From his reporter's perspective, Williams compared the Haiti story to the wars in Iraq and Afghanistan.
"We're all reporters," he said. "It's like Iraq and it's like Afghanistan. Why have our jobs if we're not covering these stories? These stories become the benchmarks of our time. I just realized as I'm standing here that my foot is on an equipment case and the baggage case said KAM Air. That means this gear was last in Afghanistan with us. These become the signposts. These are the events of our time. If the job really was sitting in New York and looking into a camera, it wouldn't be worth it."
He added that sleeping on the tarmac Wednesday night reminded him of his time in Baghdad.
"Parts of this remind me of hooking up with the 3rd ID arriving in Baghdad airport the night after it fell and living on the ground there," he said. "It's familiar in that it is ominous and sad and beyond the scope of anything Americans have suffered."
PHOTOS (courtesy NBC News):
Popular in the Community