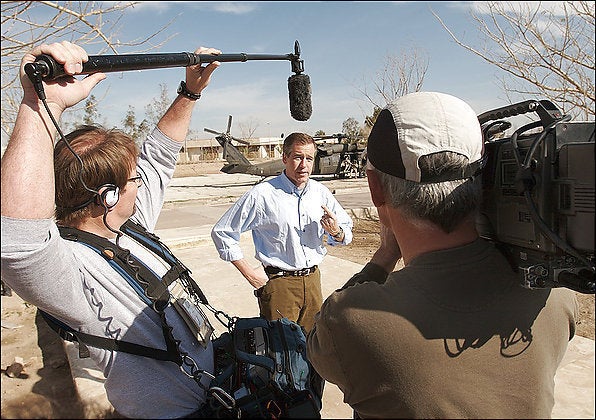 Last night at 2:27 a.m., NBC News sent out a communique reporting that anchor Brian Williams was in Afghanistan with a team to report live from the region. For security reasons, no other details were released, other than the fact that Williams would be "spending time with U.S. forces engaged in the fight against the Taliban."
It's been over a year since Williams' fourth and most recent trip to the region, in March 2007, but as it turns out this was not the first trip that had been planned. According to Williams, he was planning to go to Iraq last October, but colleague and former NBC Nightly News anchor Tom Brokaw convinced Williams to cancel the trip, saying that it wasn't safe.
That's what Williams told student journalist Emily Fitzmaurice of Fairfield University, prior to delivering a speech in November 2007 . Williams told Fitzmaurice that going to Iraq was "very expensive and it's very costly and it's very dangerous." Williams then recounted the story of how his last trip had been scuttled:
When I go to Iraq as I have four times, I have to volunteer for it. No one sends me. I raise my hand. When I raised my hand recently and wanted to make my fifth trip in October, I have a co-worker named Tom Brokaw who thought that was a bad idea, and he told me so. And so I canceled the trip. Once he said, 'Don't go, I don't think it's safe right now,' that totally jinxed it for me, and what was I gonna do, look my wife in the eye and say, 'No it would be fine'?"
According to NBC spokesperson Allison Gollust, the October trip "didn't work out because the timing wasn't right..I don't think it ever even got to the point of having dates" (but presumably it would have been scheduled before the final week of the month, when Williams was preparing for hosting "Saturday Night Live" and moderating a debate between Democratic candidates for president in Philadelphia).
Gollust also said that trips such as this are discussed frequently at NBC, saying "I'm sure have [we have] talked about similar trips since October."
Williams echoed Gollust in a blog entry posted this morning, saying that he had been "trying to get here for some time." He also gave a nod to the sentiments expressed by Brokaw back in the fall: "[W]hile not everyone in New York was exactly in love with the idea of traveling here, the time was right and I appreciate being able to come here — as I appreciate the hard work and precautions that have gone into this trip."
Williams and his crew — "three full producers and multiple camera crews" according to Gollust — have been joined by NBC News Tel Aviv bureau chief Martin Fletcher, who recently published Breaking News, a memoir based on his career as a war correspondent. (Also on the trip is Williams' longtime producer (and Canadian) Subrata De, to whom Williams apparently had to pretend to be married on the flight over to avoid an on-board power struggle over seating. Let that be the scariest adventure they have.)
In a neat bit of timing, Williams' arrival in Afghanistan coincides with the publication of a New York Observer article about 'Iraq war fatigue' and the challenges of reporting from the region, and engaging viewers in coverage of the war. Said Williams to Fitzmaurice: "We can't allow ourselves to be driven by public tastes all the time. I've had people say to me, 'no one's gonna watch that, no one cares' - and that's a cancerous, deadly, awful thing to say in a newsroom." In early September 2007, Katie Couric took the CBS Evening News to Iraq and Syria; the week was a ratings low for the network.
Gollust could not confirm Williams' schedule or whether this trip would include a visit to Iraq, but she did confirm that he will be back in time to host the Peabody Awards on Monday, June 16th, as scheduled.
Popular in the Community