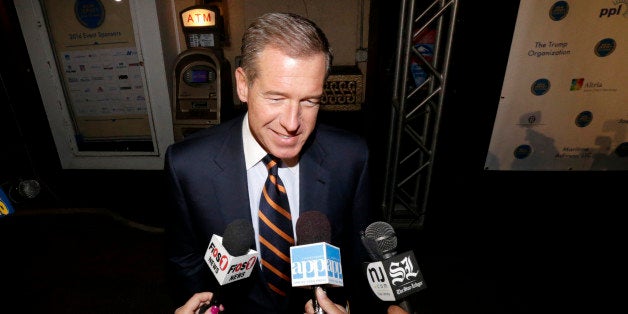 NEW YORK -- Brian Williams said Friday that his four-month suspension from the "NBC Nightly News" for lying about his reporting experience in Iraq was "torture" and that he didn't deliberately mislead viewers on the broadcast. "I told the story correctly for years before I told it incorrectly," he said.
Williams' interview on the "Today" show comes a day after the network announced that he would not return to the evening newscast, but would take on a new role as a breaking news anchor for MSNBC.
After an internal investigation, the network acknowledged Thursday that Williams made a "number of inaccurate statements about his own role and experiences covering events in the field." However, NBC opted against transparency and declined to make public its findings. In recent months, questions have been raised about Williams' public accounts of his reporting on Hurricane Katrina, Egypt protests, the fall of the Berlin Wall and the Israel-Hezbollah war. He also claimed to have flown into Baghdad with SEAL Team Six, a claim that's been challenged given that the elite unit doesn't allow journalist embeds.
"Today" co-host Matt Lauer gave Williams the opportunity to "correct the record" regarding other embellishments, but the veteran anchor declined to do so.
In the interview, Williams suggested his ego got the better of him when appearing on late-night shows and in other public appearances. Williams said he "always treated words very carefully" when on NBC News and that accuracy is "the key to our credibility and our integrity." In public, however, he acknowledged being "sloppier" in his word choice and "said things that weren't true."
"This came from clearly a bad place, a bad urge inside me," Williams said in the interview. "This was clearly ego-driven, the desire to better my role in a story I was already in. That's what I've been tearing apart and unpacking."
Williams remained silent during his suspension, but acknowledged that he followed media coverage of his misdeeds.
"I was reading these newspaper stories not liking the person I was reading about, wanting -- I would've given anything to get to the end of the story and it be someone else," he said. "But it was about me."
Related
Popular in the Community