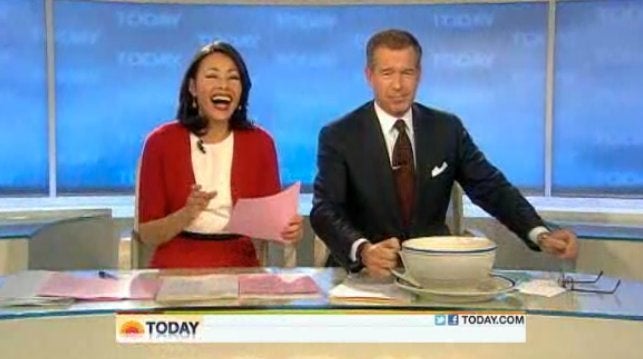 Don't adjust your sets! This is not a test! And so on and so forth. It's Brian Williams on the "Today" show!
The "Nightly News" host woke up before 1 PM for a change, filling in for Matt Lauer, who is on his "Where in the World" mystery assignment.
"I actually think Lauer is in the plaza, just having a good laugh," Williams said. He also lamented that the World Series was happening the night before, and here he was, having to go to bed early like an 8-year-old.
Co-host Ann Curry said the staff had predicted that Williams would kvetch his way through the morning, so she had a crew member bring out a gigantic cup of coffee to perk him up.
Later, Williams was pressured about why, in spite of having a Twitter feed, he has not sent a single tweet out to his tens of thousands of followers. "I haven't figured out what to say," he protested. Curry and Al Roker, both enthusiastic tweeters, found this a poor excuse.
He also shared an adorable moment with actress Gabourey Sidibe, even leaning in to give her a kiss on her cheek.
Williams last guest-hosted on "Today" in 2009.
WATCH:
Support HuffPost
The Stakes Have Never Been Higher
Related
Popular in the Community