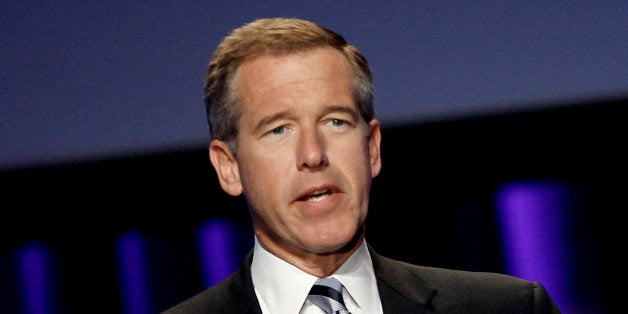 The VF piece offered behind-the-scenes insight into what went wrong with Williams and the network's handling of the controversy, from his insecurities to tension with Tom Brokaw to his public apology in February, all the way to the ongoing investigation being led by Richard Esposito.
Here are a few of the new allegations made in the story:
Turness and the other executives who had gotten involved quickly became frustrated, as they would remain for days, with Williams's inability to explain himself. "He couldn't say the words 'I lied,' " recalls one NBC insider. "We could not force his mouth to form the words 'I lied.' He couldn't explain what had happened. [He said,] 'Did something happen to [my] head? Maybe I had a brain tumor, or something in my head?' He just didn't know. We just didn't know. We had no clear sense what had happened. We got the best [apology] we could get."
2. Things at the network have been "a nightmare" since Comcast acquired it.
"When Comcast took over, they had the No. 1 morning show, the No. 1 Sunday show, and the No. 1 evening broadcast," says a former top NBC executive. "That's all completely fallen apart. I don't know how you blame anyone but Comcast and the people it brought in. It's been a nightmare."

...

"Today is a horror show. Brian Williams? He didn't give a rat's ass what Deborah Turness says. But this is fundamentally not a Deborah Turness problem. She's just a symptom of the problem…. This is a Comcast problem."
3. NBC News president Deborah Turness has no idea how to run a news organization.
"News is a very particular thing, NBC is a very particular beast, and Deborah, well, she really doesn't have a f****** clue," says a senior NBC executive involved in recent events. "She's letting the inmates run the asylum. You have kids? Well, if you let them, they'll have ice cream every night. Same thing in TV. If you let the people on air do what they want, whenever they want, this is what happens."
4. Some things about Brian Williams irked Tim Russert.
"What always bothered Tim was Brian's lack of interest in things that mattered most, that were front and center, like politics and world events," says a person who knew both men well. "Brian has very little interest in politics. It's not in his blood. What Brian cares about is logistics, the weather, and planes and trains and helicopters."
5. Brian Williams was insecure about being a "journalistic lightweight."
Williams took the anchor chair in December 2004, after a career handling the news at local stations and MSNBC; though he had worked as NBC's chief White House correspondent for two years, he was never a foreign or war correspondent. He was deeply insecure about this, some of his friends believe. These people suggest that his storied broadcasts from New Orleans in the aftermath of Hurricane Katrina, which proved a boon to his ratings, were in part an effort to overcome the perception that he was a journalistic lightweight.
6. Brian Williams is "bitter"... and there is definitely some beef between him and Tom Brokaw.
"Tom will never say this for the record, but I've talked to him about this, and I can tell you for a fact Tom is livid about this," says a friend. "Tom didn't push Brian out, but he didn't try to save him, either."

...

"I talked to Brian about this," says one friend, "and I'll never forget what he said at the end. He said, 'Chalk one up for Brokaw.' "
7. Brian Williams bad-mouthed network executives to get ahead.
The venue where several top NBC executives witnessed Williams's efforts at corporate politics firsthand was the 51st-floor executive dining room, which Burke had spruced up and encouraged them to use.

"If Brian could've eaten there eight days a week he would've," says another onetime NBC executive. "He would hold court at some table, with some poor mid-level schmo who didn't know what was going on, and he always seemed to be there when Steve Burke would come in. And [with Burke in earshot], he would make a point of taking someone down a notch. It could be Pat or Steve [Capus] or [P.R. chief] Adam [Miller] or someone else, but over time it got to be Steve Capus a lot. Brian took Steve down. I heard those lunches. I know what he said. He got Burke and Pat Fili very riled up about Steve."
Read the full story on Vanity Fair here.