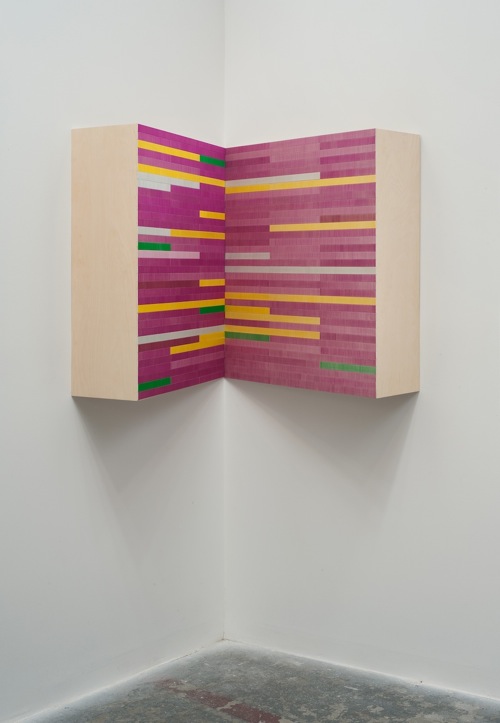 Untitled, 2012. Oil, rayon thread, and basswood on wood. 36 x 36 x 12 in. Courtesy of Nye + Brown.
After Harvard Law School, Brian Wills realized art, and only art, would lead him to a happy and fulfilling existence. And so, he set about pursuing a career as an artist. Sixteen years later and Brian is a successful LA-based painter and mixed media artist. It just goes to show, a traditional art-school trajectory is not always the right path. I recently saw his solo show at Nye + Brown in LA's Culver City art district, and was captivated. His work is simultaneous in its simplicity and complexity. The colors pulse and change depending on how the light hits the surface. Yet, essentially what you're looking at are a series of straightforward linear patterns and symmetrical grids. His work relies on a precise technique-based approach, which involves painstakingly wrapping yards and yards of brightly colored nylon thread around multiple strips of thin wood, that are then mounted on to a board. His surface treatment varies slightly from work to work but color and texture always come into play -- either through nylon thread, iridescent paint or shiny lacquer. He follows in the steps of great Minimalist artists such as Ellsworth Kelly and Agnes Martin, yet his use of contemporary materials like nylon thread place him in today's artistic discourse.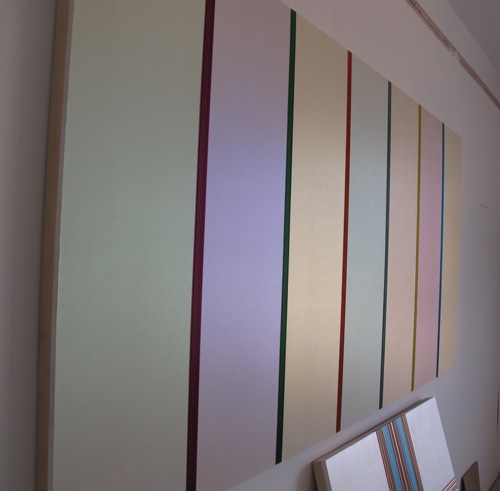 Two views of the same work.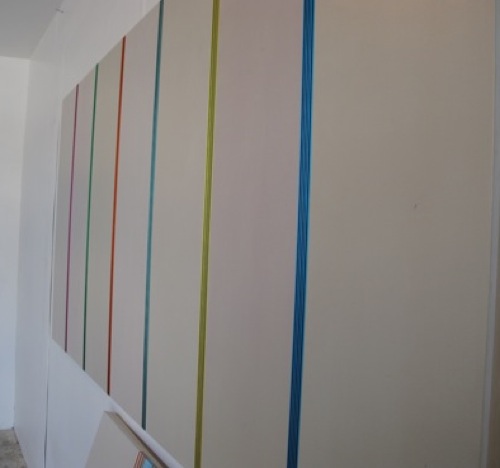 Yasmine Mohseni: Tell me about your current exhibition.
Brian Wills: My current show at Nye + Brown is a collection of paintings and wall sculpture that are composed of iridescent oil and enamel with thread on wood. In some works, I've woven thousands of strands of thread together to create textured images that emerge from the surface. In others, I've encased paint and thread in linear polyurethane to create a deep and reflective surface.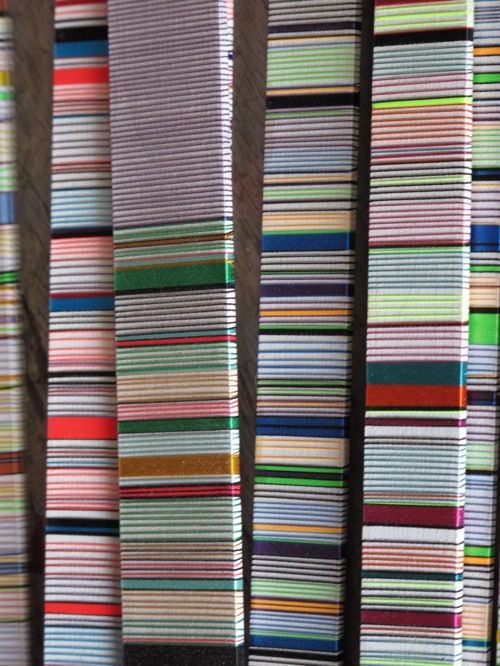 Describe your style.
I'm not sure that I have a particular style. Always existing within abstraction, my work explores line and color, depth and motion. Some of the paintings are minimal in nature, while others are a bit obsessive. I like the work to have a nod to craftsmanship and call to mind the ways in which they were constructed.
Why did you become an artist?
I love to make art. My father often told me to make sure I'm happy doing what I do. This is it.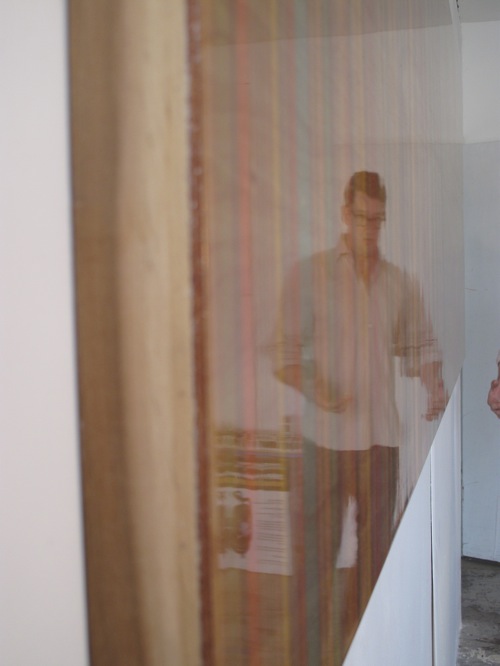 Which single artwork in art history has inspired you the most?
James Turrell's work has had an enormous impact on the way I see the world. I'm lucky to have visited a few of his light scapes. They are life changing.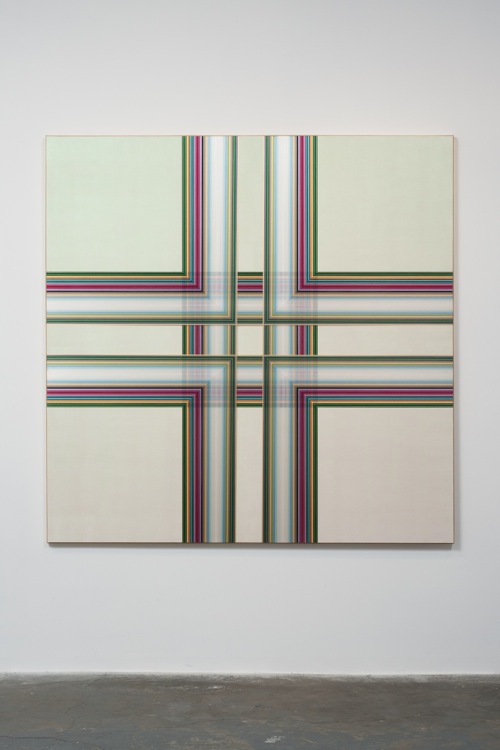 Untitled, 2012. Oil, and rayon thread on wood. 72 x 72 in. Courtesy of Nye + Brown
Which artists (living or dead) do you find most inspiring?
Bruegel, Josef Albers, James Turrell, Robert Irwin, Peter Alexander, Agnes Martin, Gene Davis, among others.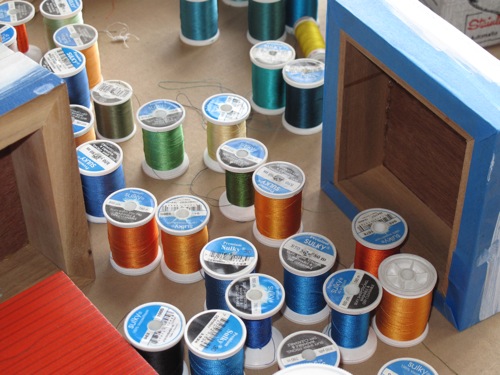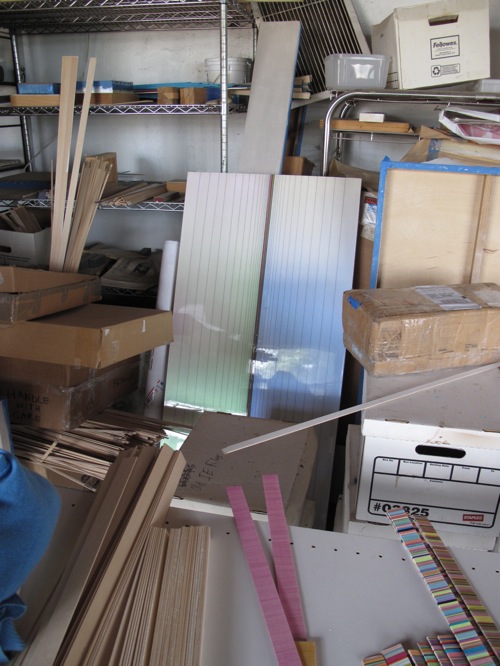 Brian Will's solo exhibition Unwound is on view at Nye + Brown through February 11, 2012.
For more images, please click here.
Calling all HuffPost superfans!
Sign up for membership to become a founding member and help shape HuffPost's next chapter