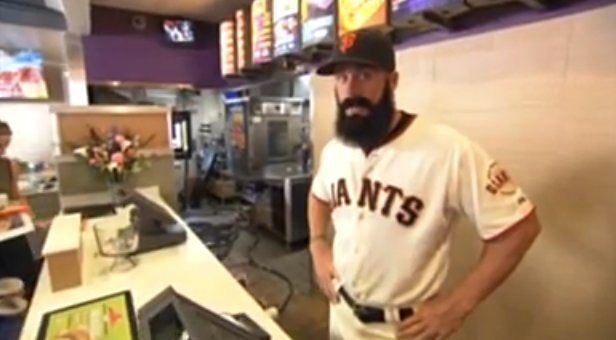 "My natural tone is too gorgeous for the camera," explains Brian Wilson to the makeup artist, as she dabs his face with powder. Just another day on the set with Wilson.
On Wednesday, Taco Bell released its new ad campaign with Giants star pitcher, Brian Wilson, with the slogan, "You need a closer to finish it," referring to their enormous XXL Chalupas.
In one commercial, Wilson interrupts a diner, telling them that there's no way to finish the enormous chalupa alone and steps in as a closer. In another, Wilson suggests a "black ops" themed commercial to the "director" with a tagline "this chalupa…never happened."
But our favorite video is the behind-the-scenes footage from the set showing Wilson teasing his costar, messing with the security camera, practicing yoga and hugging a rush of passing fans, suggesting that Wilson might actually be just as delightful in person.
Check out the behind-the-scenes footage and the commercials below:
Related
Popular in the Community