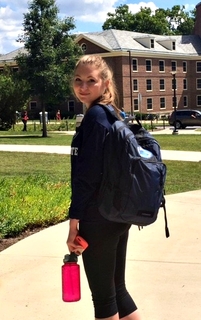 Like thousands of other teens, Brianna Barker of Washingtonville, New York, left home last week to start an exciting new chapter in her life, that of a college freshman.
Also like many others, she settled into a campus -- Penn State -- several hours from where she grew up, embracing a fresh start that will soon include a new set of friends.
An outgoing girl with hazel eyes, boundless energy and an adventurous spirit, Brianna is sure to fit in quickly. As people get to know her, this is where her uniqueness will emerge.
Her new friends will learn about the heart condition that began slowing her at age 7. How it nearly killed her one night when she was 13. How her quality of life might've been ruined that same night if not for her mom dusting off the CPR training she received as a teen. And, most of all, about the new heart she received... the one that turned her into an outgoing girl with hazel eyes, boundless energy and an adventurous spirit, just like the girl who gave it to her.
It all started with a school physical in second grade.
Brianna wanted to become a cheerleader, so the school nurse checked her out. She heard an irregular heartbeat.
Doctors soon discovered Brianna had cardiomyopathy, a condition in which the heart muscle is abnormal; it likely was caused by a common virus that settled in her heart. They also determined the source of her arrhythmias (irregular heartbeats) as two serious conditions: ventricular tachycardia and ventricular fibrillation.
Brianna was forced to give up ballet for more passive activities like painting and photography. For years, she endured the isolation of sitting out gym classes at school.
As she got older, her condition worsened. Not that Brianna knew it.
First off, she felt the same. And she skipped the discussion part of every doctor's visit, fleeing to the coloring books and magazines in the waiting room as soon her physical examination was done.
Brianna's attitude was, "I'm not sick, I just have a heart problem." This coping mechanism was equal parts denial and confidence, a steadfast belief that everything would work out. Her mom, Veronica, set this optimistic tone; though she knew better, she dreamed that Brianna would outgrow her problem.
Reality struck in eighth grade. Brianna began gasping for breath climbing stairs. Her skin became paler. She passed out for about 30 seconds on Christmas Eve 2010, and on New Year's Day 2011 received a defibrillator to regulate her heartbeat.
As the school year wound down, so did Brianna's health.
On Friday, June 10, Brianna and several friends got their nails and hair done for a dance that night. Walking home, Brianna couldn't make it the final quarter-mile, calling Veronica to pick them up.
"She had sweat pouring down her face and her friends didn't," Veronica said. "She was so embarrassed."
Brianna still went to the dance, and made it through the night OK. A picture from that night shows a pinched smile, her eyes looking pained.
Back home, she stayed up to work on a foil art project. Veronica was tired and Brianna encouraged her to go to bed, saying she'd be following soon.
A few minutes later, Brianna entered Veronica's bedroom complaining of feeling lightheaded. Veronica gave her some water. Brianna took a sip, spit it up with a grunt and then, essentially, died.
"She was gone," Veronica said. "Her lips were purple and she wasn't breathing."
A 911 operator told Veronica that she needed to start CPR. Thinking back to her training in high school about 20 years before, and following the operator's instructions, Veronica spent about seven minutes giving chest compressions and breathing into her daughter.
Paramedics arrived and shocked Brianna's heart back into a sustainable rhythm. Veronica's work had kept blood and oxygen flowing through the girl's body, staving off brain damage and organ failure.
While in the hospital, Brianna went into cardiac arrest twice more that weekend. Doctors feared they couldn't revive her a fourth time, so that Monday they implanted a left ventricular assist device (LVAD), a battery-operated pump-like mechanism to perform the work her failing heart couldn't. (The hospital said she was the first child in the United States reported to receive this particular device.)
It was only a temporary fix. What she really needed was a new heart.
For all the trauma Brianna had been through, meeting the transplant doctor was the most emotionally grueling.
"This doctor wouldn't let me go to the waiting room," she said. "That night, I was crying and crying and crying. I didn't want to give up on my heart getting better on its own, but I had to."
She only had to wait 10 days.
Brianna's first memory following the surgery is waking up unable to talk because of a tube in her throat. Given a piece of paper to scribble on, she wrote that her nurse's hands were cold and that she wanted her hair washed.
Her second chance at life was off and running.
Released from the hospital July 4, Brianna's joy was tempered. She understood her newfound independence came only because someone about her age had died and their family was selfless enough to donate the organs.
"When I woke up with someone else's heart, that's when it really hit me -- I have someone's heart and their family members must be so upset," Brianna said. "As more time passed, I thought more deeply about who that person was, how much their family missed them. I especially thought about it around holidays."
A few months later, Veronica mailed a letter to the donor's family. There was no response, but there also was no confirmation that the family had received the letter.
Figuring that the donor's family would be encouraged by how well Brianna was doing, Veronica began cyber-sleuthing.
She eventually landed on a Facebook tribute page for Kaitlyn Nicole Rouse of Kinston, North Carolina, a former cheerleader who died of a drug overdose about the time of Brianna's transplant.
Kaitlyn had been injured, then got hooked on prescription drugs. She'd entered a drug therapy program, only to leave when funding for her care lapsed.
One awful evening, Kaitlyn was found unconscious in the family pool. Her mom, Shannon, provided CPR until paramedics arrived. She couldn't be revived, but Shannon's rescue effort made it possible for the girl's organs to be donated.
Brianna was among six recipients, and the most meaningful to Kaitlyn's family. It goes beyond symbolism; Kaitlyn had wanted to become a cardiologist.
The mothers connected via email. A few days later -- in January 2013, 19 months after both families' lives had changed so dramatically -- a North Carolina organ donor network confirmed Brianna had Kaitlyn's heart.
"I went to write her a message and it turned into a three-page essay, and I didn't even get across half of what I wanted to say," Brianna said.
That June, Shannon and her two children visited Washingtonville. They brought pictures and journals, and shared countless Kaitlyn stories.
"I got a good sense of who she was and what kind of person she was," Brianna said. "I think we would've gotten along great if we'd have met ... I'm grateful that I have a heart that came from such an amazing person."
Yet there may be a little more to their bond.
Although science says it isn't likely, everyone who knew Kaitlyn sees traces of her in Brianna. Even Brianna and her mother acknowledge that her eyes have changed colors, from pure brown to a green hue like Kaitlyn had.
"Kaitlyn's siblings said they couldn't even look at me at first because my eyes made them feel like they were looking at Kaitlyn's face," Brianna said.
This March, Brianna and Veronica went to North Carolina to meet more of her family, visit her gravestone and see where she'd lived. At her church, a stranger shrieked, thinking she was looking at Kaitlyn.
"Some people believe it and some people are like, 'No way, not possible,'" Brianna said.
"Before the transplant, I was always a shy little girl," she said. "I've become so much more outgoing. I don't know if that's from Kaitlyn, but that's what they all say -- how outgoing I am, how easily I talk to people, how I say the same kind of jokes she said."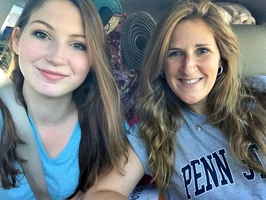 Brianna started ninth grade right on time, and blossomed throughout high school.
"I was able to do everything I wanted to do," she said. Laughing, she added, "I had to take gym class, even though I didn't want to."
She and her mother also have become passionate volunteers for the organizations they consider most responsible for their happy ending, including the American Heart Association.
The AHA is the nation's oldest, largest voluntary organization devoted to fighting cardiovascular diseases and stroke. We fund more cardiovascular research than any organization outside the federal government, having invested more than $100 million annually since 1996. Those research efforts have helped advance techniques for both heart transplantation and CPR.
On the AHA's behalf, Brianna and Veronica have urged New York legislators to support a law requiring students to learn lifesaving CPR skills to graduate high school; it's now close to becoming a reality. They've also been keynote speakers at a Go Red For Women luncheon.
Additionally, they've supported organ donation through Donate Life New York, and Brianna is hailed as a success story for her hospital, Montefiore Einstein Center for Heart and Vascular Care. She especially likes visiting kids there on the transplant waiting list.
When it came time for Brianna -- an A- student -- to apply for colleges, the subject of her application essay was obvious. She got in everywhere she applied. Penn State was her first choice because she's leaning toward a career in veterinary medicine.
The last few months have been a blur.
The 4-year anniversary of her transplant fell the night before her high school graduation, an event that carried several layers of added significance.
She missed her eighth grade graduation waiting for the transplant, and Veronica told her then that "your real graduation is from high school, and you'll be there for that." When she strode across the stage, she dedicated it to Kaitlyn, who never had that opportunity.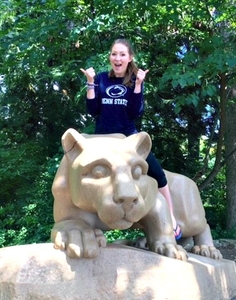 As emotional as it could be, Brianna handles it all with wide smiles.
While she's quite appreciative of everything and everyone who've gotten her to this point, she also an older version of that little girl who steadfastly believed things would work out.
"She's totally moved on with her life," Veronica said. "She had a choice: Am I going to let this define me and hold me back or move on? She's moved on."
Yes she has. From Washingtonville, New York, to the Penn State campus, with a promising, healthy future ahead.